Low-carbon footprint mild surfactants
for home and personal care products
Climate-conscious companies are not just cutting emissions in their own production or switching to green energy. They also keep a close eye on the carbon footprint of raw materials and the processes in their value chain.

That's where our low-carbon glucamides from the GlucoTain® and GlucoPure® lines come in. The broad range of sugar-based surfactants offer a combination of mildness and performance with much better emission profiles, helping to reduce the CO2 footprint of formulations.

Providing powerful foaming and cleaning in personal care and home care formulations, they emit radically less CO2 from cradle to gate than for example the widely used APGs.
A low carbon footprint solution supporting change
The lower carbon footprint is mainly due to fewer processing steps during the manufacturing of the ingredient and more favorable feedstocks used. Compared to the number of chemical steps APGs undergo to become the final product, the glucamides offer a simpler pathway.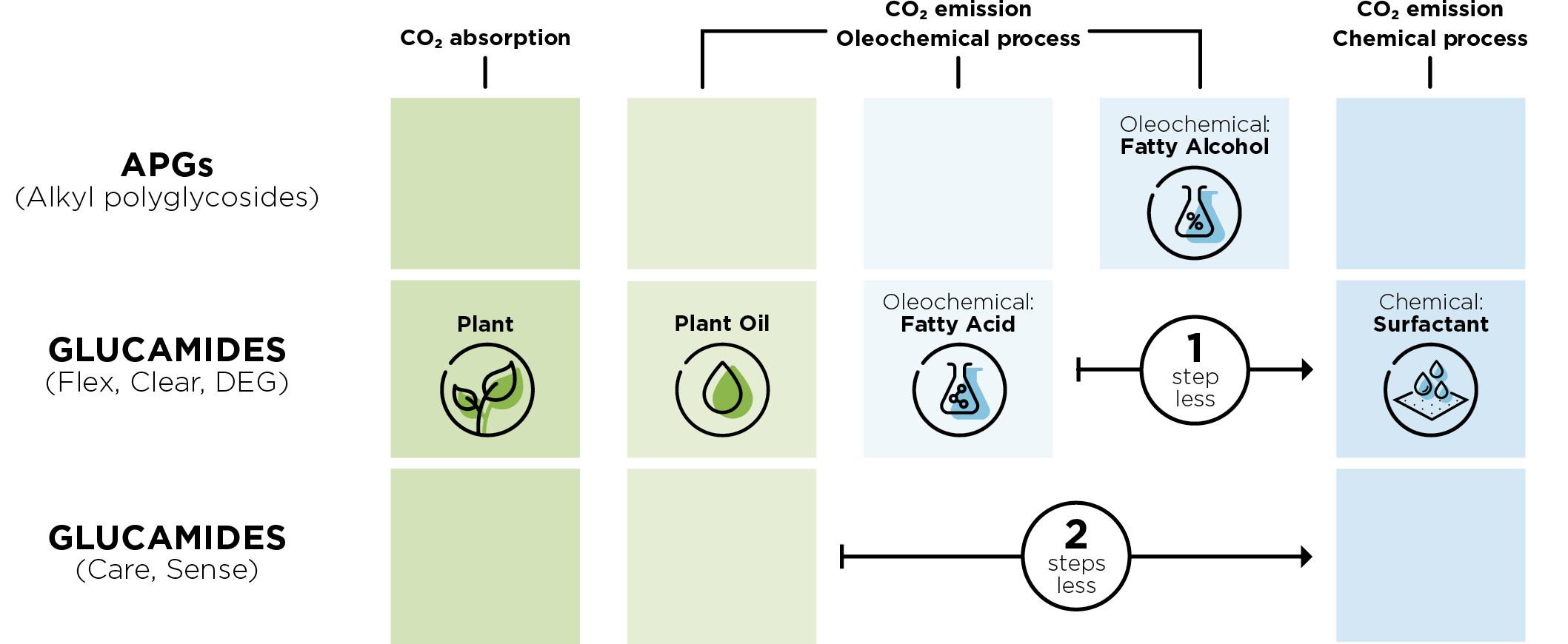 Sustainable in production sweet in performance
Specifically designed for use in personal and home care products, our low-carbon glucamides offer a best-in-class alternative to any kind of mild surfactant, including APGs and cocamidopropyl betaines2.
Negative carbon emissions for positive climate action
To compare the carbon footprint of our glucamides to those of cocamidopropyl betaine2 and Cetyl-APG, we performed a cradle-to-gate life cycle assessment that took into account biogenic carbon storage (while excluding the effects of land use change).1.

When assessing kilograms of CO2 equivalent emitted per kilogram of 100% active surfactant, the results were impressive: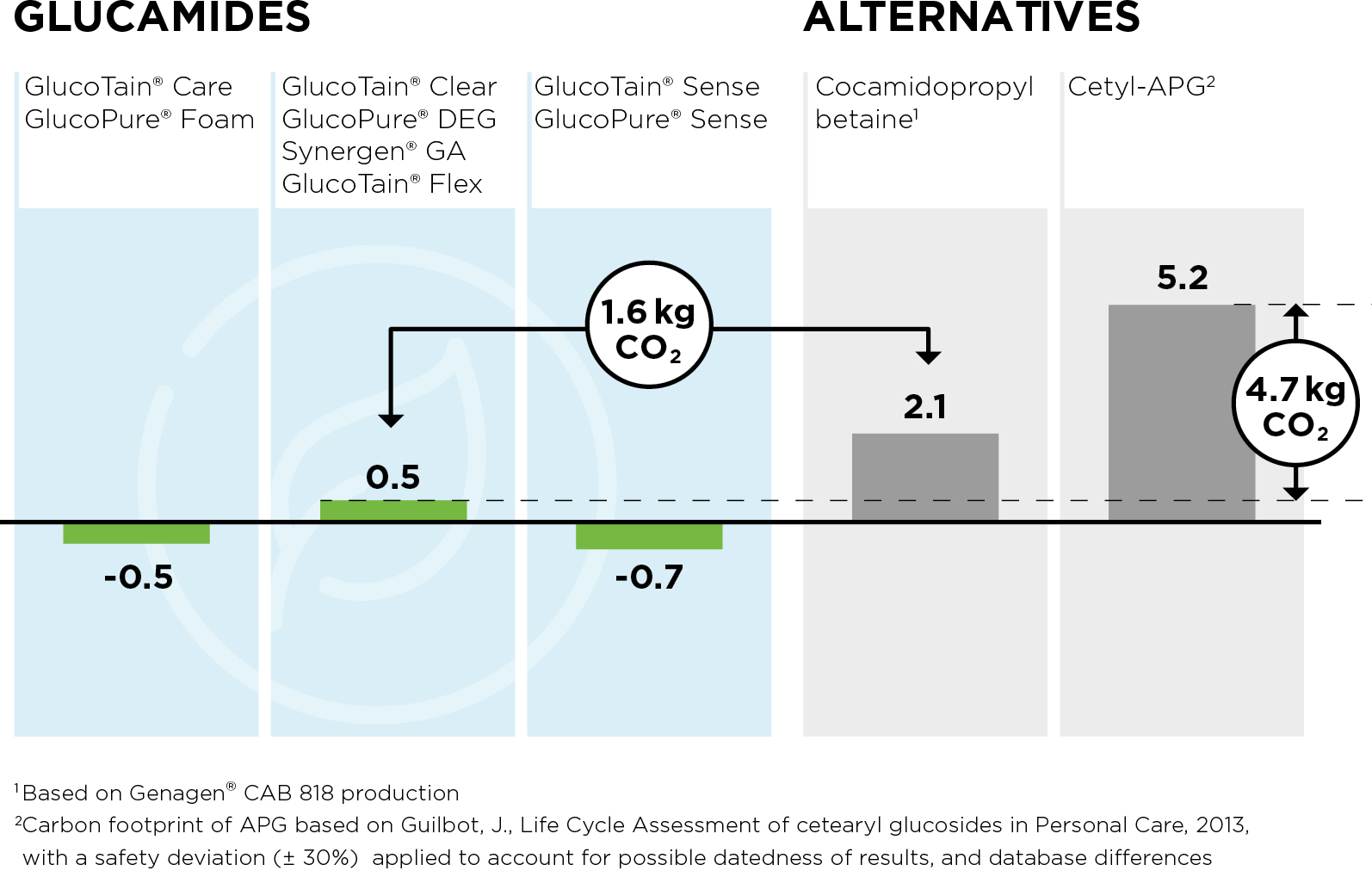 Our products release at least 78% less carbon than cocamidopropyl betaine2 and 91% less than Cetyl-APG
Due to the CO2 absorbed by their renewable raw materials, some of our products even have a negative carbon footprint
Replacing 1,000 tons of APG with a GlucoTain® surfactant can save emissions equivalent to those of 1,000 cars driven for a year4
Helping to replace carbon with climate-friendly excellence
Reducing the carbon footprint of a single ingredient may not seem like a lot. But if we all resolve to make and use only products with that seemingly small change, the difference can be huge. Especially if the footprint is reduced by as much as in our low-carbon glucamides.

Yet all this climate-friendliness would be nothing without adequate performance – at which our low-carbon innovations, fortunately, excel.

1 Our assessment followed the calculation principles and methodologies recommended by ISO 14040/44, pending the critical review by a third party
2 Based on Genagen® CAB 818 production
3 Carbon footprint of APG based on Guilbot, J., Life Cycle Assessment of cetearyl glucosides in Personal Care, 2013, with a safety deviation (± 30%) applied to account for possible datedness of results, and database differences
4 Calculation done with the EPA's greenhouse gas equivalencies calculator
Find out more about their performance and order a sample
Any questions? get in touch