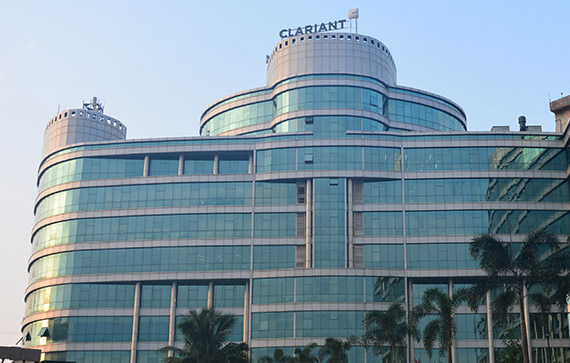 Clariant is a focused, sustainable, and innovative specialty chemical company based in Muttenz, near Basel/Switzerland. On 31 December 2021, the company employed a total workforce of 11,537. In the financial year 2021, Clariant recorded sales of CHF 4.372 billion for its continuing businesses. The company reports in three business areas: Care Chemicals, Catalysis and Natural Resources. Clariant's corporate strategy is led by the overarching purpose of 'Greater chemistry – between people and planet' and reflects the importance of connecting customer focus, innovation, sustainability, and people.

Clariant's Purpose: "Greater Chemistry – between People and Planet
» Customer focus
» Innovative chemistry
» Leading in sustainability
» People engagement

Clariant in India, headquartered in Navi Mumbai, operates in the business areas of Care Chemicals (BU Industrial & Consumer Specialties), Natural Resources (BU Functional Minerals, BL Mining Services and BU Additives) and Catalysis (BU Catalysts). The company has manufacturing units at various locations in India, spread across Nandesari in Gujarat; Bonthapally in Telangana; Kashipur in Uttarakhand and Edayar in Kerala.

With dedicated Application Centers and a state-of-the-art Regional Innovation Center (RIC) in India, the company aims to co-create tailor-made solutions for the industry. The RIC is part of Clariant's Global Innovation Network.

Clariant in India is actively engaged in various community initiatives and has adapted a strategy to focus on the following key areas:

1. Focus on chemistry for next generation and help build future talent in industry
2. As Environment, Safety and Health are top priorities for Clariant, we would extend these initiatives to the community
3. We consider that women are a catalyst of change in the society and hence we have to ensure that we educate the girl child and support to empower women by helping them develop alternative skills


Business entities in India
• Clariant India Ltd (CIL), is a 100% subsidiary of Clariant AG, which includes the businesses: Additives, Functional Minerals, Industrial & Consumer Specialties and Mining Services.
• Clariant's Catalysts business in India is present as a JV with Sud-Chemie India Pvt Ltd and Clariant International (SCIL).
• Clariant and India Glycols announced a successful creation of their 51-49% joint venture for renewable ethylene oxide (EO) derivatives, under the name Clariant IGL Specialty Chemicals Private Limited (CISC).
• Clariant Chemicals (India) Limited (Pigments Business) is now part of the Heubach Group.