This Pioneering Glass Artist Has Used Clariant's Pigments
for 25 Years
Sidney Hutter always knew he wanted to be an artist but didn't expect to be a pioneer of the American Studio Glass Movement.

He received his Master of Fine Arts at the Massachusetts College of Art and his Bachelor of Science in Art at Illinois State University, and was among the first artists in the world to experiment with laminated glass techniques.

His works are included in many important public collections including The Corning Museum, The Metropolitan Museum of Art,The Toledo Museum of Art, Museum of Fine Arts Boston and the White House Collection of American Crafts which is part of the National Archives at the William Jefferson Clinton Presidential Library.

We sat down with Sidney to learn more about his journey to becoming an artist and his work.
"The Verti and Verti Fan series, for example, were highly influenced by my musical interests in the 80s. I used the planar, rectilinear, and architectural qualities of plate glass to mimic the keys, notes, and movement of music."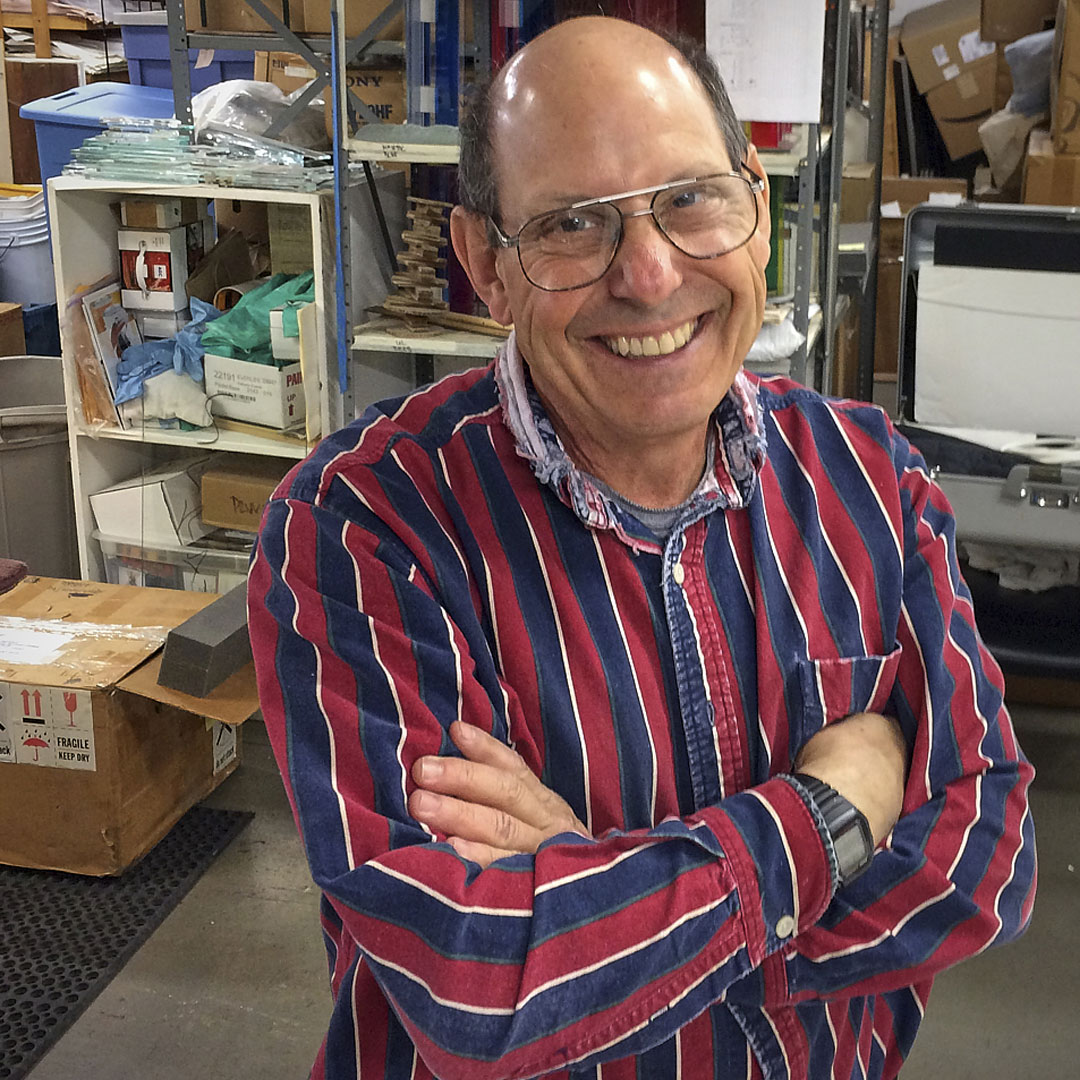 When did you develop your affinity for art and why glass?

I have always been surrounded by art. I grew up frequenting Chicago art museums with my parents who had a great appreciation for culture -- my dad was a psychology professor and my mom a Spanish and French professor who spoke seven languages.

Though not much of an artist in grade and high school, I always liked building things and thought I might be an architect. All this changed one semester when I took a crafts class. Enjoying it so much I went on to take a glass blowing class and the rest is history.

I fell in love with glass and glassblowing, and would practice the craft everyday. I appreciate glass for its many qualities and metaphors it evokes (hard, soft, sharp, smooth) and also because it's highly utilitarian -- we use it in our homes every day as drinking glasses, as windows, as table tops, and more.

Who has inspired your art?

I particularly enjoyed the works of Mark Rothko, Pablo Picasso, and Paul Klee -- very modern and contemporary. I also grew up in a prefabricated Lustron house with geometric panels. I think this had a great influence on my design aesthetic.

What inspired you throughout each phase? I can see that your portfolio consists of pieces that look wildly different -- from fan-shaped objects to cubic hearts.

Overall, I'm inspired by the history of glass and the vessel form. I'm also inspired by architectural vessels whether they are a small container or a large building. I am deeply influenced by modern and contemporary art and design, machines, nature, and humanity. And music, always, playing in the background of my studio.

The Verti and Verti Fan series, for example, were highly influenced by my musical interests in the 80s. I used the planar, rectilinear, and architectural qualities of plate glass to mimic the keys, notes, and movement of music.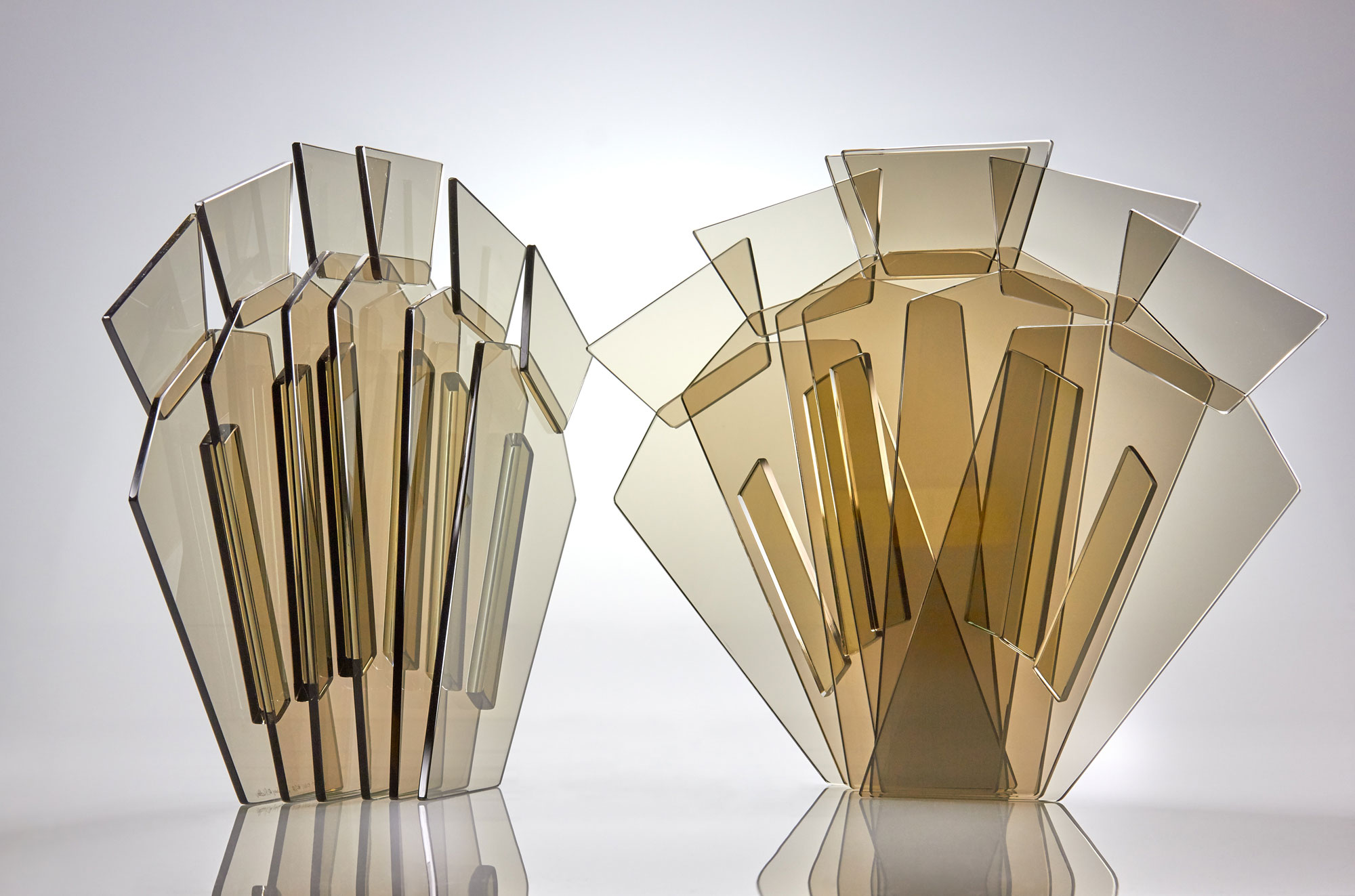 How did you come across Clariant?

I found out about Clariant in the early 90s while researching dyes that I could mix into my clear adhesive. Years later I attended the American Coatings Show in 2010 where I received samples of the incredible new Hostaperm and Hostatint products. The Hostatint line of liquid dispersion pigments mixes easily into my methacrylate adhesive formulas, and I am able to quickly cure the pigmented adhesive between the layers of glass in my work.

What do you value most about Clariant pigments?

I love their clarity, intensity, and vibrance of color, as well as their transparency. Transparency is particularly important in my work because the pigmented adhesive between the layers of glass, and the optically clear glass itself react to one another as light passes through and bounces throughout the layers of glass and color.

How do you produce the vases?

The glass is made from organic materials - sand, soda and lime. It is a very long and involved process of cutting, grinding, and polishing glass pieces, mixing adhesive materials, laminating, and cleaning. I begin by hand drafting a template by which the glass is carefully cut by hand to match. The glass goes through different processes of hand and machine grinding and polishing before it is meticulously cleaned. I then formulate and mix a methacrylate adhesive with pigments and other materials for the desired outcome for the specific pieces. The glass pieces are then carefully laminated to one another and cleaned along the way. Then cleaned again!

This all takes hours and hours, sometimes 40-80 hours per glass artwork, not including design, drafting, mock ups, etc.

How do you select your colors? Are you influenced at all by commercial color trend forecasts?

At one time there was limited color pallet available for me to work with. As colors became increasingly available I started with the primary colors then added secondaries and tertiaries. When I discovered new materials over the years, like a new line of blues, or fluorescents or special effect pigments, I could then go back to color basics and rediscover new combinations. It's partly influenced by color theory, partly by my personal aesthetics and in part by the industry advances in color technology.

For more information on Sidney Hutter visit www.sidneyhutter.com.