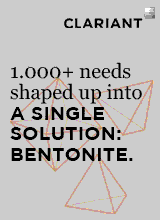 GIFA is the most important trade fair for foundry technology in the world. In 2011 size, competence and rating by visitors and exhibitors received top marks.
Facts & figures 2011:
780 exhibitors from 45 countries
More than 48.700 visitors, 53% from other countires
Top grades from visitors and exhibitors: 98% were satisfied with GIFA 2011!
See, what the future has in store!
A visit to GIFA is worth your while! The GIFA is the platform for excellent Business activities and is the indicator for the innovations which will orientate the future. Here contacts are maintained, and only here will you have the opportunity to communicate directly and personally with renowned manufacturers of foundry technology from all over the world.
Invitation and more here.
Read more about Foundry Additives at Clariant.
Read more about LE Technologies.