Velsan® SC – the »turbo mode« for preservatives

VELSAN® SC – A NATURAL POWER BOOSTER FOR FIGHTING GERMS IN COSMETICS
Cosmetic products can easily become contaminated with microbes like bacteria and fungi, leading to spoilage, skin irritation, and sometimes even dangerous infections
In order to protect cosmetics from the spread of microorganisms and increase their shelf life preservatives are added to them
There is a concern that some preservatives could have adverse health effects
Velsan® SC has an emulsifying and thickening effect in cosmetic formulations, but also acts as a highly efficient preservative booster
It can reduce the use of preservatives such as alcohol and organic acids by approximately 50 percent
Velsan® SC is not classified as a preservative and thus allows the formulation of »preservative-free« products when appropriate other substances are used
The patented active system is produced entirely from renewable raw materials and has been successfully certified as a »Natural and Organic Cosmetic«
Germs in cosmetic products
Since cosmetics often contain water, oils, fats, and carbohydrates they provide a very good growth medium for bacteria and fungi. These microorganisms are present everywhere in the environment and can get into a cream just by it being opened, for example. Germs from the skin and hands of consumers can also be transferred to cosmetics during their use. If bacteria and fungi spread in cosmetic products, they spoil and can no longer be used. If their use is continued regardless, it can lead to skin irritation and infections.





The double purpose of preservatives
In order to make cosmetic products safe to use and extend their shelf life, preservatives are added to them. It is likely that in earlier centuries substances similar to those used in food were most commonly used for this purpose. Later parabens, which are still very frequently used today, became the most commonly used preservatives in the industry. Since the 1990s, the desire for more »natural« cosmetic products has been coupled with the demand that their manufacture and disposal should cause as little damage to the environment as possible.
What kind of germs can contaminate cosmetic products?
The germs most likely to spread in cosmetics are molds, yeasts, and bacteria. They can find their way into cosmetic products via the air, contaminate raw materials, or penetrate inadequate packaging materials. However, it is above all via consumers that germs get into cosmetic products. Common causes include dipping fingers into face cream, moistening eyeliner with saliva, or mixing shampoo with bath water. According to a study by a manufacturer of hygiene products, both the handles of handbags and the face and hand creams in the bags are usually contaminated with more germs than a toilet seat.
What can be the consequences?
Contamination with germs can change the appearance, consistency, and smell of cosmetic products. This can make them unsellable or cause customers to stop buying them. But spoiled cosmetics sometimes also present a health risk. In the 1970s, for instance, the use of mascara contaminated with bacteria of the genus Pseudomonas was held responsible for cases ranging from severe eye infections to loss of eyesight. Other known pathogens often found in cosmetics include the widespread yeast Candida albicans and certain molds of the genus Aspergillus. In April 2015, transmission of a drug-resistant strain of the bacterium Staphylococcus aureus via a make-up brush resulted in a case of severe partial paralysis.
How preservatives stop microbes from growing
Preservatives are effective against bacteria and fungi by changing the pH value of cosmetics, for example, or by breaking open the cell walls of microbes. The frequently used parabens are effective against fungi and certain bacteria. Other preservatives, such as formaldehyde releasers, are useful for battling bacteria, but insufficiently effective against fungi. In order to guarantee protection from as many different microbes as possible, several different preservatives are added to most cosmetics.
Activity spectrum of preservatives
Every preservative has gaps in its range of protection. These can be closed by combining preservatives.

The downside of using preservatives
There is a concern that some of the preservatives used for the protection of cosmetics could have adverse health effects. Some of them are known to cause skin irritation, others are suspected to cause cancer or interfere with the hormone system. In the case of the widely used parabens there is the fear that adverse effects might accumulate if several products containing them are used at the same time. As the chart above illustrates, the gaps all preservatives have in their range of protection also inevitably result in more preservatives being added to the end product.
Velsan® SC – halving the use of preservatives by doubling their power
Velsan® SC has an emulsifying and thickening effect in cosmetic formulations. At the same time it acts as a highly efficient preservative booster, which can reduce the use of preservatives such as alcohol and organic acids by approximately 50 percent. As it is classified as a preservative booster and not as a preservative, formulations using Velsan® SC and appropriate other substances can currently be declared as »preservative-free«, which represents a significant marketing advantage.




The patented active system is entirely produced from renewable raw materials: One of its components – sorbitan – is extracted from corn or wheat, the other – caprylic acid – from palm oil derivatives (RSPO MB certified) or coconut oil. No waste materials except for water result during production, and Velsan® SC is completely biodegradable. It was successfully certified by the renowned Ecocert organization in accordance with their »Natural and Organic Cosmetics« standard and can be used without restriction in natural cosmetics.
How does Velsan® SC work?
In Velsan® SC, sorbitan and caprylic acid are combined to make sorbitan caprylate. The molecules of sorbitan caprylate have a hydrophilic part that »loves« water and a lipophilic part that »loves« fat. This structure allows Velsan® SC to behave like an emulsifier or a surfactant and change the interfacial behavior of cell membranes.

Velsan® SC consists entirely of natural raw materials: sorbitan, extracted from corn or wheat, as well as caprylic acid, a fatty acid from palm oil derivates or coconut oil.

With its hydrophilic head (sorbitan) and lipophilic tail (caprylate), the Velsan® SC molecule changes the interfacial behavior of the cell membrane.
Velsan® SC boosts the effect of preservatives and is synergistically effective against fungi and certain kinds of bacteria. The membranes of the bacteria have hydrophilic heads on their outside, comparable to those Velsan® SC also has. The hydrophilic heads of the Velsan® SC molecules force themselves between the membrane heads of the undesired cell. As both types are comparably charged, they repel each other. Through this, Velsan® SC makes the membrane gradually more permeable and thus prepares the way for the preservatives into the cell interiors, where they can do their work.

Velsan® SC interacts with the appropriate elements of the membrane layer and makes them permeable for the preservative.

Preservatives like aromatic alcohols or organic acids can permeate the bacteria cell walls more easily and – at a significantly lower dose – cause them to die off.
How well does Velsan® SC work?
The synergistic effects with which Velsan® SC supports the action of preservatives in cosmetic products have been proved in numerous tests. The extent to which it can increase the antimicrobial effect of aromatic alcohols, for instance, is shown in tests in which sorbitan caprylate was combined with phenoxyethanol. As the table below illustrates, when used alone both substances only work well against certain kinds of germs often found in cosmetics. However, if a mixture of both is used an inhibitory effect is achieved which is as good or even significantly improved in the case of all microbe types.
minimum inhibitory concentration and synergistic effect of velsan sc®

Minimum inhibitory concentration (MIC): Lowest concentration at which the substances stop the growth of the respective germs. An MIC value of >1 (i.e. greater than 1) means that the substance does not have any e‹ffect.

Source: Clariant, based on: Frederic Pilz: Sorbitan Caprylate – A New Preservative for Formulations
A similar result was achieved upon combination with the aromatic alcohol benzyl alcohol, which is also often used as a preservative. The boosting effect is advantageous because alcohol can dry out the skin and result in skin irritation or allergies. Especially aromatic alcohols also often have a strong odor when used as preservatives, and in higher concentrations tend to destabilize emulsions.
Velsan® SC and organic acids – an ideal combination
The combined effect of Velsan® SC with organic acids is of even more interest to cosmetics manufacturers. Organic acids such as benzoic acid are considered valuable alternatives to parabens and formaldehyde releasers, but must often be combined with aromatic alcohols, which increase their effect. Velsan® SC provides a highly effective substitute for aromatic alcohols and has neither a negative effect on the odor nor the consistency of products. When in tests on a cream formula the preservative booster was added to benzoic acid, the antimicrobial effect progressively improved until the cream was very well-protected from all microbe types. At a pH value similar to that of human skin, the combination works even better than the usual preservative cocktails composed of phenoxyethanol and parabens.
Benzoic acid: test results cream formula

Making »preservative-free« products with the help of Velsan® SC
Velsan® SC also significantly increases the effect of anisic acid, another alternative to traditional preservatives which, however, is not listed as a preservative in the EU. As the table below shows, an addition of only one percent of the booster suffices to preserve creams with a pH value of 5. At an addition of 1.5 percent, the combination works just as well as a standard preservative mixture composed of phenoxyethanol and parabens.
Anisic acid: test results cream formula

Generally, the proportion of preservatives like aromatic alcohols and organic acids can be reduced by approximately 50 percent with the aid of Velsan® SC. As a highly efficient preservative booster of organic acids, the product can completely replace the aromatic alcohols hitherto used for this purpose. This means that by the combination with organic acids that, like Velsan® SC, are not officially listed as preservatives »preservative-free« products can be created, which, in the face of the increasing need for particularly well-tolerated and »natural« cosmetics, represents a significant marketing advantage.

As Velsan® SC is well-tolerated, non-allergenic and of 100 percent plant-based origin, it is ideal for use in the growing sector of natural cosmetics. Its emulsifying effect can also reduce the use of other emulsifiers and thus lead to cost savings. Similarly, due to its thickening effect other less well-tolerated thickeners can be substituted.


LESS PRESERVATIVES NEEDED




Preservative booster enables a high level of protection with fewer preservatives
OUTSTANDING TOLERABILITY




Irritates neither skin nor eyes and does not exhibit allergenic potential
100% BIODEGRADABLE




Completely biodegradable in accordance with the OECD test guideline 301 B
WASTE-FREE PRODUCTION




Production does not create any waste except for water
»With our patented preservative booster Velsan® SC, we are filling several needs with one deed. On the one hand, we are saving large quantities of emulsifiers, thickeners, and preservatives and are therefore making cosmetic products significantly better tolerated. On the other hand, we are protecting the environment by the waste-free manufacture of a sustainable product that consists entirely of renewable raw materials and is completely biodegradable. By this combination, we are fulfilling the constantly growing desire of the end consumer for products which are as natural as possible, but which nevertheless also meet the highest quality demands.«
Dr. Jan Gauczinski, Application Development Manager Personal Care, Clariant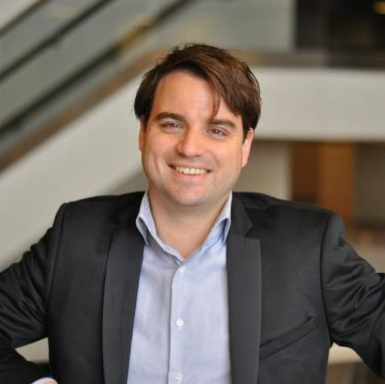 Thijs Bouwens
Global Media Relations
+41 61 469 63 63