减少对

化石燃料的依赖,并促进本地的生物燃料生产

面临着气候变化和化石燃料储量下降的问题,我们需要寻找环保替代新能源。汽车细分市场消耗了全球大约 50% 的原油产量。借助 sunliquid®,科莱恩开发出了一个流程来生产纤维素乙醇,它是一种第二代生物燃料,因具有一流的环保性而著称。
Challenge

A WELL-KNOWN DILEMMA FOR ALTERNATIVE ENERGY: GROWING CROPS FOR FOOD OR FOR FUEL?

Already existing biofuels have been produced from canola, corn or cereals – edible plants, rising the discussion concerning food or fuel resp. competition for arable land. ­To-date the manufacture of biofuels from non-edible biomass such as straw has been very costly due to expensive enzymes needed and energy-intensive processes.

解决方案
sunliquid® 流程将农业废弃物转换为生物燃料
sunliquid® 流程利用各个地区的可用农业废弃物。在新开发的生物技术中,科莱恩已成功地以经济高效的方式将难以从秸秆和其他农业废弃物中提取的糖转化为生物燃料,并且实现能源自给自足。该流程可以通过优化专为原材料定制的生物酶实现较高的糖转化率。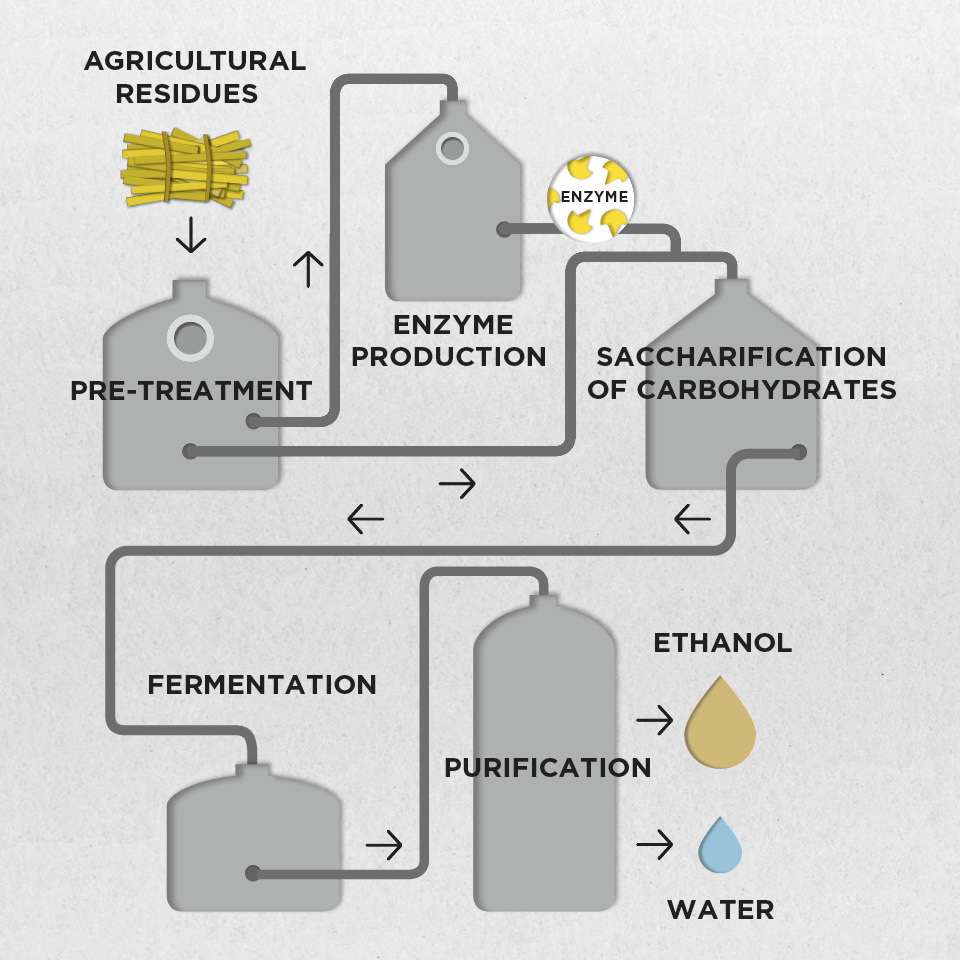 解决方案
sunliquid® 流程将农业废弃物转换为生物燃料
sunliquid® 流程利用各个地区的可用农业废弃物。在新开发的生物技术中,科莱恩已成功地以经济高效的方式将难以从秸秆和其他农业废弃物中提取的糖转化为生物燃料,并且实现能源自给自足。该流程可以通过优化专为原材料定制的生物酶实现较高的糖转化率。

优点

能源自给自足,»创造绿色就业,«并且减少了对化石燃料的依赖

CO2 排放更低


与矿物燃料相比,可减少 95% 的温室效应气体排放。

生物乙醇的产量更高


与以前的流程相比,可以多生产 50% 的乙醇,并且能够同时转化所有类型的糖基。
能源
自给自足


无需额外能源。整个流程使用的能源源自从生物质废弃物中提取的木质素。
流程一体化
酶生产


最大限度地减少采购费用,并让整个流程更具成本效益。





想要了解更多?
与我们联系
请拨打我们的电话或联系 来自 生物技术与 生物基化学品新业务单元的任一专家。