Our Bentonite Mines Change the Land
FOR THE BETTER
No matter where we mine our bentonite clay, Clariant Functional Minerals always operates under the condition that every extraction is followed by recultivation. Be it forest, farmland, or wasteland, nature gives us and our customers valuable minerals. And we are committed to giving back.
GREATER CHEMISTRY - BETWEEN PEOPLE & PLANET
Our land restoration methods are among the most sophisticated and sustainable in the world. And many agree. Not only are our practices valued by land owners and the regions' governments, but also by leading international initiatives, like LIFE TECMINE, which has selected our successful project, located within the sensitive Cabo De Gata-Nijar National Park, Almería, as a reference for best practices in their new reforestation guide.

Restoration of the bentonite mine in Níjar (Almería, Spain) involved some complexity. Besides removing mine waste, filling the pit, and integrating the site into the landscape, our goal was also to reduce soil erosion in the windy, arid region. After extensive geomorphological restoration, and hand-planting with native species, all traces of our mining activities have been replaced by green slopes that enhance the land's natural topology. Erosion has also been successfully reduced thanks to the vegetation and construction of reinforcing structures.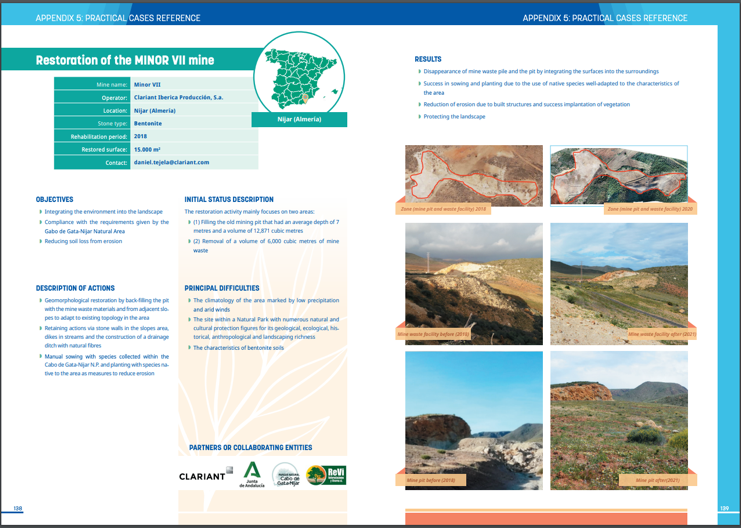 Supported by the European Union, the LIFE project TECMINE is focused on assessing the environmental, technical, and social sustainability of different land restoration methods in mining regions of the Mediterranean. Clariant Functional Minerals is proud that its reforestation practices have been recognized by TECMINE as a reference for others to follow.