Gas Treatment
ABSORPTION FLUIDS FOR GAS TREATMENT
Polyethylene glycol dialkyl ethers have proved successful for scrubbing waste air and waste gas streams containing a variety of organic substances and acid gases. Clariant has developed the Genosorb® range of absorption liquids as tailor-made solutions for many specific waste gas problems.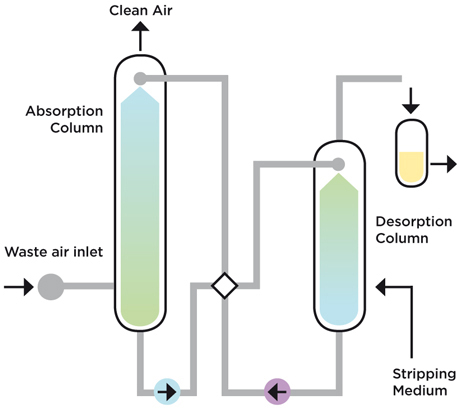 Genosorb® absorption liquids have a low vapor pressure and low viscosity. A waste gas stream containing VOCs and/or acid gases is passed through a packed tower. The removal of VOCs and/or acid gases is achieved through the direct contact between the upward gas and the downward Genosorb® absorption liquid. This rich Genosorb® solution is then passed downward through a packed stripping tower.

The VOCs and/or acid gases are removed from Genosorb® by stripping with steam or air, typically at temperatures between 70°C and 130°C, or even at low temperatures by pressure change. The resulting lean Genosorb® solution is then passed back to the absorber column.
Any questions? get in contact