Bio-based surfactants for home care and cleaning
Carbon is the fuel of life, but too much of it in the atmosphere can threaten the planet. As CO2 is used for photosynthesis by plants, metabolized into organic matter and consumed by Earth's organisms, it moves in a constant cycle through soil, sea and atmosphere.

Burning the unmetabolized carbon stored in fossil fuels like coal, oil and gas spews more CO2 into the air than photosynthesis and other processes can scrub back out. The harm to Earth's atmosphere is caused by the imbalance in the carbon cycle rather than the CO2 itself.
Restoring sustainable carbon cycles: The greening of global value chains
By 2030, at least 20% of the carbon used in chemical and plastic products should come from sustainable non-fossil sources.

​

»​ Up-coming European policy will
drive the substitution of fossil carbon with bio-based carbon to achieve climate neutrality by 2050.«

​

​ Bio-based feedstock is a sustainable and renewable option to fulfill this up-coming obligation.
VITA range of 100% sustainable surfactants
From the bottle to its many ingredients, a typical product is still mostly made from petrochemicals.
The chemistry and performance of Vita surfactants remain equivalent to the fossil-based analogues. The surfactants' fossil-based ethylene oxide is replaced fully by the 100% bio-based ethylene oxide made from sugar cane. As a result, home care formulations' renewable carbon index (RCI) can be dramatically increased.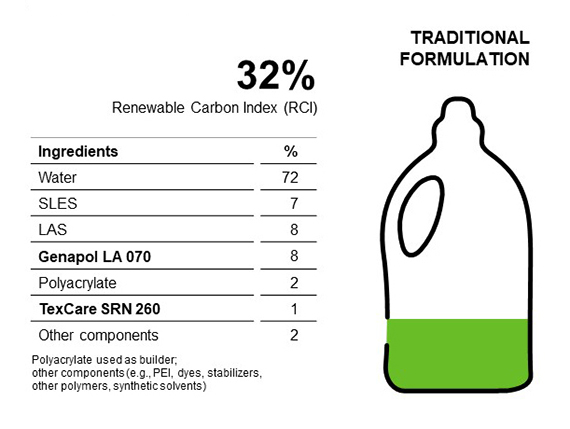 [European Commission initiative "Restoring sustainable Carbon Cycles"]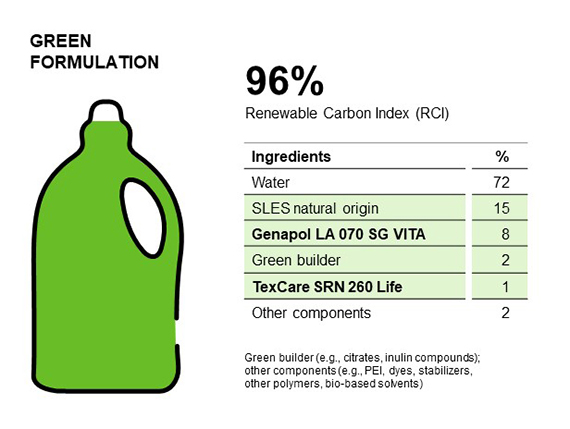 When comparing the value chain of conventional surfactants and those of our VITA range, it's easy to see the difference. Instead of starting with crude oil and ending up with 100% fossil carbon, VITA starts from plants and leads to 100% renewable-based results.
Produced via a fully segregated, bio-based value chain
From source to final ingredient, the flow of our materials is kept completely separate from fossil flows:

Produced via a fully segregated, bio-based value chain
From source to final ingredient, the flow of our materials is kept completely separate from fossil flows: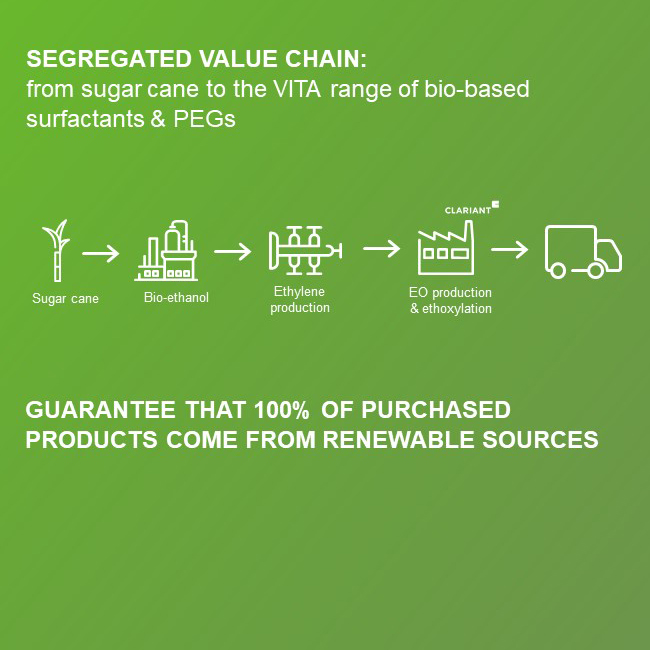 Hydrogenated castor oil ethoxylates
EO/PO Surfactants
Lauryl Alcohol Ethoxylates
Oleyl Alcohol Ethoxylates
Cetostearyl Alcohol Ethoxylates
Polysorbates
PEGs
Any questions? get in contact