Deep in the subject matter
WE ARE A LEADING PROVIDER OF
DEEPWATER CHEMICAL SOLUTIONS
Innovative solutions for complex Deepwater Production Challenges




EXPERTISE IN HPHT AND FLOW ASSURANCE CHALLENGES ASSOCIATED WITH LONG DISTANCE TIE-BACKS.
As a leading provider of chemical solutions and services for oil production across the globe, Clariant delivers solutions for complex Deepwater production challenges, especially with high pressure and high temperature (HPHT) wells and flow assurance challenges associated with long distance tie-backs.

Our customers require specialty chemicals that help them maximize production safely and cost-effectively. We work diligently to meet these requirements while delivering projects on time and within budget – providing continuous innovation, proven high performance, operational expertise, and timely support while maintaining the highest safety standards.

Our approach combines our extensive technical know-how with first-hand Deepwater operations expertise that enables us to develop proven chemical technologies best suited for the intricacies stemming from Deepwater complexities.
Any questions?
Our experts are standing by to offer you more details. Would you like to get in touch with one of them?
Safety is our 1st Priority
WE PARTNER WITH CUSTOMERS TO DEVELOP SAFE AND SUSTAINABLE SOLUTIONS FOR DEEPWATER OPERATIONS.
Clariant is dedicated to a culture of safety, and we work according to this standard every day throughout the organization with an ongoing commitment to continuous improvement. To maintain employee focus on safety, Clariant promotes two global initiatives:

Avoiding Accidents@Clariant and
Safety Affects Everyone (SAfE).

We set aside time to review the effectiveness of our current safety programs to gain valuable feedback for corrective action and encourage innovative solutions that will continue to ensure the work environment is safe.
End-to-end process solutions offer product reliability
WITH PROVEN PERFORMANCE SPECIFIC TO DEEPWATER PRODUCTION

Clariant adopts a holistic view when working collaboratively with our customers. We start by analyzing the risks and issues within the operating environment of our customers and then identify their root causes. The chemical solution is designed, developed, tested, and tried in the lab where the known complexities can be modeled and replicated in order for the technology to be proven before it is taken to a customer's operating environment.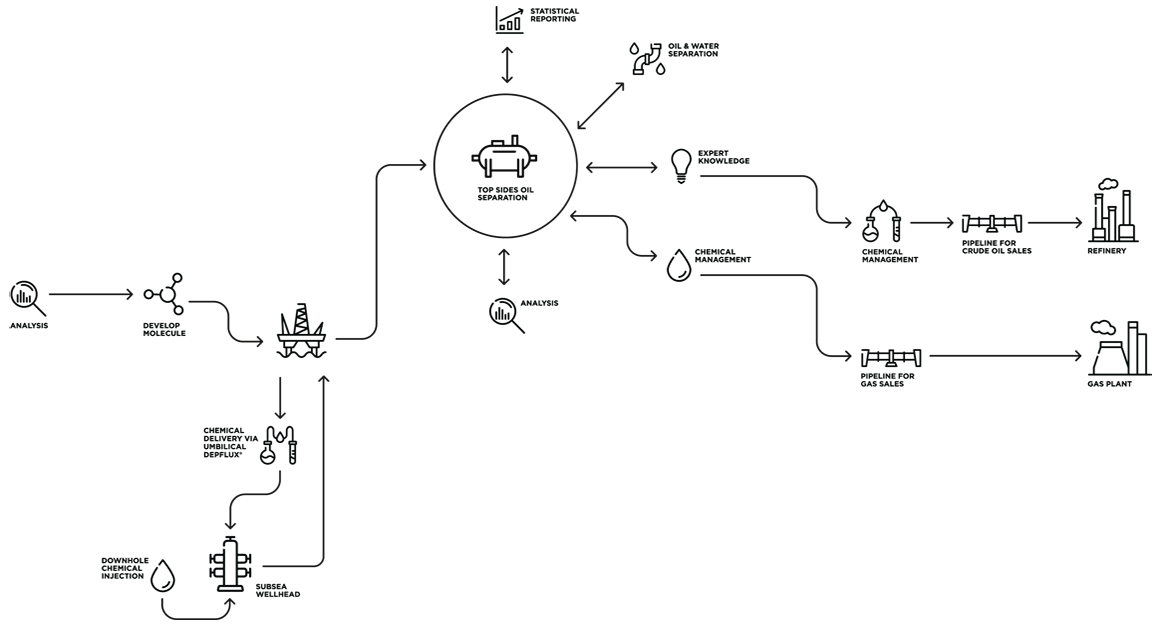 Clariant identifies, develops, and implements best practices across the global supply chain to be a reliable supply partner. Through Clariant's Operational Excellence program, customers are assured of single point accountability supported by a global team with an expansive network of resources, manufacturing, and local content, as well as integrated logistics to drive operational reliability.

Clariant Excellence is a companywide initiative whose goal is to sustainably position Clariant at the top levels of performance where continuous improvement and LeanSigma are core to its methodology. It establishes standards across sites based on proven best practices and lays the foundation for a self-driven, sustainable, and continuous improvement culture.
Patented chemistries, global Deepwater experts and state-of-the-art laboratory facilities
KEEP PRODUCTION IN FLOW

Clariant continuously invests in our global team of Deepwater technical experts, who are equipped with the operational knowhow and innovative mindset to proactively solve problems.
The dedicated Deepwater state-of-the-art laboratory facilities complement our technical experts allowing innovative product development, focusing on flow assurance, scale control, asset integrity, and fluid separation that simulates real-life production scenarios with proven lab-to-field correlations.

State-of-the-art laboratory complements our technical experts as they enhance product development in areas, such as:

flow assurance
asset integrity
fluid separation
scale control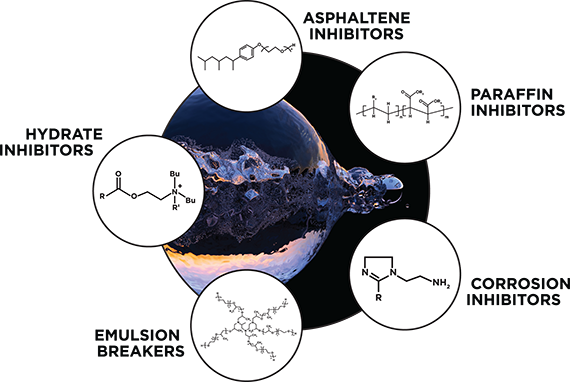 Under High Pressure
WE WORK BEST

A market leader in Deepwater applications, Clariant Oil Services has a proven track record in the most challenging Deepwater environments, including the Gulf of Mexico, Brazil, and West Africa.

Because of high pressure and high temperature (HPHT) environments known in Deepwater operations, the robust processes are used for proactive risk management, product quality control and surveillance and monitoring

To reduce risk, increase speed of execution, and improve operational reliability, we developed the DepFlux® (DF) suite of chemical technologies made suitable for deployment via Deepwater umbilicals.
All DepFlux chemicals undergo a rigorous certification process to ensure that they remain stable for extended periods under both the highest and lowest temperatures that will be experienced in the Deepwater subsea environment.
Clariant's certification process is comprised of a battery of laboratory tests designed to meet the performance, compatibility, and stability standards recommended by the American Petroleum Institute's Blockage Avoidance in Subsea Injection and Control Systems (BASICS) Joint Industry Project (JIP). Clariant assesses all products for compliance with health, safety, and environmental legislation before they are taken to market.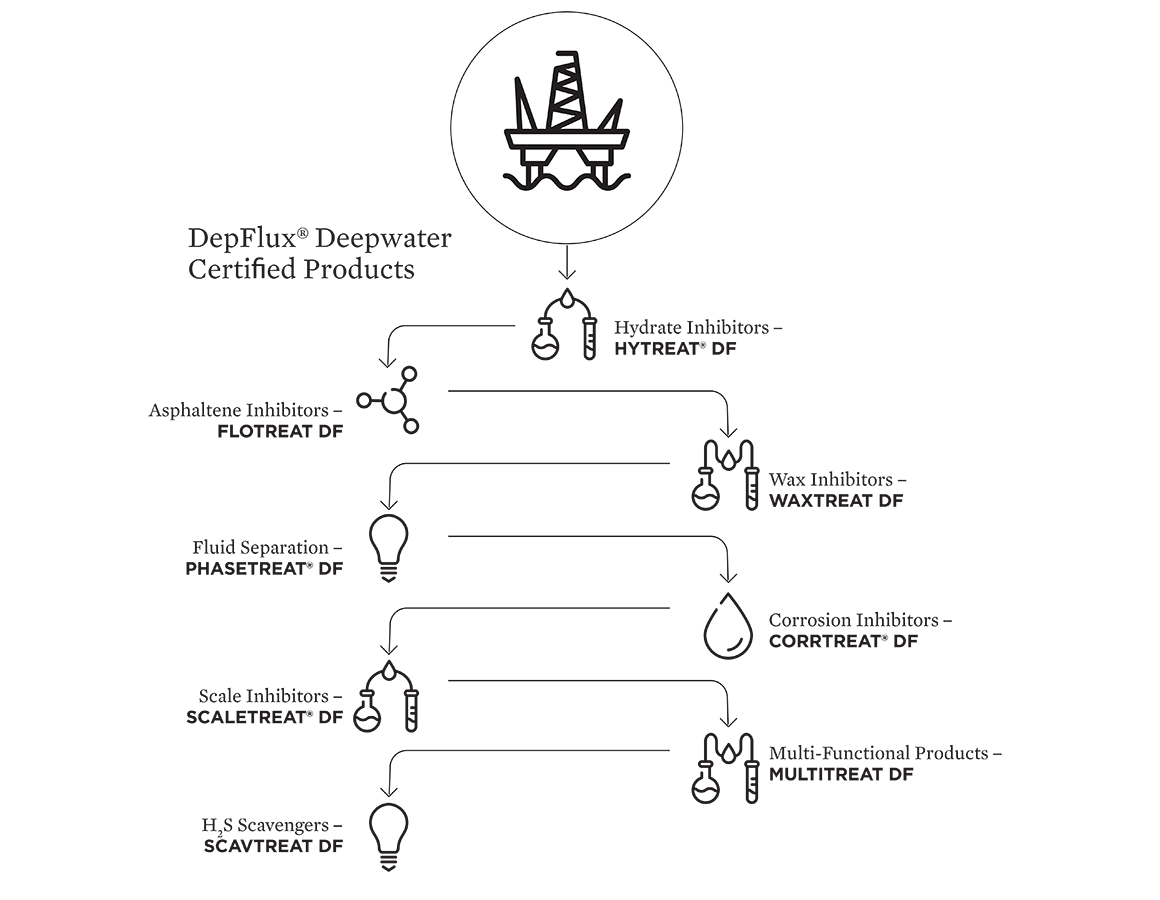 Clariant develops and produces a wide range of production chemicals suitable for deployment via Deepwater umbilicals and are contained within the DepFlux® Portfolio that address key technical challenges in the areas of asphaltenes, paraffin/wax, hydrates, scale, corrosion in addition to emulsifiers and multifunctional products.
A global presence combined with local commitment
DELIVER SOLUTIONS FOR COMPLEX DEEPWATER PRODUCTION CHALLENGES
As a leading provider of chemical solutions and services for oil production across the globe, Clariant's goal is to deliver solutions for complex Deepwater production challenges, especially with high pressure and high temperature (HPHT) wells as well as flow assurance challenges associated with long distance tie-backs.

Our global manufacturing and distribution footprint provides supply security to all the major Deepwater markets including Brazil, West Africa, and Gulf of Mexico.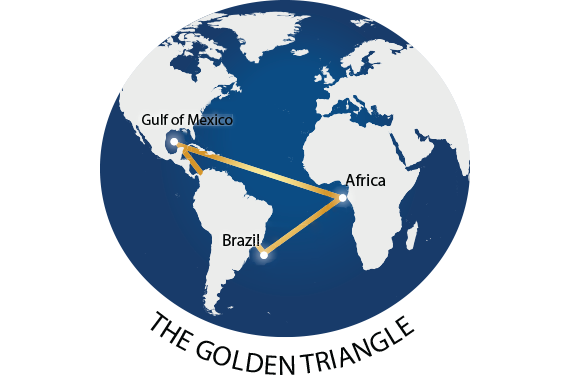 Local manufacturing, blending and laboratories

OVER 40 YEARS OF OIL INDUSTRY PARTNERSHIP IN BRAZIL

Clariant's third largest manufacturing and blending facility worldwide, located in Suzano City, Brazil, supplies the local Brazilian oil and gas market. 90% of the content produced for the oil and gas industry, at this multi-purpose site, is made from locally sourced raw materials, allowing us greater flexibility in meeting the local needs of the customer; providing faster response times and improved supply security. In addition to its own quality control laboratory, this site has fully equipped analytical and research and development laboratories that ensure quality, high-standard chemical products for umbilical delivery.

The application laboratory in Rio das Ostras (RDO) and the Subsea application laboratory located in Sao Paulo are dedicated exclusively to the development
of products for umbilical application. The locations of both facilities, in close proximity to customers, ensure customer collaboration. In addition, the DEPFLUX Lab in São Paulo works in close collaboration with Clariant's global R&D network's Innovation center in Houston to develop high quality chemical products for Deepwater.

The storage and distribution center located in the city of Rio das Ostras (RDO), Rio de Janeiro, provides chemical storage to supply Deepwater customers products that specifically meet their requirements and standards.
Local manufacturing, blending and laboratories

KEY OPERATORS IN THE WEST AFRICAN MARKET FOR 10 YEARS

Clariant Oil Services has been building relationships with key operators in the West African market for over 10 years. In the Nigerian delta, Clariant Oil Services supplies key production chemicals such as corrosion inhibitors, demulsifies, and oxygen scavengers. Our demulsifier product range has demonstrated superior performance when tackling the local challenges arising in this region.

Clariant Oil Services ensures supply security for the Deepwater markets in Africa through key manufacturing sites in Europe and local blending solutions.
Local manufacturing, blending and laboratories

RAPID GROWTH IN THE GULF OF MEXICO

Clariant Oil Services is the fastest growing chemical supplier to the Gulf of Mexico. Our end-to-end process solutions offer product reliability with proven performance specific to critical conditions found in Deepwater production, underpinned by supply chain excellence.

New Orleans
Continuous expansion over the last few years at the Reserve manufacturing plant located close to New Orleans, Louisiana demonstrates Clariant's commitment to growing with its customers. The expansion of the blending capacity was nearly fourfold while the storage capacity was close to doubled. This allowed the plant's throughput to grow five times its original amount. The strategic location of the site clearly positions the supply chain central to customer operations whether located offshore in the Gulf of Mexico.

Broussard
Clariant's Broussard facility is specially equipped for the manufactured product to undergo five Quality Assurance checks before the final product is delivered to the customer. This process begins with a filtration step to ensure product suitability for umbilical applications. Clariant conducts the additional quality control evaluations after each step, in manufacturing and transportation, where all is carefully documented. The special care given to quality assurance gives our customers peace of mind when meeting their supply needs.
Local manufacturing, blending and laboratories

Guyana

Clariant Oil Services has a registered business in the country as the first step of many planned to build our presence in the growing enterprise of Guyana's budding Oil & Gas Industry. Our team has been working in Guyana for over a year ensuring our portfolio of solutions is registered properly and follows all requirements from the energy and environmental authorities.

Click here to learn more
Want to know more?
LET'S GET IN TOUCH
Please give us a call or contact one of our professionals from BU Oil Services