IMO 2020
MARINE FUEL ADDITIVE SOLUTIONS FOR IMO 2020 CHALLENGES
Clariant Refinery Services is a leading provider of marine fuel additives

WITH PROVEN PRODUCT PERFORMANCE

The International Maritime Organization (IMO) made the decision to lower its global marine fuels Sulphur limit to 0.5% from the current limit of 3.5% starting on January 1, 2020. IMO 2020 will be a major challenge to global refiners and ship operators, as the new standards will have a significant impact on marine fuel oil costs, availability, composition, and performance.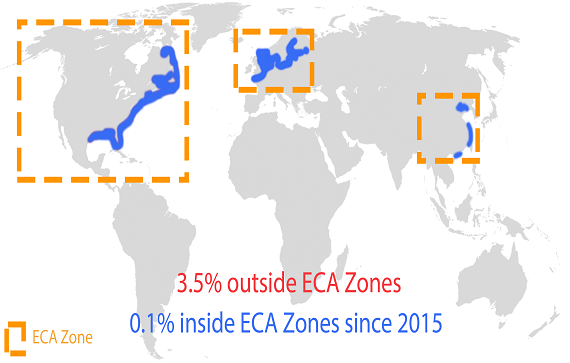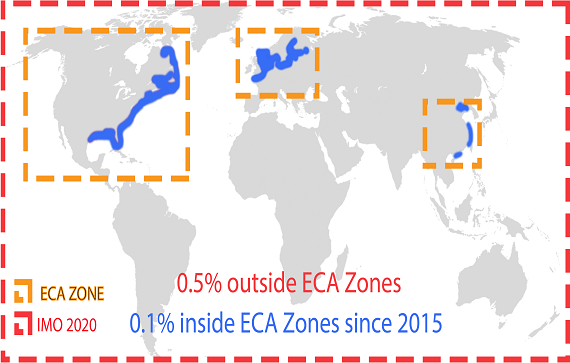 As the bunker industry now faces significant increases in 0.5% compliant blended fuel oils, refiners must prepare for the challenges that differing fuel oil compositions bring. As these fuels will vary significantly in their characteristics and qualities, challenges such as instability/ incompatibility and increased pour point become concerns for marine fuel customers.
As there is no universally accepted refining method for 0.5% sulphur fuel, there will be a variety of fuel qualities being offered. The issue of incompatibility and instability may immediately occur when different fuel streams mingle.
Blended products in particular may not be reliably stable and could be incompatible with other fuels.
Bottom sludge formation could occur in a vessel's fuel tank due to this incompatibility risking blocked filters or even total engine failure
Differences in fuel characteristics brought about by blending different streams can have a significant effect on the cold flow behavior of fuel.
Increased amounts of paraffins in typical fuel oil compositions can lead to wax drop out of long chain paraffins at lower temperatures causing potential filter blockages.
Depending on the cut point of the fuel, the blends may also show an increased pour point that does not comply with the requirements of ISO 8217.
Clariant Refinery Services has the marine fuel experts, marine fuel compatibility enhancer and PPD additive solutions, and technical capabilities to help minimize these IMO 2020 challenges.
Our People

ADDITIVE CHEMISTRY EXPERTS WITH EXTENSIVE MARINE FUEL PRODUCT AND INDUSTRY KNOWLEDGE
Our experts have unique qualities that offer key benefits to our marine fuel customers:

Decades of industry experience
Backed by decades of industry experience, our global team of marine fuel experts are equipped with the operational know-how and fuel chemistry expertise to solve IMO 2020 challenges.

Extensive product and application knowledge
Clariant Refinery Services' fuel chemistry experts are leading PhDs in the field and are at the forefront of our product development efforts. Our innovative lab specialists have developed leading marine fuel compatibility enhancer and pour point solutions to tackle the challenges IMO 2020 presents.

A proactive approach
Our application development experts take a hands-on service approach with our marine fuel customers in order to provide the highest quality product performance. Our collaboration with customers cultivates an environment of continuous improvement.
Our Products

SPECIALTY MARINE FUEL ADDITIVE SOLUTIONS THAT WILL EASE YOUR STABILITY, COMPATIBILITY, AND POUR POINT CONCERNS

Clariant's marine fuel additive product offering includes marine fuel compatibility enhancer and pour point depressant solutions that will ensure operational reliability according to new IMO 2020 sulphur limit standards.
DISPERSOGEN® 2020

MARINE FUEL COMPATIBILITY ENHANCER FOR LOW SULPHUR FUEL OIL THAT DELIVERS RELIABLE AND COMPLIANT PERFORMANCE

This IMO 2020 tailormade solution has specifically been designed to improve the stability of low sulphur fuel oil (LSFO) and support the compatibility of fuel oil mixtures by dispersing asphaltenes and other fuel oil components.

Low Sulphur fuel oils streams can be based on aliphatic hydrocarbons with a paraffinic character or they consist of heavier aromatic components including asphaltenes. Comingling of those streams can lead to stability problems and the precipitation of asphaltenes and other fuel oil components. Neither shipowners nor fuel suppliers will know when or where different LSFO qualities have been mixed. Therefore, refueling different LSFO qualities from different regions and/or suppliers bears the risk of complaints due to fuel incompatibilities.

DISPERSOGEN® 2020, Clariant's innovative marine fuel compatibility enhancer solution, will ensure that global refiners can meet new regulation standards with fuel oil blends that will remain stable and compatible.

Clariant's DISPERSOGEN® 2020 can be used as a preventative measure to allow LSFO blending across all regions, which will help global refiners meet new regulation standards with fuel oil blends that will remain stable and compatible.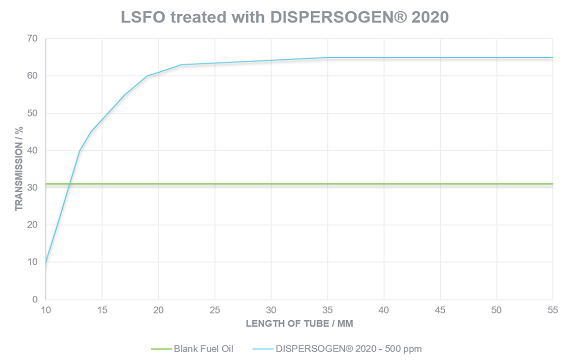 Results:

The graph shows the average percentage transmission of light (%) versus height (mm) of the test tube after 15 minutes.
The untreated blank low sulphur fuel oil (LSFO) shows an increasing transmission over the length of the tube reflecting precipitation of insoluble matter.
DISPERSOGEN® 2020 shows a constant transmission throughout the test tube indicating a homogenous distribution of particles and a low separability number.

Testing Methodology:

The asphaltene dispersion was measured according to ASTM D 7061 using a turbi scan MA 2000.
Cold flow behavior of marine diesel and LSFO are significantly impacted by their composition. Cut points of the marine gas oil as well as heavy refinery stream as part the LSFO may show an increased pour point that does not comply with ISO 8217 requirements. Clariant Refinery Services' DODIFLOW product line offers pour point depressant solutions for LSFO and Marine Diesel.



DODIFLOW® 8421

SPECIALIZED POUR POINT DEPRESSANT DESIGNED TO IMPROVE COLD FLOW PROPERTIES OF 0.5% SULPHUR FUEL OILS
Clariant DODIFLOW®-type products were tested to lower the pour point of the LSFO to the specification of 30°C (86°F).

Results:

Considering the high blank pour point of the LSFO sample, DODIFLOW® 8421 shows an excellent response behavior and a very low dose rate to achieve the target.
For the provided test results LSFO and PPD had a temperature of 50°C (122°F).
Using 200 ppm of DODIFLOW® 8421, the pour point of VLSFO was reduced to 27°C (81°F).
Increasing the dose rate continues to improve the PPD-response up to 12°C (54°F) at a dose rate of 1000 ppm.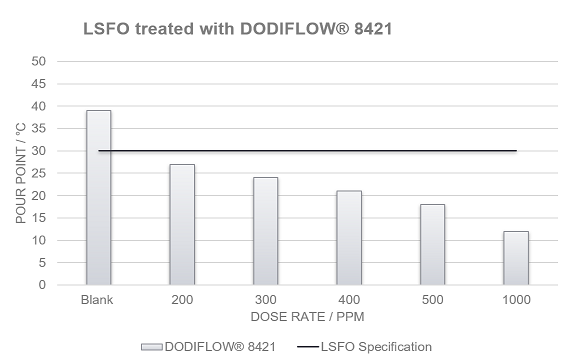 DODIFLOW® 6087

PREMIUM FUEL ADDITIVE POUR POINT DEPRESSANT TO IMPROVE THE COLD FLOW PROPERTIES OF LOW SULPHUR MARINE FUEL DISTILLATES
Clariant Marine Diesel PPD DODIFLOW® 6087 was used to treat DMA marine fuel to the required specification.

Results:

The used DMA quality had a blank pour point of 15°C.
The summer and winter specification, which are required by ISO 8217, are easily met with dose rates of 65 and 75 ppm, respectively.
The graph shows that increasing the dose rate leads to further improvement of the pour point, which leaves additional options for the refiner to blend heavier components into the marine diesel.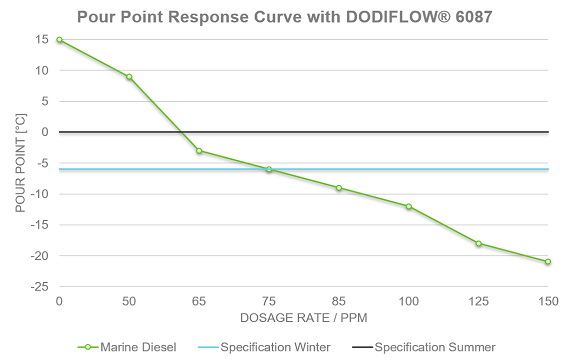 Our Capabilities

CLARIANT'S RESEARCH AND PRODUCT DEVELOPMENT EXCELLENCE RELIABLY ENSURES IMO 2020 CHALLENGES ARE ADDRESSED
Clariant Refinery Services has extensive R&D and laboratory testing capabilities to ease marine fuel customer's stabilization and pour point concerns. As a recognized leader in additive solutions, we continuously strive to help our customers address challenges with innovative and cutting-edge technologies. Our laboratory and research centers located worldwide provide our technical experts the tools necessary to create additive solutions with proven product performance.
Clariant Innovation Center
Our company's largest production and research center worldwide, and the heart of Clariant's global research activities. To learn more about this facility located in Frankfurt, click here.

Crude and Fuel Oil Center of Excellence
As we continuously invest in our product development capabilities, we have opened a dedicated crude and fuel oil facility to complement our technical experts in Bradford, UK. This facility has state-of-the-art lab equipment and modern methods of crude oil analysis and performance testing, and will serve as the global center of excellence for crude and fuel oil applications in transport and storage for Clariant Refinery Services. This lab is the core center for our experienced service team to support customers with crude and fuel oil treatments as well as organizing and applying PPD/ Dispersant treatments on a global level.

Houston Center of Excellence
This lab in The Woodlands, TX is the primary R&D facility to support Oil, Mining, and Refinery Services. This facility has opened a ground-breaking High Throughput Experimentation Lab. While used widely in other industries for years, we are the first company to adopt this service for the Oil & Gas Industry making this lab the first of its kind in the world. This fast response unit uses miniaturization, parallelization, intelligent design, and enhanced analytics to enable multiple experiments to be carried out simultaneously in a fraction of the time. The specialized tools the HTE Lab uses can greatly improve productivity by identifying new formulations and synergistic blends faster with higher efficiency, compared to traditional laboratory methods. Through differentiation and innovation, this state-of-the-art facility offers customers optimized formulations to meet unique requirements while providing new and sophisticated solutions.
Clariant Refinery Services uses a range of technical testing methods where our IMO 2020 products' performance are aligned in accordance with regulation standards.

In addition to state-of-the-art methods and application testing, Clariant specializes in customer focused application development. Our specialists are able to discover new solutions through the simulation of field conditions in a laboratory environment. This replication enables our experts to develop innovative products that prove their full performance potential.

Our aim is to develop fuel additives that enable our customers to reliably tackle handling and specification issues.
RESOURCES
Webinars
Webinar
IMO 2020 & COVID-19
How Clariant's Refinery additives help navigate these challenges
Want to know more?
LET'S GET IN TOUCH
Please give us a call or contact one of our professionals from Refinery Services