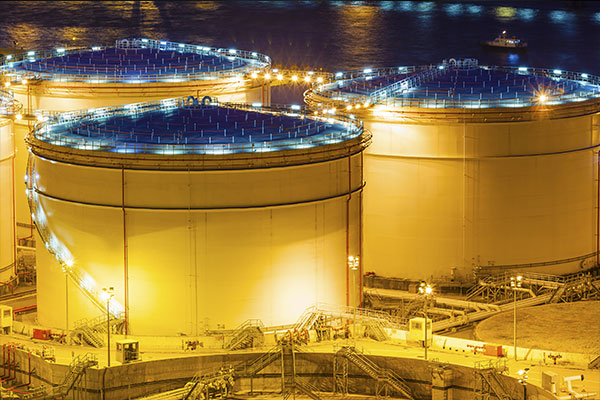 Fuel additives engineered for the harsh environment of terminals.
The terminal business demands that fuel additives be the best in class in their product range. They need to be able to treat a broad variety of different fuels and perform in the harsher environment of the terminals. As leaders in the refinery industry, Clariant brings the best practices from around the world to develop innovative solutions for our customers. We offer a wide range of fuel additive products that are specifically engineered to meet the elevated requirements of the terminal business. The cold handling ability of our products make them very attractive for terminal applications. Our product range includes fuel additives like Cold Flow Improver, Wax Dispersants, Lubricity Improver, Cetane Improver and Pour Point Depressants.
Middle Distillate Flow Improver
Terminals are being confronted with an increasing variety of fuels and a wide range of possible fuel qualities. Clariant's Cold Flow Improvers (CFI) are:

effective for a broad variety of different fuel characteristics reducing operational complexity,
able to be stored in unheated tanks reducing operating costs,
able to be injected at low temperature minimizing time needed to heat the fuel,
available in optimized dosage rates over all your terminals for improved operational efficiency, and
compliant with necessary performance requirements due to improved cold filter plugging point (CFPP), pour point (PP) and low temperature filtration test (LTFT) of middle distillates such as diesel or light heating oils.

Clariant has especially designed products to meet your needs, developed under the well-known product line DODIFLOW®.
Wax Anti-Settling Additive
Terminals are increasingly confronted with the challenges of choosing which additives to use based on the broad variety of fuels being introduced at the terminals.

Clariant provides additives that:

comply with sedimentation requirements, an additional method to ensure car operability as required in the European market,
improve the sedimentation stability of the fuels in your terminal for enhanced fuel storage and handling,
boost the CFPP performance in your fuels to advance the effectivity of the applied Cold Flow Improver, and
can be stored in unheated tanks and injected at low temperature to reduce operating costs.

Clariant has especially designed products to fulfill these requirements, offering products specialized for low temperature handling under the brand of DODIWAX®.

Together with our Middle Distillate Flow Improvers, we are able to create Wax Antisettling Flow Improvers (WAFIs) customized to specific requirements, solving different problems (such as CFPP and sedimentation specifications) within one product.
Pour Point Depressant
A variety of different crudes and fuels are handled in terminals. The main challenge is to take care of transportation and storage without any sedimentation. Especially under conditions with lower temperatures, often seen in terminals, this can be a challenge.

Pour point depressants (PPD) can help to prevent sedimentation or to fulfill pipeline specifications.

Clariant's PPD products help you:

increase the handling properties of crudes and heavy fuel oils in terminals allowing for operational flexibility,
reduce heating of tanks and pipes reducing operating costs,
transport highly paraffinic oils without causing sedimentation ensuring product acceptance at refinery,
ensure marine fuels meet pour point specifications for further processing,
achieve pour point targets in middle distillates such as diesel and heating oil, and
handle PPD's at reduced temperatures minimizing extra costs to heat the fuel.

Clariant has especially designed products to fulfill these requirements, specialized for low temperature applications, developed under the well-known product line DODIFLOW®.
Cloud Point Depressant
Cloud Point (CP) is the temperature at which first crystallization is observed as a haze in a diesel fuel sample. Depending on the dosage rate of the additive, cloud points can be depressed by 1-5 K to provide terminals with increased flexibility in fuel stream management. Clariant's Cloud Point Depressant can be used in combination with CFI to achieve synergistic improvements of the pour point of the middle distillates.
Corrosion Inhibitor
In order to reduce corrosion, fuels can be treated with corrosion inhibitors. Corrosion is a complex phenomenon, which can be reduced through various processes such as adding a neutralizer, a protecting film forming agent or a demulsifier in order to reduce as much salt as possible from the oil. Clariant offers a total package of corrosion additives for your convenience. We can also deliver individual components for specific environments such as terminal applications.
Hydrogen Sulfide Scavenger
Heavy hydrocarbon liquids derived from "bottom-of-the-barrel" (BoB) products like marine fuel or bitumen (asphalt) are a big part of the growing safety and environmental concerns about H2S in the petroleum industry. Clariant's H2S scavengers can help with potential health hazards, violations of local occupational health, safety regulations and public complaints from unacceptable high H2S levels. Clariant's product range complies with the international standard ISO 8217. SCAVTREAT® reacts rapidly to allow effective injection into the system with shorter residence times and delivers a highly cost-effective solution. Furthermore, SCAVTREAT provides blending flexibility for fewer product rejections and shipping delays as well as reducing odor, corrosion and safety challenges.
Dehazer
Residual water in refined hydrocarbon fractions like gasoline, diesel or gas oil often appears as "haze", even at levels less than 0.5 % w/w. Free water is typically the result of refining unit inefficiencies. These "cloudy / hazy" fuels must be allowed to settle longer, disrupting shipping schedules and increasing storage space requirements. Clariant DISSOLVAN® Dehazers displace surfactants at the water/oil interface that usually stabilize emulsions. A dehazer can remove water from gasoline, diesel and heating fuels to protect against corrosion and future water ingress.
Contact
Our technical experts have the experience to help you find the best product formulation for your terminal project and ensure appropriate support. Contact us for more information.