Meet Kai Rolker
Head of Group Communications at Clariant
We recently caught up with Kai Rolker, Head of Group Communications, to learn about his hobbies and what's like to work at Clariant. Discover what goes on behind-the-scenes and how our people bring Clariant's story to life.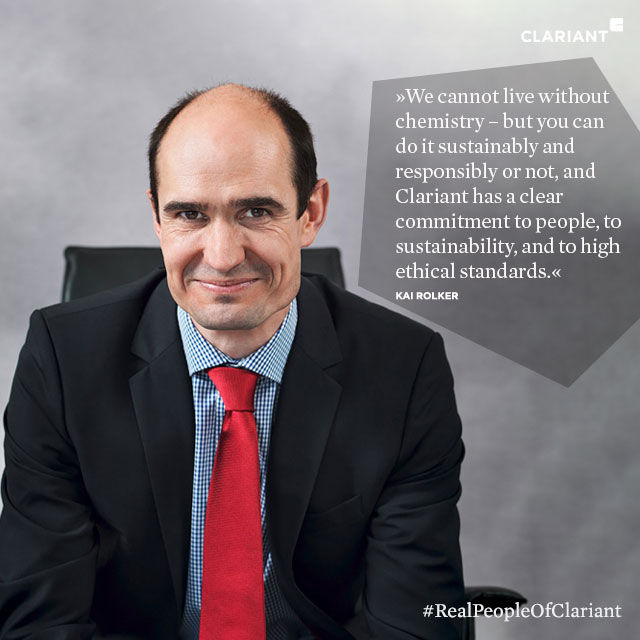 Where are you from?

KR: Freiburg, Germany

What is your job title?

KR: Head of Group Communications

What does that really mean in your daily work life?

KR: We have 17,000 employees and since they are all communicating on behalf of Clariant, I'd like to call them our 17,000 spokespeople. With my team, I'm trying to make sure that all these spokespeople speak with one voice – and that Clariant is recognized as a company that creates value for all stakeholders.

What does an average day look like?

KR: An average day? Does not exist in my life… I'm mainly aligning activities between Group Communications and stakeholders (internal customers but also media), finding the best way to keep communications consistent, giving advice, coaching, and traveling to regional teams. I'm also always listening and learning.

How long have you been working at Clariant?

KR: I've been working at Clariant for almost 6 years.

What do you like doing on weekends?

KR: On weekends I enjoy life - long and late breakfasts, family time, sport activities, and meeting friends.

How do you feel about working at Clariant?

KR: Working at Clariant is GREAT because I can live up to my talents, make a difference, and work with fantastic, smart and creative people.
What is the last book you read?

KR: "The Book of Mirrors" by Eugen O. Chirovici , a great novel about how our memories are cheating us.

What's your favorite dish to cook?

KR: I love to cook Italian fish soup – perfect for hot days – and it's one of the very few meals I am able to cook without any help...

What is your favorite holiday destination ever?

KR: India - it's colorful and crazy, it has the best cuisine, and people are charming and hospitable.

Tell us about your favorite scientist or your favorite invention.

KR: The best invention ever: printers - brought us the gift of books.

What would your advice be to people looking to join your field of work?

KR: In communications, you need to have a passion for stories, for language, for visuals and design. To be successful in communications you should be a good team player and make sure to keep your ego under control.

What brought you to Clariant?

KR: I joined Clariant because I noticed that this is a company on the rise and that I would be part of a great team.

If you could explain your team/culture/colleagues in 3 words…

KR: Dynamic, professional, success-oriented

What have you been most proud of doing at Clariant?

KR: Since others do the "real work", hard to tell; seeing the team develop over the past years was great. As a communicator, you are always proud to see results of your team's work: a big trade show, new content on the website, the annual report - among the best in Switzerland - or a story in the media that was based on your input.

How do you think your specific work makes an impact on Clariant?

KR: We cannot live without chemistry – but you can do it sustainably and responsibly or not, and Clariant has a clear commitment to people, to sustainability, and to high ethical standards. We can make this visible through communications.

In one sentence, what's the best thing about your job?
KR: Being challenged every day – and to see that things are progressing.

What's a little-known fact about you?
KR: As a teenager, I had a huge collection of soda cans...

What is your favorite Clariant product and why?
KR: VERITRAX™ provides »high impact«, real-time information flow of the whole chemical management process so oil and gas producers have the confidence that their chemical program is performing as expected. To me, this is fascinating!

You've been sent on a mission to Mars for 3 whole years. What 3 things would you absolutely want to bring with you?
KR: ThePink Floyd Album "Wish You Were Here", the complete works of Arthur Schopenhauer, my family, and some bottles of Amarone wine.

Thank you Kai for all your contribution over the last 6 years!

#RealPeopleofClariant