March 21, 2018
Meet Sanika Shukla
Head of Sales & Applications for Plastics
We met up with Sanika to find out what drives her motivation at work and how she spends her "me" time on weekends to unwind. Learn more about her and how she contributes to Clariant's story.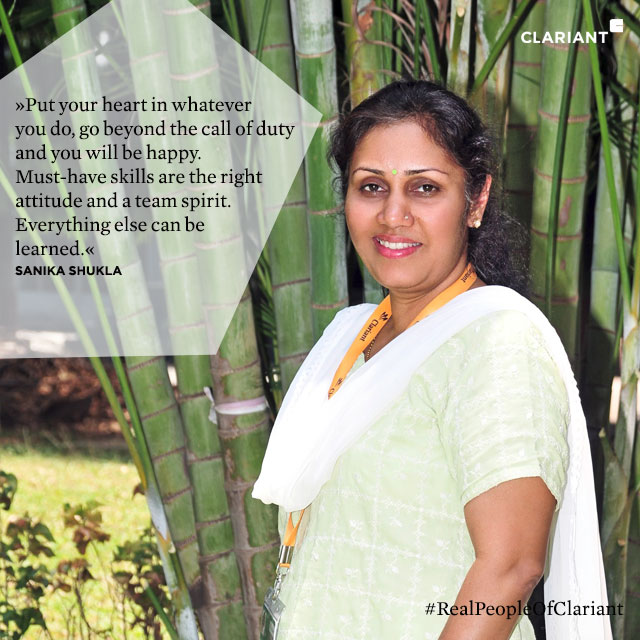 Where are you from?
SS: Mumbai, India

What is your job title?
SS: Head of Sales & Applications for Plastics within Business Unit Pigments in India.

What does that really mean in your daily work life?
SS: I need to ensure that we're meeting India's sub sales and gross margin targets. I also need to identify and develop new business opportunities.

What does an average day look like?
SS: Exciting and busy with a lot of customer interactions, queries, and technical discussions.

How long have you been working at Clariant?
SS: I've been working at Clariant for 9 years.

What do you like doing on weekends?
SS: On weekends I enjoy my "me" time by reading, going on long walks with my husband, and cooking special meals for the family.

How do you feel about working at Clariant?
SS: Working at Clariant is fulfilling and rewarding because of the opportunities I have received and because I am given the chance to prove myself. I also get a lot of freedom to do my job and this builds a sense of contentment and responsibility at the same time.

What is the last book you read?
SS: "Man main hai Vishwas" which means "Faith in my Mind." It's a book in Marathi, my mother tongue, and is an autobiography written by an Indian police officer.

What's your favorite dish to cook?
SS: Ragda Pattice, a spicy Indian dish that my son really appreciates.

What is your favorite holiday destination ever?
SS: Kashmir is the most beautiful place I've ever been to.
Tell us about your favorite scientist or your favorite invention.
SS: I'm interested in all the different inventions in the field of medicine. They have not only helped to increase our life expectancy, but also the quality of our lives.

What would your advice be to people looking to join your field of work?
SS: Put your heart in whatever you do, go beyond the call of duty, and you will be happy. Money should be the outcome and not the purpose of our work. Must-have skills are the right attitude and a team spirit -- everything else can be learned.

What brought you to Clariant?
SS: Clariant's rich history and innovations in the chemical industry made me want to become a part of the company.

If you could explain your team/culture/colleagues in 3 words…
SS: Passionate, trusting, committed

What have you been most proud of doing at Clariant?
SS: I joined as a technical person but was entrusted with the responsibility for sales. After some initial hurdles I was able to manage it well.

How do you think Clariant makes an impact on our daily lives?
SS: As consumers we all use Clariant products every day and without even knowing it. We use soaps, have paint on our walls, purchase food in plastic packaging, and read newspapers. Clariant plays an important role in all of these small but important aspects in our daily lives. Although we operate in the B2B market, we understand the end user's requirements via our customers and try to support them by offering safe, innovative, and consistent products for various applications.

In one sentence, what's the best thing about your job?
SS: Being customer-centric is the best thing about my job.

What's a little-known fact about you?
SS: I like my desk, my working area and my home to be absolutely clean. At times, in the excitement of cleaning, I have thrown away things that I actually needed!

What is your favorite Clariant product and why?
SS: I love the range of high performance pigments for plastics in our portfolio. Some of the Graphtol® and PV Fast® high performance pigments are especially unique in performance in terms of their suitability for fiber applications. Also, the optical brightener products such as Telalux® KS P are extremely specialized and provide added value for our customers.

Thank you Sanika for all your contribution over the last 9 years!

#RealPeopleofClariant