Meet Secil Canayakin
Sales & Technical Application Manager
We recently caught up with Secil Canayakin. Learn about how she contributes to Clariant's story in addition to other fun facts like her favorite dish and book, and what she appreciates about her team.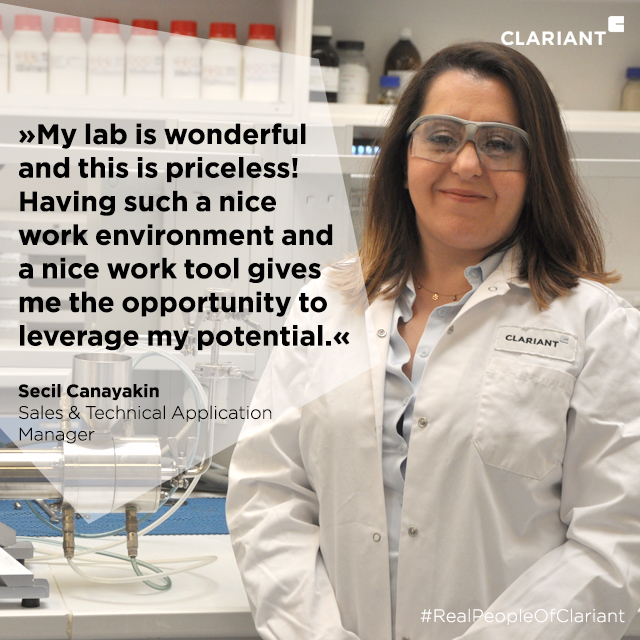 Where are you from?
SC: Turkey

What is your job title?
SC: I've recently been promoted to the position of Sales & Technical Application Manager. I work for the Business Unit Industrial and Consumer Specialties with a focus on crop solutions.

What does that really mean in your daily work life?
SC: My job consists of understanding our customers' true needs in order to provide them with tailored solutions and optimal services.

What does an average day look like?
SC: Exciting, busy and fun!

How long have you been working at Clariant?
SC: I've been working at Clariant for almost 5 years.

What do you like doing on weekends?
SC: I enjoy my free time by going out with my friends. But I also like to spend time reading books or watching movies.

What is the last book you read?
SC: "Shantaram", written by Gregory David Roberts in 2003. It has everything an adventure book needs, from love to friendship to culture. I highly recommend it, especially for those interested in India.

What's your favorite dish to cook?
SC: Sarma for my friends. It's a traditional Turkish/Middle Eastern dish that consists of meat and rice wrapped in vine leaves. Serving them hot, with a dollop of yogurt and some crusty bread on the side, makes them taste even better! Just writing this makes me hungry and want to cook it again!

What is your favorite holiday destination ever?
SC: Italy - for its fascinating art culture, its charming language, and its amazing food. This country defines serenity in the best possible way.

Tell us about your favorite scientist or your favorite invention.
SC: I love Marie Curie and Aziz Sancar's scientific work. They're such inspiring people and I truly view them as role models.
"Innovation is the creation and delivery of new customer value in the marketplace." Michael J. Gelb



What would your advice be to people looking to join your field of work?
SC: Being a Sales and Technical Application Manager requires patience, passion, and creativity. You also have to be an active listener and you need to be able to understand people's needs. Self-confidence and a good team spirit are also important qualities in my daily work.

If you could explain your team/culture/colleagues in 3 words…
SC: Hard working, creative and funny - the best combination!

What have you been most proud of doing at Clariant?
SC: My team and I developed products for crop solutions (Emulsogen MP1, MP2 and MP3, Synergen SC 02, and Dispersogen BSC) specifically for our customers in Africa and the Middle East. We won an innovation award in 2017 for the development of these products, and being part of this success story makes me feel proud, not just of myself, but also of my team. This accomplishment is a perfect example of teamwork combined with passion. Michael J. Gelb, an American author, speaker and pioneer in the fields of creative thinking, accelerated learning, and innovative leadership once said "Innovation is the creation and delivery of new customer value in the marketplace" - this quote is very inspiring to me and guides me in my daily work at Clariant.
What are some of the biggest opportunities you've had at Clariant?
SC: My lab is wonderful - and this is priceless! Having such a nice work environment and a nice work tool gives me the opportunity to leverage my potential and to enjoy work even more.

How do you think Clariant makes an impact on our daily lives?
SC: People use Clariant products everyday without even noticing it. Two of Clariant's core values are "people" and "planet"; working for an organization that is committed to ethics and values is one of the most important aspects to me.

How do you think your specific work makes an impact on Clariant?
SC: Designing new products based on local requirements allows Clariant to be more performant. Feeling that, thanks to my work, Clariant can improve its activities, is very rewarding.

In one sentence, what's the best thing about your job?
SC: Since I'm responsible for the Middle East Africa region, it gives me the opportunity to travel and to meet new people and new cultures. This is a very enriching aspect of my job.

What's a little-known fact about you?
SC: I was almost 3 when I first started speaking. My parents were worried at the time. But today they're worried that I talk too much!

What is your favorite Clariant product and why?
SC: It's kind of difficult to say. However, Dispersogen BSC is one of my favorites. Particularly because it was very challenging in terms of development.

Thank you Secil for all your contribution over the last 5 years!

#RealPeopleofClariant