August 18, 2022
Clariant at K: discover additives for plastics to address e-mobility challenges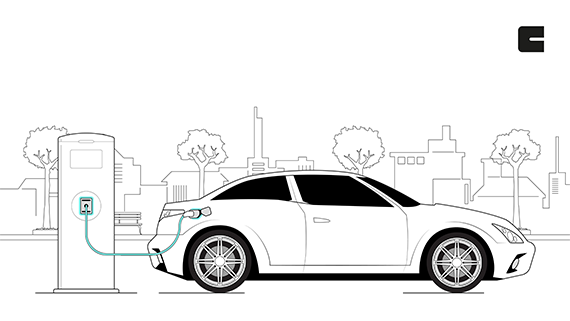 Visit K 2022 Hall 8a Booth J11 for flame retardants and functionality-boosting additives to advance reusable, recyclable plastics that reduce weight, emissions & help maximize electric vehicle range
Explore halogen-free flame retardants for polyamide and thermoplastic components & thermoset-based lightweight battery housings
Discover Clariant's ISCC PLUS certified biomass-based Terra portfolio
We're part of Project Revolution driving materials reuse, recycling & reduced CO2 footprint
MUTTENZ, August 18, 2022 - Contribute to e-mobility's evolution. At K 2022, discover Clariant's additive solutions to support plastics in meeting key e-mobility challenges as the automotive industry seeks to safely extend battery range and charging performance, achieve significant materials reuse and recycling, and decrease carbon footprint (Hall 8a Booth J11).
"We're working closely with the automotive value chain to validate our advanced additive technologies for plastics and to progress their focus on weight optimization, sustainable, recyclable materials, and CO2 reduction alongside performance and safety needs. We're looking forward to new collaborations with K 2022 visitors around our flame retardants and performance additives that will unlock e-mobility developments for this industry's sustainable transformation across design and production," comments Nicola Lelli, Head of Additives' Strategic Marketing at Clariant.
Support for sustainable e-mobility plastics includes new applications for Clariant's trusted halogen-free flame retardants in polyamide and thermoplastic material-based solutions, with ISCC Plus certified renewable raw materials-based options now also available to lower fossil carbon dependency and improve product CO2 emissions. These belong to the "Terra" family of certified products that offer like-for-like drop-in alternatives to manufacturers.
Faster charging using lower greenhouse gas-emitting flame retardants
The trend for charging at higher voltages to make charging faster is creating the need for battery and charging infrastructure materials offering higher tracking resistance and flame retardancy.
Manufacturers of high voltage connectors, busbars or battery housings can now use a new Terra version of Exolit® OP 1400, Clariant's patent-protected, widely-used halogen-free flame retardant for polyamides, to help achieve industry goals towards faster charging and lower greenhouse gas-emitting materials. Exolit OP Terra enables polyamide materials to pass strict fire safety standards like Underwriters' Laboratories (UL) 94 V0 in combination with the comparative tracking index (CTI) of 600V according to IEC 60112 / ASTMD 3638 standards.
The EcoTain® certified Exolit OP solutions produced at Clariant's ISCC PLUS certified site in Knapsack, Germany are available as mass-balance certified products. Like their fossil carbon-based counterparts, the Terra grades have little impact on recyclability of the material and therefore technically support proper automotive waste management with the added benefit of reduced CO2 footprint. Clariant is currently constructing a new production facility in Daya Bay, China, to meet rapidly growing demand from e-mobility and the E&E component and equipment industries in China and Asia.
Create lightweight battery housing with sustainable flame-retarded thermoset composites
Halogen-free Exolit AP flame retardants are advancing the shift from metal to low density, high strength thermoset composites to achieve significantly lighter battery housings capable of meeting the stringent fire safety standards of electric vehicles. Batteries need special protection in the event of a vehicle fire or thermal run-away of the electrical cells.
Clariant offers three grades - Exolit AP 462, AP 740 and AP 742 - that enable epoxy or unsaturated polyester-based composites to comply with flame retardant standards of ECE R100 and GB 38031-2020.
Optimize plastics to maximize EV range and end-of-life vehicle recovery
Meet the team at K to discuss optimizing key vehicle plastic components such as PP rear bumpers, PP interiors such as instrument panels and door panels, and also various engineering plastic parts to extend electric vehicle range and support end-of-life vehicle recovery and sustainability goals.
In addition, Clariant is excited to be part of the 3-year EU-funded Revolution Project, aimed at developing lightweight car parts and increasing circularity by facilitating the recycling of materials and use of recycled polymers. The additives' team is helping to validate and develop solutions that push plastic materials beyond current performance and sustainability boundaries and help to meet minimum recycling targets for plastics components in vehicles as expected in the upcoming EU legislation. Solutions from Clariant include additives for maintaining high quality polymer recyclate and for increasing recycled content in finished lightweight recyclable parts.
For more information on Clariant's featured sustainable additives for e-mobility plastics and new developments for wider automotive application visit the team at K 2022 at Booth J11 Hall 8a.
® TRADEMARK OF CLARIANT REGISTERED IN MANY COUNTRIES.