Discover Tonsil® APT
WHAT IF TONSIL® APT MAKES YOUR LIFE EASIER IN DAY TO DAY OPERATIONS OF BTX PURIFICATION?
State-of-the-art clay catalysts


for Aromatic Complexes

Pure aromatics are the starting material for various products such as PET, Polystyrene, plastic fibres, and other plastic materials.

Aromatic compounds are produced in a fully integrated process with the intent of producing benzene, toluene and xylene (BTX). In the reformate splitter the feed stream is separated into two streams. For each application, Clariant offers a specialized product to increase yield, decrease by-products and prolong cycle length of downstream catalytic systems. Two of the well established designs for the Aromatic Complex are the Axens and the UOP designs. Both can use Tonsil® catalysts.



Challenge
Manufacture aromatics with the highest possible purity

The challenges of the aromatic complex are:

Obtain pure aromatics, particularly benzene and p-xylene
Olefin removal in the minimum number of steps
Need to keep the process running as long as possible to avoid extra costs incurred if the catalyst has to be changed
Find suitable clay catalysts for special challenges of each application
To remove impurities in the feed like organic nitrogen to enable a long catalyst cycle life
Solution
CLARIANT'S TONSIL® APT
REMOVES UNDESIRED IMPURITIES AND
OLEFINS EASILY IN AROMATIC STREAMS
Tonsil® APT are new types of catalysts which look different and show a better performance offering a multitude of advantages:



Less complex loading (no sand required)
Less pressure drop
Less dust during loading
Higher activity of catalyst
Larger catalyst volume







Olefin removal – Mode of function

The goal of this process is to manufacture pure aromatics. Tonsil® APT-mX removes olefins from the heavy reformate stream, by acid catalyzed alkylation of benzene/toluene, to give products with a higher boiling point which can easily be removed later in the process. With the Bromine test olefins in the BT stream can be detected by color.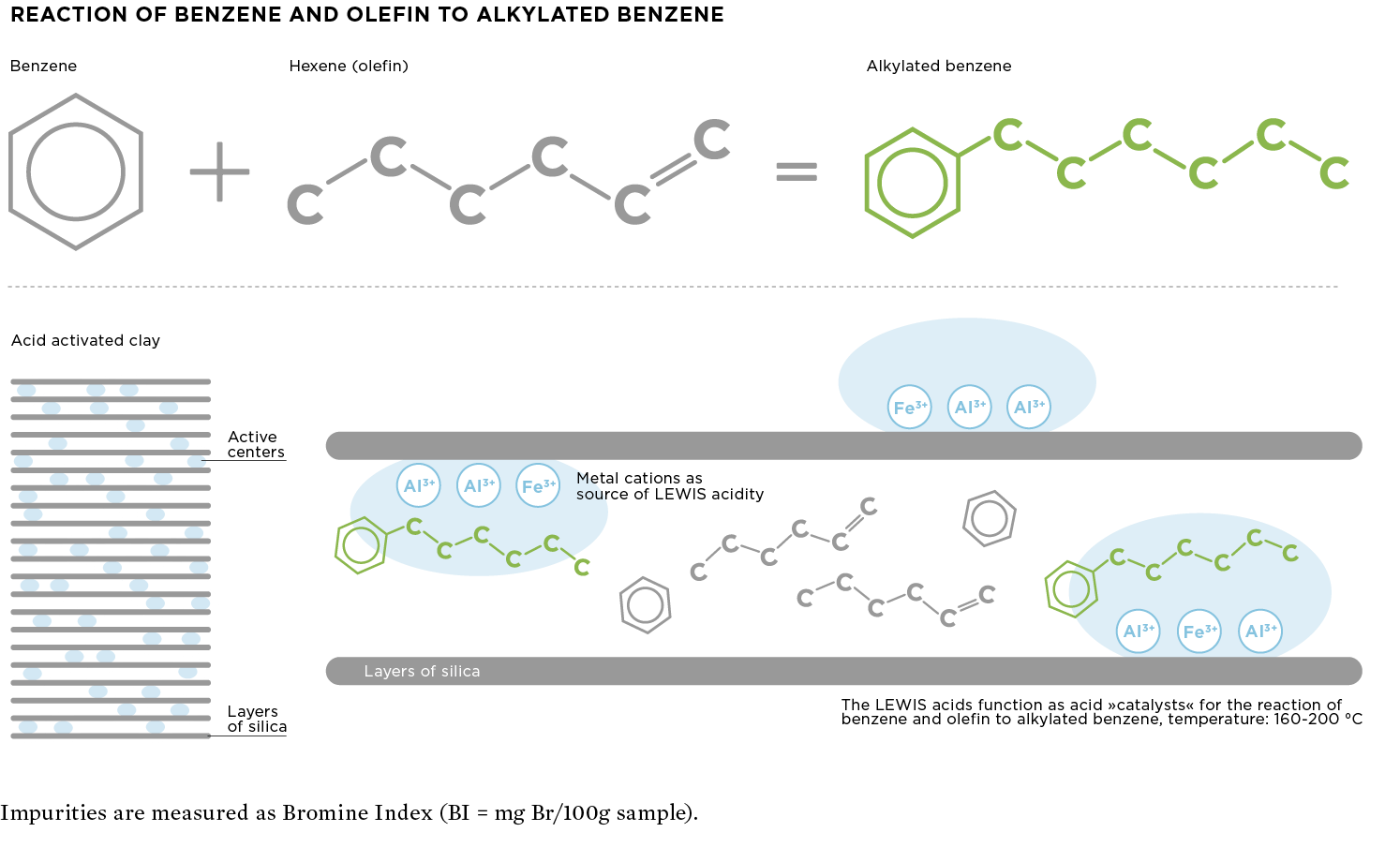 Benefits
BTX purification made easier with
an array of supporting features




TONSIL® APT series catalysts have their basis on the expertise which was gained with the TONSIL® CO series. Tonsil® catalysts contain less side reaction active sites, have high surface area and superior pore properties. Those properties ensure the long cycle time of Tonsil® catalysts, thus reduce the number of change outs and operation costs, increase the operation efficiency and reduce energy consumption. Due to the larger loading volume and the higher bulk density of the Tonsil® APT catalysts, the lifetime of any Tonsil® APT is up to 15% longer than the comparable Tonsil® CO catalyst.



Longer Cycle life
Easier Loading
Larger loading volume
Higher activity
Reduced energy
consumption
Reduced
OPEX Costs
Worldwide availability and service

Always close to you, Offering
quick service and solutions