Innovative Packaging Solutions to Ensure End-to-End Cargo Protection
CLARIANT'S CONTAINER DRI® II CARGO DESICCANT & DESVOCANT™ VOC ADSORBENTS HELP ADDRESS CRITICAL CHALLENGES FACED DURING INTERMODAL TRANSIT
Article reposted with permission from The Dyestuffs Manufacturers Association of India

This article was originally featured in the DMAI Newsletter January – June 2021, pages 18-19

One of the basic requirements for the shipping industry is to ensure that the cargo is delivered undamaged to the customer. However, conditions such as exposure to moisture and build-up of volatile organic compounds (VOCs) during transit and storage over extended periods can make this challenging. Moisture can induce corrosion, development of hygrostresses, mold, mildew, spoilage, and warping, among others, during shipping, thus affecting the quality of the product. In fact, as per the Eurolog Packing Group, nearly 10% of containerized goods are discarded due to moisture-related damages. Container shipments carrying finished goods are highly susceptible to a phenomenon known as 'Container Rain.' High humidity due to increased proximity with the ocean causes air to get trapped in the container. As the air in the container settles, the moisture condenses in colder areas of the container, which may then breach packaging, thus putting the quality of the product at risk.

Clariant's CONTAINER DRI® II, a range of specially designed calcium chloride-based cargo desiccants, protects cargo during shipping by aggressively absorbing moisture from the air and reducing the dew point temperature or condensation point, thereby reducing the probability of 'Container Rain.'

Conventional desiccants are frequently used as a one-stop solution for all packaging issues with regard to transit protection. However, while most of the current solutions are designed to tackle moisture-induced damage, other alternatives meet the specific requirements of intermodal transit and delivery systems. Clariant's EcoTain® labeled CONTAINER DRI® II, is based on an advanced formula that is non-toxic and Dimethyl Fumarate Free (DMF), which can absorb up to three times its weight in moisture, and trap it as a thick, no spill gel enabling the protection of shipments from start to finish, through all temperature ranges and relative humidity variances. Moreover, it offers an absorption capacity of greater than 400 % per bag at 95 % rel. humidity and 40 °C. Further, it continues to reduce the relative humidity throughout the transit, thus controlling the dew point temperature even further to avoid the Container Rain. The CONTAINER DRI® II range also includes several configurations to best fit different needs and modes of transport.

Another challenge prevalent in individual product packages and containerized shipments of products is the build-up of volatile organic compounds (VOCs) due to off-gassing. VOCs can occur when chemicals in plastics, solvents, or adhesives are released during or after manufacturing of a variety of common products. VOCs that are toxic in nature may emit odors, such as "the new smell" or no odor at all. When packages or boxes containing goods such as a pair of shoes, handbags, foam mattresses, furniture, carpeting, toys, or textiles are opened for product inspection or unloading, the sudden release of accumulated VOCs can pose health risks to people. High VOC concentrations in shipments may lead to an increase in inspection costs and a delay in moving the product to market. Meanwhile, strong, or lingering odors associated with some VOCs may induce customers to reject and return packaged products for fear of hazard or discomfort associated with the "chemical smell." Clariant's DESVOCANT™ VOLATILE ORGANIC COMPOUND ADSORBENTS help address this challenge by adsorbing and reducing the concentration of volatile organic compounds (VOCs) that off-gas from a variety of manufactured products.

The DESVOCANT™ VOLATILE ORGANIC COMPOUND ADSORBENTS range has been developed using a naturally occurring and sustainably mined dried clay mineral substance with a unique granulated structure which readily adsorbs a full range of VOCs, including aromatic compounds (e.g. benzene or toluene), aldehydes (e.g. formaldehyde), ketones (e.g. acetophenone), halogenated hydrocarbons (e.g. 1,2-dichloroethane), alcohols, esters, ethers, Sulphur- and nitrogen-containing VOCs. The adsorbents are available in various sizes and are packaged using materials that allow air to permeate freely. Air flowing through the packaging material meets the complex, unique, layered structure of the clay granules, which attract and bind VOCs through adsorption. This natural process removes VOCs from the air, trapping them within the adsorbent package. As a result, they protect containerized shipments ranging from and not limited to food, medicines, textiles, leathers, dyestuffs, pigment powders, etc., during transport. The product can be customized based on the customers' needs and packaged with other materials to meet a variety of cargo-protection requirements.

Experts from Clariant Cargo & Device Protection work closely with customers to determine the optimal amount of product required to keep logistical processes efficient, taking into consideration various factors such as duration, nature of goods, mode of transit, destination, etc., evaluating each application and recommending the correct solution and dosage. These recommendations are curated through a careful process of material evaluation and selection, product development, and product testing at Clariant through a worldwide network of manufacturing sites in Brazil, Indonesia, Turkey, United States, and China, supported by an experienced global sales team working together to offer active and intelligent packaging & cargo protection solutions.

Clariant's innovative solutions for cargo protection are helping manufacturers in countries with stringent quality assurance standards, protocols and norms, that are upheld by rigorous guidelines, meet and exceed SOPs, cost efficacies, customer expectations and quality assurance standards. In India, Clariant is working steadfastly on building awareness around products that may be better suited to address specific challenges across the entire supply chain and provide immense value addition to businesses. Clariant's unique solutions enable the logistics industry to preserve the quality of the product from when it is developed to when it reaches the end consumer, thus sustaining brand loyalty.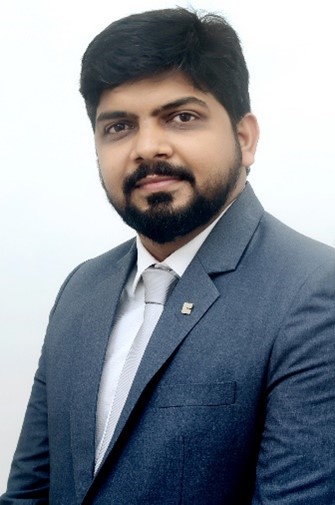 Hemant Waghela is responsible for Cargo & Device Protection (CDP) under the Functional Minerals business at Clariant in India, since 2013. Over the past 8 years, Hemant has helped grow the CDP business in India, and in the neighboring countries. The business provides a complete portfolio of desiccant, oxygen absorber, and humidity indicator solutions to protect goods from moisture and oxygen, throughout the entire supply chain, in nearly every industry.