Desiccant, Oxygen Absorber, Humidity Indicator, and VOC Adsorbent Solutions

PROTECTION THROUGHOUT THE SUPPLY CHAIN
Clariant Cargo & Device Protection offers active and intelligent packaging & cargo protection solutions to help prevent the harmful effects of moisture, oxygen, or the off-gassing of volatile organic compounds.

Our high-performing products result from more than 70 years of innovation. Our decades of experience, supported by a global sales and technical team, allow us to deliver unmatched services. In addition, a worldwide network of state-of-the-art manufacturing sites in Brazil, China, Indonesia, Turkey, and the United States help to ensure secure supply and availability. Questions? Contact us via phone, email, or the form below.

Sustainability

Our commitment to sustainability is a key part of our success; learn more about our ECOTAIN® initiative and what sustainability means to Clariant.

Industry Solutions

END-TO-END PACKAGING AND CARGO PROTECTION



Solutions

RECOGNIZED LEADING BRANDS IN QUALITY AND RELIABILITY
Commitment to Quality

A GLOBAL FOCUS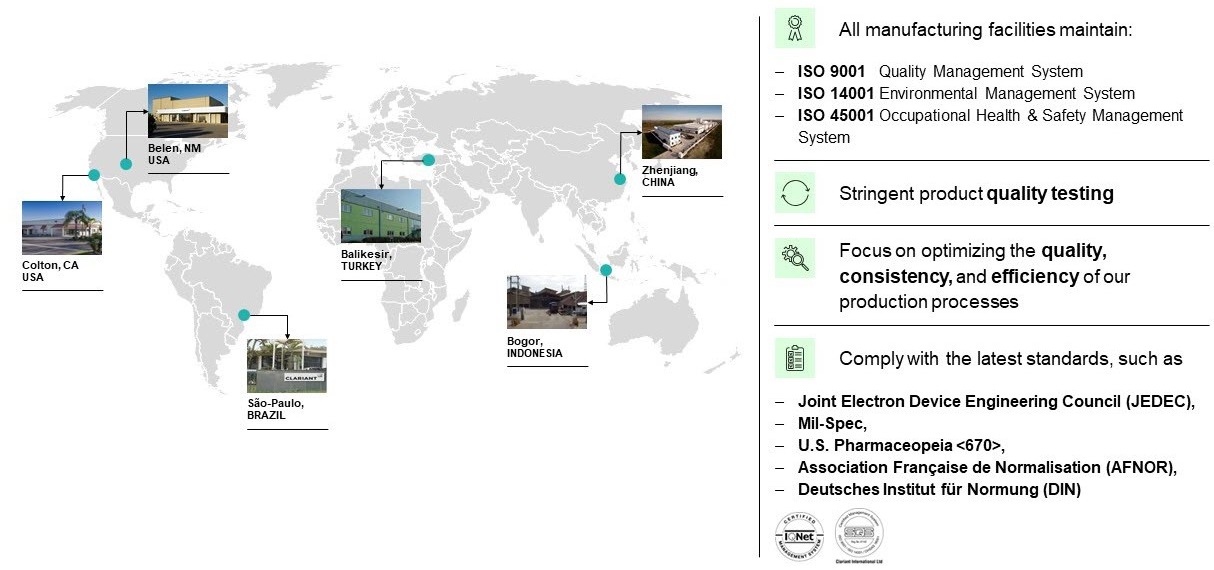 Locations
Clariant Cargo & Device Protection operates around the world to support the global scope and multimode transport of today's shipping. Customers worldwide depend upon our container desiccants, desiccant bags, volatile organic compound (VOC) adsorbents, and humidity indicating solutions to protect container-shipped cargo, ranging from food to agricultural goods to electronics and other products.

Further, our global span also offers moisture protective solutions for the electronics, semiconductor dry packing industries, and government standards such as FDA, DIN, Mil-Spec, and JEDEC.
Germany Sales Office
Moosburg, Germany

Schutzverpackungen

Ostenriederstraße 15

85368 Moosburg

Germany

Tel.: +49 8761 82 765

Fax: +49 8761 82 755
France Sales Office
Choisy le Roi, France

6 rue Louise Michel

BP 207

94 603 Choisy le Roi

France

Tel.: +33 1 41 76 20 00

Fax: +33 1 41 76 20 57
Turkey Sales Office
İ

stanbul, Turkey
AND Kozyatağı
İçerenköy Mahallesi No:10/12
34752 Ataşehir – İstanbul / TURKEY

Mobile: +90 530 524 38 19
Turkey Plant
Balikesir, Turkey

Izmir Yolu 14. Km

Kesirven Köyü Mevkii

Balikesir 10034

Turkey

Tel.: +90 266 264 8757 Pbx.

Fax: +90 266 264 8752
Australia Sales Office
Clariant (Australia) Pty Ltd.

4 Coronation Avenue

Kings Park

2148 Australia

Tel: +61 29 098 8431

Fax: +61 2 9679 8309

India Sales Office
Mumbai, India

Clariant India Limited

Reliable Tech Park

Thane Belapur Road

Airoli, Navi Mumbai 400 708

Tel: +91 22 7125 1480
Singapore Sales Office
Singapore

1 International Business Park

#08-01-04 The Synery

Singapore 609917

Tel.: +65 6563 0288


Fax: +65 6563 0200

Indonesia Sales Office & Plant
PT Clariant Adsorbents Indonesia
Jl. Raya Narogong Km14
Pangkalan 10, Desa Limusnunggal
Bogor 16820, Indonesia

Tel: +62 21 8249 7445
Fax No: +62 21 8249 8585
China Sales Office
Clariant Chemicals (China) Ltd.

No. 2 Lane 168, Linhong Road


Changning District


200335 Shanghai China


Tel: +86 21 2248 3000


Fax: +86 21 2248 3840

China Plant
Clariant Specialty Chemicals (Zhenjiang) Co. Ltd.
No. 39, West Lin Jiang Road
New District Zhenjiang City
Jiangsu Province 212132

Tel: +86 511 85956611
Fax: +86 511 85956596
United States Sales Office & Plant
California, USA

926 S. 8th St.

PO Box 610

Colton, CA 92324

United States

Tel.: +1 909 825 1793

Tel.: +1 800 966 1793

Fax: +1 909 825 6271
United States Plant
New Mexico, USA

Rio Grande Industrial Park

101 Christine Drive

Belen, NM 87002

United States
Brazil Sales Office & Plant
São-Paulo

Rua Industrial, 802

Rio Abaixo - Jacarei

12321-500 São-Paulo

Brazil

Tel.: +55 12 2128-2288




Colombia Sales Office
Clariant S.A.
Autopista Medellín KM 2.5
Via Parcelas KM 1,
Vereda Siberia
Cota, Cundinamarca

Tel: +57 314 470 3711

About Us
Cargo & Device Protection is part of Clariant's BU Adsorbents & Additives which, after half a century of organic growth and acquisition, has cultivated world-leading expertise and leadership in moisture and oxygen protection solutions.

Today, Clariant's Cargo & Device Protection group operates a global network of active sales offices, research & development centers and manufacturing facilities around the world. It serves its customers in the electronics & semiconductor, and shipping & logistics industries through a global network of direct sales and channel partners.

Part of Cargo & Device Protection's rich history includes their introduction of humidity indicator cards.

Commitment to Excellence

Clariant is dedicated to a culture of excellence and continuous improvement. Teams of six-sigma black belts and green belts focus on optimizing the quality, consistency and efficiency of its production processes to meet customers' changing needs and to comply with the latest standards such as JEDEC, Mil-Spec, AFNOR and DIN.
Innovation
Like all Clariant businesses, Cargo & Device Protection is dedicated to product innovation based on dedicated and cutting-edge research and development. We lead the market in highly effective solutions for moisture, oxygen protection, and the off-gassing of volatile organic compounds. Leveraging expertise in bentonite clay desiccants, silica gel desiccants, and other adsorbent and absorbent technologies, Cargo & Device Protection continues to develop new solutions to meet evolving industry challenges, such as rising volumes of internationally shipped goods, and increasingly stringent protection requirements for today's miniaturized electronics.

Clariant innovation places special emphasis on sustainability. Cargo & Device Protection solutions are making an important contribution to conserving valuable resources and reducing waste.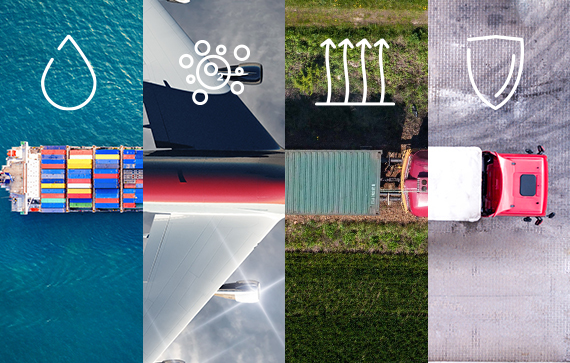 The Clariant Customer Care Portal is available for current Clariant North America customers only.

To request access please contact Inside Sales

1-800-989-3374 or
1-909-825-1793

or contact us using the form below.