GlucoTain® Surfactants
Discover a new sensory
dimension
GlucoTain is an innovative range of sugar-based surfactants offering sensory benefits through individual foam structures – from fluffy to rich – and light to caring conditioning levels. It creates new possibilities for formulators to go the next step in developing innovative products and platforms based on sulfate-free, CAPB-free and betaine-free formulations for a wide range of applications.

In addition it addresses the consumer's desire for more natural and mild products with no compromise on cleansing properties. GlucoTain is suitable for hair care and skin care applications such as shampoo, shower liquid, soaps, facial cleansers or shaving foams. GlucoTain's EO-free and sulfate-free ingredients are readily biodegradable products with a 94-95 % RCI (Renewable Carbon Index), a high content of non-tropical biomass, and a good ecotox profile. Providing powerful foaming and cleaning in personal care and home care formulations, Glucotain ingredients emit radically less CO2 from cradle to gate than for example the widely used APGs.

GlucoTain is available in 6 products, all offering excellent compatibility with other ingredients.
GlucoTain® portfolio: Technical data, MSDS files and samples
Click on the products to learn more.

| Products | INCI Name | Active content | Usage |
| --- | --- | --- | --- |
| | Capryloyl/Caproyl Methyl Glucamide (and) Lauroyl/Myristoyl Methyl Glucamide | 50% | Co-Surfactant |
| | Lauroyl/Myristoyl Methyl Glucamide | 35% | Co-Surfactant |
| | Cocoyl Methyl Glucamide | 40% | Co-Surfactant |
| | Sunfloweroyl Methyl Glucamide | 52% | Co-Surfactant |
| | Lauroyl/Myristoyl Glucamide (and) Coco-Betaine | 35% | Co-Surfactant |
Benefits: Discover GLUCOTAIN®
Clariant's finest cosmetic formulations GlucoTain®

How should clean feel for you?

The formulation guide for GlucoTain®: an extensive selection of formulations for different body parts based on five innovative sugar surfactants solutions.
Watch our free webinar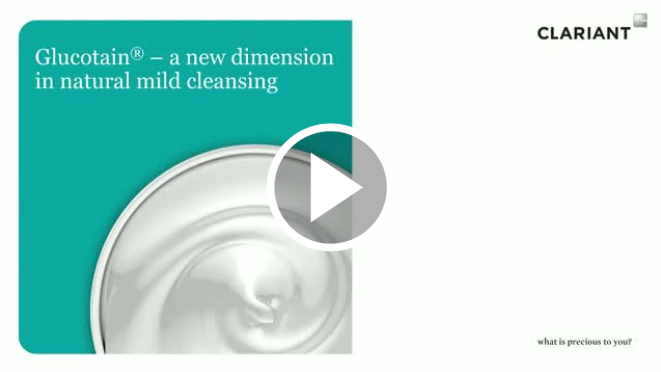 Clariant's GlucoTain® range has been launched to support the Personal Care market's growing needs.

Learn more about the Global Skin Care market needs and how GlucoTain® surfactants can improve formulations.
Any questions? Get in contact