Readily biodegradable surfactants-
Betaines, Glucamides, Glutamates, Glycinates, Isethionates, Sarcosinates and Taurates
Cleansing is the first step of any good skin care routine, providing cosmetic and health benefits to facial skin – including a prevention of premature signs of aging and maintaining skin barrier function. The main components in skin and hair cleansers are surface-active substances or surfactants. The selection of a surfactant influences various technical and strategic factors of a formulation and has a significant impact on a product's final features.

Finding the best surfactant for your formulation is not an easy task. Which technical parameters should the surfactant fulfill? What is the intended application and how do you plan to market your product? Consulting the brand-new toolbox of our newly compiled Mild Surfactants range, will help you to quickly find what you are looking for.

Smart cleansers from head to toe

Beauty consumers want efficient cleansers which are simultaneously mild to skin and hair. And they expect excellent visual as well as sensory properties. However, also »natural« is impacting all elements of modern cosmetics, therefore eco-consciousness becomes an additional key success factor.

Sustainability must-haves for our Mild Surfactants toolbox:

Renewable Carbon Index (RCI) of at least 50%
Readily biodegradable
RSPO Mass Balance (MB) certified
Sulfate-free
What must a sulfate-free surfactant provide in today's formulations? How to select the right one?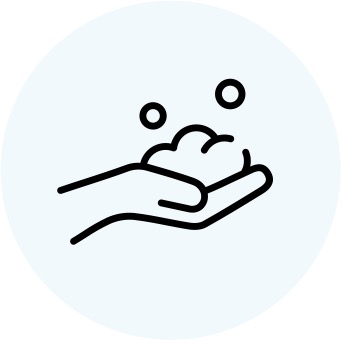 EFFECTS ON PERFORMANCE

During cleansing, there is a complex interaction between the cleanser, the moisture skin barrier, and skin pH, so mild and gentle cleansing requires multiple considerations. For hair care in addition color and surface care aspects must be taken into consideration.
EFFECTS ON FOAM & SENSORY

The ideal cleanser should not be just mild. It should also generate substantive foam, provide an enjoyable sensorial experience, leave a pleasant »after feel« and answer the demands on eco-conscious beauty formats.
The right Surfactant

What to look out for in your search
TECHNICAL PARAMETERS

Chemical class
Charge
CMC
Pour point
Surface tension
Optimum pH
APPLICATION DETAILS

Mildness
Foam profile
Salt thickening
Max. salt compatibility
Solubilizing power
ENABLING CHOICES

Distinct sustainability profile
Key formulation benefits
Foam sensory classification
Foam morphology
| | | | |
| --- | --- | --- | --- |
| Surfactant class | Product names | RCI | COSMOS |
| Betaines | Genagen® KB | 80% | yes |
| Glucamides | GlucoTain®: Care, Flex, Clear, LiquiFlex**, Plus, Sense | 93-98% | yes |
| Glutamates | Hostapon®: CCG, CLG, CGN, CGA | 100% | CCG, CLG |
| Glycinates | Hostapon®: KG, SG, SGC, SLG | 86% | no |
| Isethionates | Hostapon®: SCI 65 C, SCI 85 C, SCI 85 G, SCI 85 P, SLI 80 C | 86-89% | no |
| Sarcosinates | Medialan®: KF-J, LF, LD PF10 | 57-80% | no |
| Taurates | Hostapon®: CT paste, CT Liquid, TPHC | 80-86% | no |

*Readily biodegradable based on components
**Only valid if product contains oil palm derivatives
All Surfactant classes are readily biodegradable and RSPO MB certification is available