Oct 04-06, 2021 | Amsterdam, Netherlands
World Hydrogen Congress 2021
Meet our Catalysts Experts at the World Hydrogen Congress 2021 at booth A2!
The 2nd Annual World Hydrogen Congress is the leading senior executive, content-rich, networking congress for the hydrogen production, distribution and storage of the clean hydrogen industry.
You will meet the entire clean energy ecosystem, including developers, offtakers, EPC contractors, consultants, government stakeholders, installers and integrators.
Boost your network of trusted, international contacts and meet the entire hydrogen value chain under one roof.
For a 20% discount on delegate passes, please use the code below: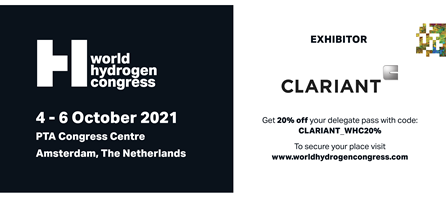 We look forward to meeting you in Amsterdam!
Oct 04-06, 2021 | Amsterdam, Netherlands
World Hydrogen Congress 2021