The science of sustainable beauty
With the integration of our long-term partner Beraca, Clariant now offers a full range of naturals, from oils to high-tech actives, for the cosmetic market with a positive sustainable impact. We not only apply science to the best nature has to offer, but increasingly pay attention to how ingredients are sourced, and by whom. We are continuing and building on Beraca's ethical sourcing commitment and close collaboration with local communities to make sure natural environments are kept intact, while brands also benefit from transparency insights we offer through full traceability from plant to our end product.
Visit us at in-cosmetics, September 21-22, 2022
Making it's official debut at the Sao Paulo tradeshow, Clariant now offers a full range of Actives and Natural Origin ingredients that boosts access for formulators and brands to responsibly collected and extracted products with proven efficacy, and science-backed claims for skin, hair and body care.
Discover our recently launched and awarded actives:
Prunizen — plant based active that tackles psychoemotional stress-induced hair loss and stimulates hair
Galactinol Advanced — biomimetic-inspired active for skin resilience-boosting benefits
Ethience Protect — sustainable extract from Brazil nuts (collected by local communities in the Amazon rainforest) to reinforce compromised skin (Clariant and Beraca's co-development)
Let us inspire you with our trend-based formulation concept Beauty Wizard, experiencing the Natural Oil Bar and the new Berashades range of multifunctional clays sustainably sourced from Brazil.
All that you can explore digitally and at booth D40 at in-cosmetics Latin America. We are excited to see you there!
Impressions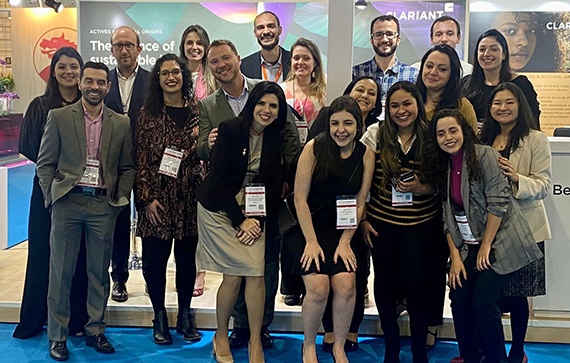 Location
Booth D40
Sao Paulo, Brazil
Contact