For a greater between
Sustainability Performance Functionality
Clariant aims to turn heads at the first in-person ECS in four years with its approach to simplifying the complexities of formulating coatings that fulfill the sustainability, performance and functional demands.
Collaborate on environmental challenges using additives such as 100% bio-based VITA surfactants and polyethylene glycols, bringing low-carbon support without compromising results. Or an innovative halogen-free flame retardant that extends the fire protection time of intumescent coatings.
Discover sustainable alternatives to replace substances of concern. For abrasion- or rub-resistant, future-proof coatings and printing inks, Clariant's PTFE-free solutions even feature a bio-based wax blend with proven success in replacing PE/PTFE additives. Plus, we'll unveil how sealant durability enhancer AddWorks IBC 760 offers a novel opportunity to boost coatings' performance too and address more stringent segment regulations.
Visitors can access more help for finding the right wetting and dispersing agent, fast. On the heels of additive selection tool ClariCoat, get ready for another new web app simplifying our customers' formulation activities.
Join our presentations
Monday, 27 March
Modulating film-forming and open-time with additives. A quantitative approach for complexity reduction in waterborne systems presented by Jörg Rüger, Head of Global Application Development Coatings
16:30 - 17:00 Session 7 NCC Ost, Level 3, Room Seoul
Wednesday, 29 March
Reducing Carbon Footprint with biobased paint additives and building blocks for the coatings industry - Clariant's VITA and TERRA concept! presented by Vincent Fritzemeier, Business Development Manager
11:10 - 11:30 Hall 3, Booth 742
Dispersogen® Flex 100 - the universal dispersing agent for all kind of pigment preparations presented by Dr. Simon Aben, Global Launch Manager Industrial Applications
13:30 - 13:50 Hall 3, Booth 742
Presenting the sustainability benefits of AddWorks IBC 760 and Hostanox O 3 P for SMP sealants presented by Jean-Yves Desrats, Senior Technical Business Development Manager Coatings & Adhesives from Clariant and Christopher Dobbins, Application Manager Adhesives & Sealants from Omya
11:30 – 11:50 Hall 3A, Booth 607
PTFE free and sustainable solutions for coatings and inks presented by Tobias Niederleitner, Global Market Manager for Coatings & Inks
13:10 – 13:30 Hall 3A, Booth 607
Thursday, 30 March
Supporting the sustainability transition: Renewable additives and building blocks for resins, binders and coatings formulations presented by Dr. Hendrik Ahrens, Manager Technical Applications Paints & Coatings
14:30 - 14:50 Hall 3A, Booth 607
Explore ClariCoat - Clariant's new digital assistant for choosing the right additive for your paints & coatings formulations presented by Dr. Matthias Häussler, Strategic Innovation Project Manager
14:50 - 15:10
Booth 243
Press corner
Dear Editors,

Kick off Day 2 at ECS 2023 with the 9am Clariant " media meet and greet" session at our booth 322 (Hall 3A) on Wednesday, 29 March, 2023!

Our spokespeople will welcome you with a coffee or tea, ready to present you our product and solution highlights and to take your questions on our approach to simplifying the complexities of formulating modern coatings.

Please register for the event by sending an email to: Stefanie.Nehlsen@clariant.com to reserve your seat and receive your personal invitation.

The media releases as well as related pictures will be available here - after the event.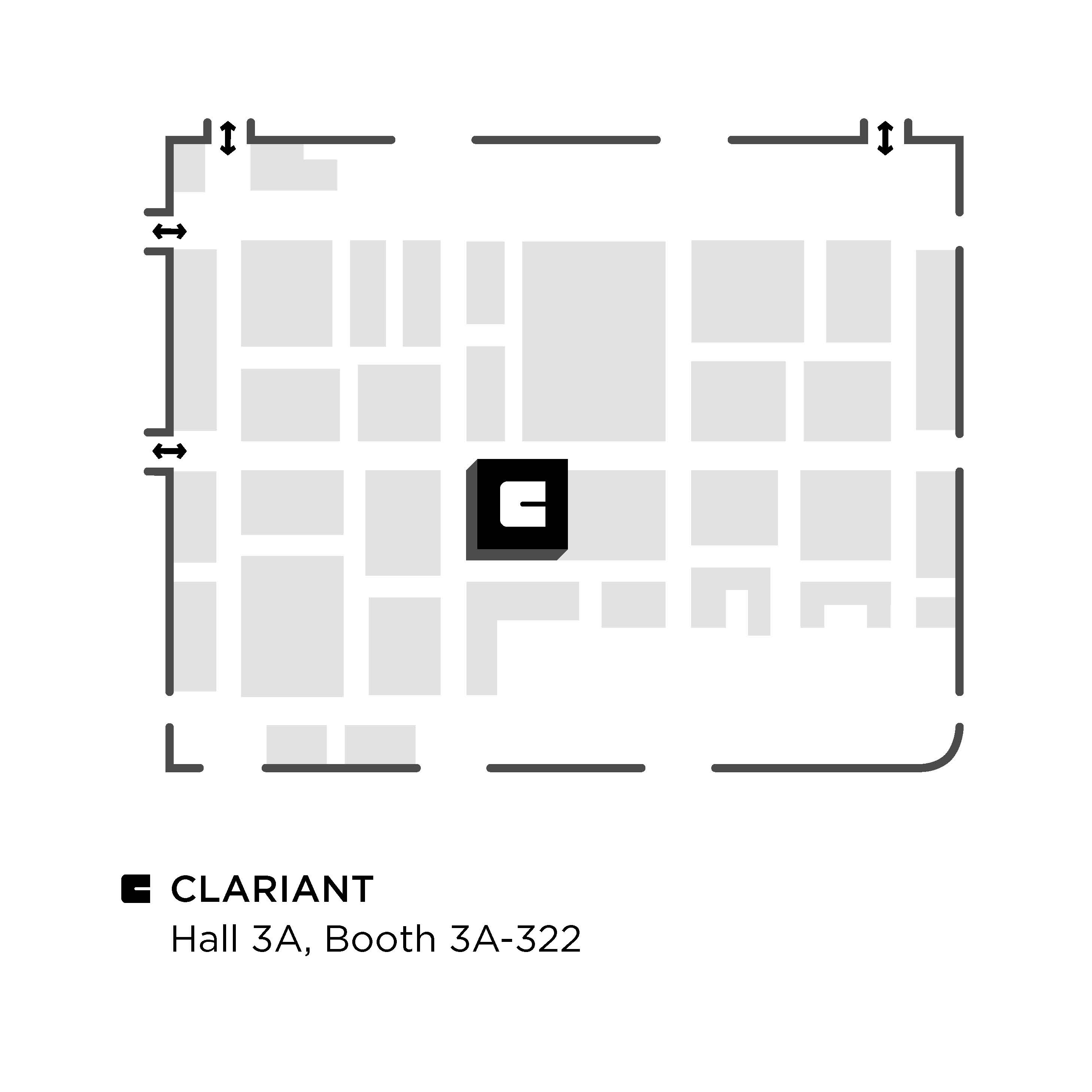 Contact