Clariant Increases Net Income on Improved Margins
Sales from continuing operations in Q2 2013 grew 2% in local currencies and 1% in Swiss francs to CHF 1.544 billion, up from CHF 1.527 billion in the same period last year.
EBITDA margin before exceptional items amounted to 13.7% compared to 13.1% in Q2 2012.
Net result from continuing operations rose to CHF 71 million compared to CHF 55 million in Q2 2012.
For full-year 2013, Clariant expects further progress in sales and profitability compared to 2012 by focusing on innovation, growth and continuous cost efficiency.
CEO Hariolf Kottmann: "As demonstrated by an increase in sales and profitability in the first half-year, Clariant is gradually progressing towards its short- and mid-term targets. In a heterogeneous economic environment, the company achieved robust development across its well-balanced portfolio. Although we perceive rising uncertainties in emerging markets, we continue to see a rather stable economic environment at a low level. In this scenario, we are confident that we will achieve our full-year targets by focusing on innovation, growth and cost efficiency."
Key Financial Data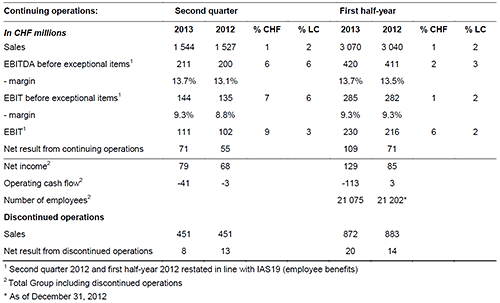 Second Quarter Performance
Muttenz, July 30, 2013 – Clariant, a world leader in specialty chemicals, today announced second quarter sales in 2013 from continuing operations of CHF 1.544 billion compared to CHF 1.527 billion in the prior-year period, an increase of 2% in local currencies and 1% in Swiss francs. Organic growth of 2% was entirely due to higher sales volumes. Similar to the first quarter of this year, the negative currency effect of 1% was due to a marked weakness of the Brazilian real, the Japanese yen and the Indian rupee against the Swiss franc.
Business conditions did not alter significantly between the first and second quarter of the current year. The Care Chemicals Business Area grew 8% in local currencies on the back of strong growth in all segments. Natural Resources was 6% higher, with strong growth in the Oil Services business overcompensating for ongoing weakness in the structurally challenged Water Treatment business. In Catalysis & Energy, business activity in Catalysts picked-up from the first into the second quarter, following the normal seasonal pattern with increasing sales quarter-by-quarter as the year progresses. Despite this positive development Catalysts did not reach the exceptional high sales recorded in the previous year. Sales in the Plastics & Coatings Business Area remained flat.
From a regional point of view, Clariant achieved mid-teen sales growth in Latin America, while Asia/Pacific was temporarily weak at the previous-year level and Europe and North America were flat to marginally higher. Compared to the first quarter, the rate of expansion in North America has slowed. Middle East & Africa continued on a low level given a weak Water Treatment business and a high comparable basis in Catalysts.
The gross margin was on par with the 29.3% recorded in the second quarter of 2012. Higher costs for underutilized production capacities were offset by a favorable sales price trend. Compared to the second quarter of 2012, sales prices were flat while raw material costs fell 2%, leaving the Group with a positive contribution to the gross margin. Compared to the first quarter of 2013, sales prices were flat and raw material costs were 2% lower.
EBITDA before exceptional items from continuing operations rose 6% in local currencies and by the same percentage in Swiss francs year-on-year to CHF 211 million, compared to CHF 200 million a year ago and CHF 209 million in the first quarter of 2013. The increase was mainly due to higher sales as well as slightly lower SG&A costs. The respective EBITDA margin stood at 13.7%, compared to 13.1% for continuing operations in the previous-year period.
Exceptional items were marginally lower at CHF 31 million, versus CHF 33 million in the second quarter of 2012. As a result of a higher EBITDA and lower finance costs that more than offset higher taxes, the result from continuing operations improved to CHF 71 million from CHF 55 million a year ago.
Operating cash flow was negatively impacted by cash outflows for net working capital. The seasonal buildup in inventories as well as higher trade receivables led to a cash outflow of CHF 41 million, compared to a cash outflow of CHF 3 million in the previous-year period. Cash flow generation remains a priority of the Group and is expected to improve in the second half-year as both inventories and trade receivables decrease.
Capital expenditure was at a comparable level to the previous year at CHF 71 million, versus CHF 66 million in Q2 2012. The Group continued to cautiously invest in the current uncertain economic environment.
Net debt increased to CHF 1.945 billion, from CHF 1.789 billion at year-end 2012 and CHF 1.656 billion at the end of the first quarter. The increase was attributable to a negative cash flow and the distribution from capital contribution reserves to shareholders in April.
Gearing (net financial debt in relation to equity) remained largely constant at 66% compared to 67% at year-end 2012.
Outlook 2013
Repositioning of the portfolio in 2011 and 2012 has lifted Clariant to a sustainably higher level of profitability, reflected in an increase in EBITDA margin in the first half-year and the second quarter.
The environment in which Clariant operates has not significantly changed over the past few months. Going into the second half-year, Clariant expects stability in mature markets but rising uncertainties in emerging economies.
In this scenario, Clariant will focus on innovation, growth and cost efficiency. This will lead to further top-line growth in local currencies and improved profitability in 2013. For the mid-term, Clariant confirms its 2015 targets of an EBITDA margin of above 17% and a return on invested capital (ROIC) above the peer-group average.