Processing of Flame Retarded Polyamides and Polyesters
Exolit OP flame retardants can be easily dispersed in polyamides and polyesters, have a good thermal stability and can pass even most stringent fire tests (e.g. UL 94 V-0 at 0.4 mm thickness). Plenty of trials at Clariant's Technical Center for Plastics have shown that the addition of Nylostab® S-EED®, a unique, multifunctional additive with a HALS (=hindered amine light stabilizer) structure, has advantageous properties also in flame retarded polyamides. The addition of the highly polyamide compatible additive Nylostab® S-EED® extends the stability of polyamides beyond the limits offered by conventional light stabilizer systems. Additionally, the Exolit OP flame retardants hardly impair the light fastness properties of light stabilized glass fiber reinforced PA 66 compounds. So using Exolit OP flame retardants together with HALS light stabilizer improves the properties of flame retarded polymers e.g. for electric lighting or outdoor applications. Beside the provided light stability, the processing properties of polyamides, such as flow properties or injection cycle time can be further enhanced by adding Nylostab® S-EED®.
Nylostab® S-EED® can be applied in flame retarded polyamide 6 and 66 reinforced, as well as in high temperature polyamides. Nylostab® S-EED® is available in crystalline form and can be added by conventional feeding and dosing techniques or in form of polyamide preparations or in the polymerization process.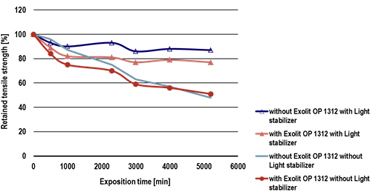 Figure 1: Light stability: artificial weathering (ISO 4892) of PA 66 GF25 V-0 with Exolit OP 1312 with and without 0,25% S-EED®, test criterion is the remaining tensile strength
The processing of glass or mineral filled polymers needs the addition of a lubricating agent. With Licowax® and Licomont® Clariant offers a range of ideal processing aids for polyamides. The montanic acid ester waxes, Licowax® E and OP as well as the montanic acid calcium soap, Licomont® CaV 102 have a strong mould release effect in polyamides. Additionally, Licomont® CaV 102 has an excellent nucleating effect leading to faster crystallization. In combination with Exolit OP flame retardants they do not affect the UL 94 classification and improve the processing of the compounds. Due to their chemical structure they can also buffer traces of acids formed by the flame retardant. Adding Licomont® CaV102 in polyamide 6 with 30% glass fibres, a cycle time reduction of more than 20% is achieved due to faster crystallization and better flow of the polymer melt which is obtained by real lubrication and not by polymer degradation known to be caused by other metal soaps based on stearates.
In parallel, Licomont® NaV 101 is recommended for lubrication in polyesters, mould release effects and again for nucleating and cycle time reductions. It has proven its effects also when used together with Exolit OP flame retardants.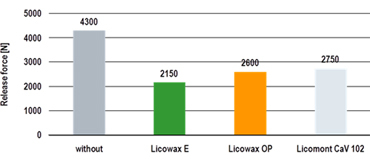 Figure 2: Injection moulding, release force of PA 66 GF 30 V-0 with Exolit OP 1312 and 0.5% lubricant, the less the better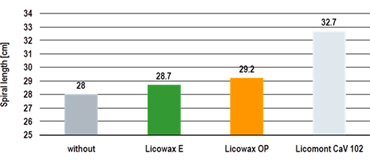 Figure 3: Injection moulding, spiral length of PA 66 GF 30 V-0 with Exolit OP 1312 and 0.5% lubricant, the more the better