Clariant Launches Nipaguard Zero Preservative Blends as Innovative Alternatives to Parabens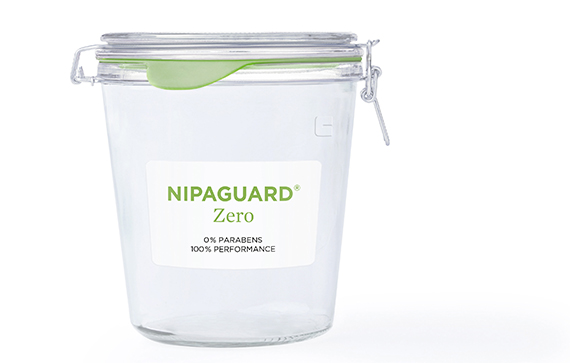 Safe and effective paraben-alternatives based on 100% renewable Velsan® SC synergistic booster
4 new broad-spectrum solutions developed and tested to meet the latest global cosmetic preservation needs
Muttenz, September 19, 2013 – Clariant, a world leader in specialty chemicals, is launching Nipaguard® Zero – a powerful line of optimized preservative blends that contain no parabens, yet deliver a comparable performance.
With more than 70 years of combined expertise and experience in this field, Clariant is a market leader in offering solutions for preservation of cosmetics. The company offers a broad portfolio of single actives and optimized blends under the well-known brand names Phenonip®, Nipagin® and Nipaguard. Based on Clariant's deep understanding of the market and due to growing end-user demand for alternatives to parabens, the company has developed four Nipaguard Zero blends for use in rinse-off and leave-on applications, wet wipes and difficult-to-preserve formulations, including an Ecocert®1 approved option.
Extensive testing to meet the highest standards on the market ensures that formulators can have complete confidence in the effectiveness of all four blends to deliver the same high levels of performance as traditional preservatives.
The Nipaguard Zero blends are based on 100% renewable Velsan® SC – a highly effective, novel synergistic booster developed by Clariant that enables use of a reduced amount of preservatives to provide reliable protection against bacteria, yeasts and fungi. Nipaguard Zero provides broad-spectrum preservation, is easy to use, safe and effective at low concentrations and also meets major regulatory requirements. The four products, all based on Velsan SC are: Nipaguard SCE, Nipaguard SCM, Nipaguard SCP and Nipaguard SCV.
Developed in line with Clariant's new Secret Code of Beauty concept, Nipaguard Zero has emerged from the unique combination of five codes focused on helping customer achieve new levels of success in Personal Care.
Clariant's broad portfolio of products incorporates the company's passion for sensorial solutions and sustainability, deep consumer and trend insights, innovative power and its market expertise.
Introducing the new blends, Anu Desikan, Global Marketing Manager for Personal Care said: "We understand the challenges that our customers face, in finding a safe and reliable preservative for their formulations, while navigating the frequently changing trends, regulations and requirements. We work with our customers to provide solutions to these challenges that are innovative, sustainable and effective to deliver confidence in preservation."
® TRADEMARK OF CLARIANT REGISTERED IN MANY COUNTRIES.
®1 REGISTERED TRADEMARK OF ECOCERT, F-32600 L'ISLE JOURDAIN (FR).