January 29, 2014
Second Generation Biofuel from Clariant and Haltermann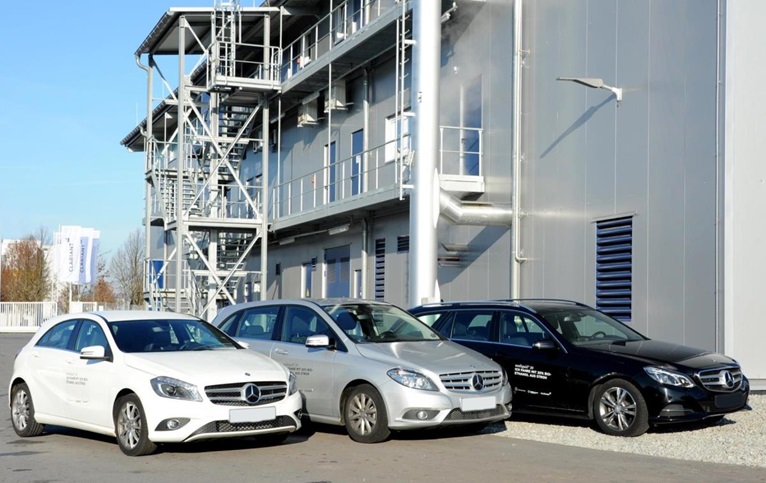 sunliquid®20 with 20 % ethanol from straw: high-quality fuel for optimal driving performance
Straw-based cellulosic ethanol guarantees significant reductions in CO2 emissions without competing with food production
Muttenz, January 29, 2014 - A fuel of the future is being introduced to the streets in a fleet test launched by the joined forces of Clariant, Haltermann, and Mercedes-Benz. The Clariant sunliquid® process converts wheat straw into cellulosic ethanol. The company Haltermann then mixes the cellulosic ethanol with conventional fuel components to form the new fuel. The production of cellulosic ethanol is virtually CO2-neutral, saving almost 100 % of CO2 emissions when compared to gasoline. sunliquid®20 is 20 % cellulosic ethanol, i.e. the well-to-wheel comparison shows reductions in greenhouse gas emissions of around 20 % with consistent engine power. There is no competition with food production or for agricultural acreage. A high octane number (RON) of over 100 guarantees optimal efficiency.
"Cellulosic ethanol is a genuinely sustainable and advanced biofuel of the latest generation. It is produced in Germany from agricultural residues. The fleet test will demonstrate that the fuel is ready for market and technically compatible with in series vehicles at a blending rate of 20 % with super gasoline. This shows that second generation biofuels based on agricultural residues are now technologically ready and available, not only in production but in application as well," says Professor Andre Koltermann, Head of Group Biotechnology at Clariant. "We are excited to be able to realize this pioneering project with two such distinguished partners. It confirms that our sunliquid® process is the right way to go. The technology can now be implemented across the board - for which we need the right conditions."
"Our main task is to shape solutions for sustainable mobility of the future. We see great potential in second generation biofuels with regards to sustainability and reduction of greenhouse gases. Petrol with 20 % ethanol can already be used easily in our latest Mercedes-Benz BlueDIRECT petrol engines. This offers ideal potential for best efficiency and high greenhouse gas savings," explains Peter Lueckert, Director for Engine, Powertrain, and Fuel Injection at Daimler AG.
"This is yet more evidence that Germany is a technology pioneer in research and development for sustainable special fuels. As a specialties company and research partner of the industry we are delighted to be able to produce a fuel with such excellent specifications and environmental characteristics that is, as tests show, compatible with existing engines and infrastructure," emphasizes Dr. Uwe Nickel, CEO of H·C·S Group (Haltermann Carless Solutions).
Over the next twelve months, test fleet vehicles can be refilled with the new fuel at a specially equipped gas station on the Mercedes-Benz site in Stuttgart-Untertürkheim. The cellulosic ethanol comes from Clariant's sunliquid® demonstration plant in Straubing, where approximately 4 500 tons of agricultural residues such as grain straw or corn stover are converted into cellulosic ethanol each year. At the Haltermann plant in Hamburg the bioethanol is mixed with selected components to form the innovative fuel, the specifications of which reflect potential European E20 fuel quality.