February 12, 2014
Clariant opens the door for productivity and sustainability in pharmaceutical packaging with European Pharmacopeia tested additives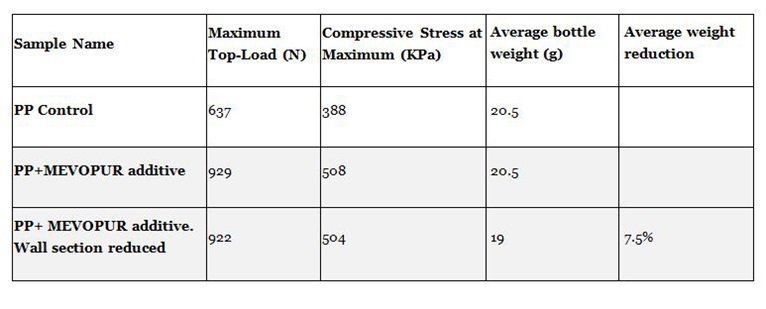 MEVOPUR® nucleating agents, help to improve productivity and reduce costs by allow reducing crystallization time
Improved properties allow reduction in wall thickness, therefore decreasing raw materials used and reducing costs and improving sustainability
Enhance the quality by reducing of potential shrinkage and warpage and effects
Supporting regulatory compliance, by use of pre-tested raw materials for masterbatches: USA Pharmacopeia (USP) parts 87, 88 (class VI) and ISO10993-1
NEW: Raw materials for masterbatches have been tested to European Pharmacopeia 3.1.3
Muttenz, February 12, 2014 – Clariant, one of the world leaders in specialty chemicals, supports the Healthcare industry with a range of products developed for medical devices and pharmaceutical plastic packaging. With its knowledge, Clariant's MEVOPUR® nucleant product brings improvements in the process of plastic packaging fabrication. Thanks to them the processing time can be reduced; mechanical properties improved and so companies can save time and increase the productivity. The nucleating agents used in MEVOPUR products are pre-tested using extraction protocols such as those established by US Pharmacopeia, ISO and NEW European Pharmacopeia monograph 3.1.3; the goal is helping companies to meet the challenging regulatory requirements to support "Controlled, Consistent and Compliant".
Use of the MEVOPUR nucleating masterbatch in polyolefin components helps to increase speed of formation of crystals, enabling a decrease in the cooling time, therefore reducing the production time. This decrease in time depends on the number of factors; but Clariant internal tests indicate between 10-20% for PP and between 5-15% for HPDE.
By improved crystal structure, physical properties such as stiffness are also improved. This increase in stiffness for example in EBM (Extrusion Blow Molded) bottles allows wall sections to be reduced, therefore reducing material consumption. This provides opportunities for cost saving and improved sustainability. Clariant has carried out top-loading tests on EBM bottles in PP and HDPE that demonstrate reduction in wall section by 8 to 15% whilst maintaining top-load strength (Figure 1).
Nucleating agents can also enhance the quality products, thanks to a reduction of the influence of pigments on shrinkage and warpage. Some pigments can have an influence on the crystallization of the polymer, which could create anisotropic shrinkage and potential for warpage. Uses of nucleating agents are able to overcome this problem of shrinkage/ warpage caused by pigments, because of the increased speed of crystal formation. This allows machine settings to be maintained, irrespective of the color, and in particular for closures, maintain critical quality parameters e.g. dimensions. (see photo).
A goal of the complete MEVOPUR range is to have products that support customers on a growing list of regulatory requirements and to offer change control. By pre-tested raw materials to USA Pharmacopeia 23 parts 87, 88 and ISO10993-1 for its masterbatches, Clariant can support the regulatory process needed to introduce both pharmaceutical packaging and medical devices.
NEW and great potential interest to manufacturers and users of pharmaceutical packaging will be the availability test certification of these nucleating agents used for MEVOPUR to European Pharmacopiea (EP) monograph 3.1.3. Polyolefin materials. The EP has many limitations in that there are only a few substances that were listed, and this made it difficult to introduce new products. As part of its strategy to support risk management, but allow designers and manufacturers to be innovative, Clariant has commissioned independent external testing of a range of raw materials for the MEVOPUR range, confirming that they meet the requirements of this monograph. This helps remove one of the barriers by providing real test data, and opens up a new opportunity in pharmaceutical packaging.
Clariant's dedicated team of industry specialists supports the Healthcare industry by developing partnerships with its customers, and working together bring innovations to the market, that help to enhance the product or process and protect the patient.
This MEVOPUR product is part of a range that will be on display at Pharmapack Europe 2014 Paris (booth 330).