Clariant supports the ocular medicine packaging with launch of new global and compliant standard color range of masterbatches for caps and closures at Pharmapack Europe 2014 Paris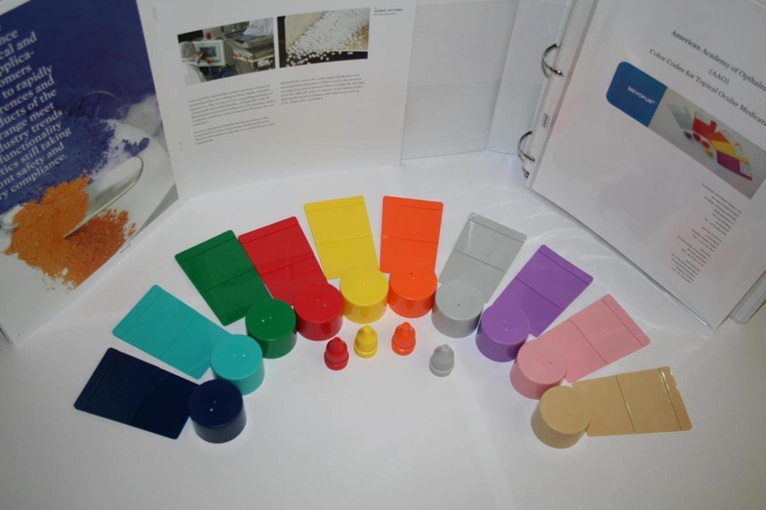 New MEVOPUR® standard masterbatch color range for closures for ocular medicines according to the standard from the American Society of Ophthalmology
Supports regulatory approvals and extractable and leachable studies by pre-evaluation of masterbatch raw materials to ISO10993-1 and USP 23 parts 87 & 88 (Class VI)
Speeding time to market and supporting international manufacture through fast availability from ISO13485 certified manufacturing sites on 3 continents
Muttenz, February 12, 2014 – Clariant, one of the world leaders in specialty chemicals, In the Healthcare sector, coloration of plastics plays an important role in protecting patients by identifying drug types or doses, thereby reducing the risk of errors. However, these plastic packaging materials and the colorants in them need assessment of how they behave in contact with the drug during storage and use. These extractable and leachable studies on the packaging material, play an important role in medium and high risk applications such as ocular medicines, but if something changes in the polymers or masterbatches used to manufacture the packaging, then the data from the extractable and leachable studies may no longer be valid. To address these issues Clariant has used in dedicated expertise to create a new range of standard masterbatch colors, offering the benefits of the MEVOPUR® brand, tailored to the color standard developed by the American Society of Ophthalmology.
Clariant's MEVOPUR product range was created in 2010 to help pharmaceutical companies to minimize risk and speed up development time for the packaging materials and drug delivery devices. At the introduction of the MEVOPUR brand. Clariant introduced a 'USP/ISO Standard Color Range', that not only offered fast availability in a range of polymers, but used raw materials for masterbatches that were already biologically evaluated to ISO10993-1 and USP23 parts 87 & 88 (Class VI).'By avoiding the need to go through the process of matching a color, and then carrying out biocompatibility tests saves a lot of time' says Clariant, 'We estimate that a match, sample, compliance testing process can easily take 20 weeks, and since MEVOPUR standard colors already come with regulatory documentation, this can be reduced to days'. In 2010 the American Academy of Ophthalmology decided to develop a uniform color-coding system; it selected 10 colors using Pantone references to identify the different types of ocular drugs, as shown in the table below. By identifying the drug using colored caps and closures the patient can be protected against possible mistakes. However, ocular drug packaging materials are considered medium / high risk and the regulators require extraction testing, biological evaluation and leachables studies, and the addition of colors complicates this.
In supporting this move towards standardization, Clariant, under the banner of 'Enhancing and Protecting Healthcare Products' has created the MEVOPUR "Ocular Closures Standard Color Range" based on pre-evaluated masterbatch raw materials to USP 23 parts 87 and 88, and additionally the benefits of change control, Drug Master File (DMF) and global availability. The standard colors are available in polyethylene HDPE and, in future, polypropylene PP polymer carriers making it suitable for use with the polymers typically used in caps and closures.
| | | |
| --- | --- | --- |
| Tan | 467 | PE8M176130 |
By adopting this standard color approach Clariant can provide color masterbatches for ocular packaging caps and closures to an established industry standard, providing regulatory support documentation and offering a faster and lower overall cost for the process of establishing a color.
In common with all MEVOPUR standard colors, this new range is for delivered from its three sector-specific ISO13485 certified sites in North America, Europe and Asia, therefore offering "Controlled, Consistent and Compliant' materials.
The products will be on display at Pharmapack Europe 2014 Paris (booth 330).
Note to editors: The MEVOPUR brand helps companies to reduce risks of extractables and leachables, by pre-evaluating raw materials used in the masterbatch and implementation of change control procedures. Extractables are substances that can be removed from a packaging material under abusive laboratory conditions (e.g. ISO 10993 or USP23 parts 87 and 88). Leachables are substances that migrate into the drug during normal /accelerated storage.