Clariant specifies innovation- and sustainability-driven growth strategy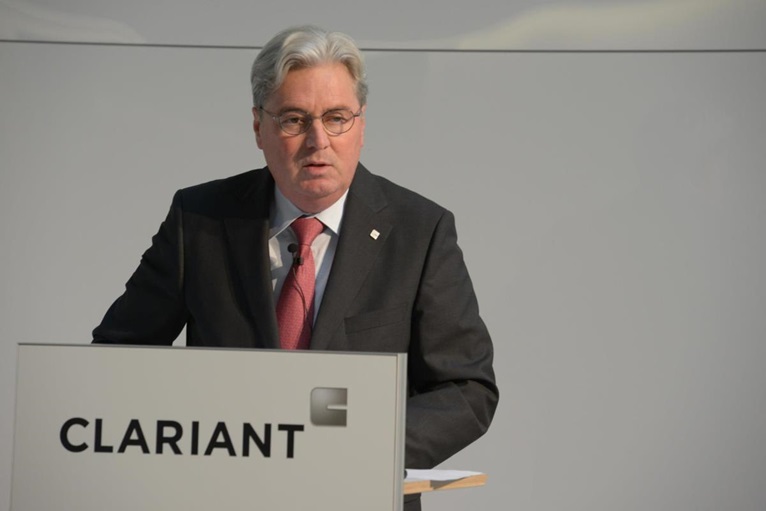 Discover Innovation at the Capital Markets & Media Day 2014
Commitment to sustainable long-term value creation and building a best-in-class R&D organization
Centrally-steered R&D intensifying presence in emerging markets and delivering sustainable innovations for multi-market applications
Muttenz, June 25, 2014 - Clariant, a world leader in specialty chemicals, turned the spotlight on fostering innovation and sustainability at its 2014 Capital Markets & Media Day, held June 25/26 at the new Clariant Innovation Center (CIC) in Frankfurt, Germany. Opened in 2013, the CIC is an important part of Clariant's global R&D network, providing the optimal host location for this year's event themed "Discover Innovation".
CEO Hariolf Kottmann and senior management emphasized innovation focused on market and customer needs and attractive growth markets as a key element in Clariant's growth strategy for 2014 onwards. Innovation is expected to contribute 1-2 percentage points annually to sales growth, thus helping Clariant to achieve its 16-19% EBITDA margin target in 2015 and beyond. For 2014, Clariant targets an EBITDA margin before exceptionals above last year's 14.1% by focusing on cost efficiency and profitable growth.
Commenting on this year's event, CEO Kottmann said: "While our focus on profitable growth has clearly started to deliver, Clariant's journey to reach its targets is not over. Innovation driven by global trends and challenges is vital in pushing Clariant to the next level. Customers working with Clariant access the benefits of a company with broad expertise, committed to building a best-in-class R&D organization focused on incorporating sustainability into the design of new products."
The CEO was joined by CFO Patrick Jany for an outline of the financing strategy going forward, as well as key decision criteria for innovation and investment. Jany reinforced Kottmann's position that sustainable long-term value creation is based on innovation and growth. He cited that significant investments into these areas will be maintained at current levels in the coming years. Clariant reported R&D expenses of CHF 199 million in its 2013 P&L statement.
Jany went on to highlight Clariant's strict selection of projects to ensure proper allocation of resources. This is determined by a differentiated business steering approach geared toward attractive markets and growth regions. In 2014, 62% of investments will be in emerging markets and North America, compared to 36% in 2013.
Executive Committee Member Christian Kohlpaintner and Chief Technology Officer Martin Vollmer detailed some of the on-the-ground investments, strong cross-business synergies, a dedicated ideas-to-market process, and Clariant's approach to creative exchange, which together prioritize investment areas and support the creation of added-value innovations for customers and markets.
Clariant is intensifying its presence in emerging markets, as part of its commitment to building a best-in-class R&D organization centrally-steered by Clariant International AG in Switzerland.
Specific innovation-related investments include:
New state-of-the-art regional headquarters in India, inaugurated in June 2014, to expand capacity, and generate value through focusing on technology , enhanced efficiency and greater service satisfaction for its customers. The new facility in Navi Mumbai will eventually house around 400 employees across the various service functions and the businesses of Pigments, Additives, Industrial & Consumer Specialties, Masterbatches, and also their technical service teams.New Center of Excellence laboratory for Clariant Oil Services in Kuala Lumpur, Malaysia. The new R&D facility will expand Clariant's industry-leading laboratory work and product distribution to Asia-Pacific customers. Business Unit Pigments will operate a Technical Service Center from this location, serving customers throughout South East Asia.Investment in extending application and development labs in Indonesia for customers in the personal care and industrial care sectors.New state-of-the-art research center for the Catalysts business in Shanghai, China, by 2015. With the goal of developing catalytic solutions tailored to Chinese market requirements, research will primarily focus on coal-based applications. Clariant's ability to connect R&D with the commercialization of new products is reflected in the advanced, sustainable products emerging from the company's innovation pipeline. CMMD 2014 attendees were introduced to future solutions with a focus on Personal Care, Crop Solutions, Catalysts and Masterbatches. For example:
Glucamides – novel, sugar-based surfactants with new performance benefits for multi-market applications. Glucamides are the foundation of new Clariant products for the personal care, industrial & home care, and crop solutions markets. They have an excellent ecological profile, with a high content of non-tropical biomass.Introduction of new CATOFIN® propane dehydrogenation catalysts. The catalyst delivers a 2-3% increase in the yield of the reaction while simultaneously reducing energy consumption by 5-10%. Both advantages have a significant and very positive impact on plant economics as they enable an increase in production without additional operating costs. CATOFIN technology is a process technology licensed through CB&I. It has been selected by 35 licensees worldwide and is in operation in 14 units today.CESA®-absorb are novel masterbatches with integrated oxygen barrier. They support the production of PET packaging that prolongs the shelf life of oxygen sensitive goods and prevents food from spoilage.Developments to Hydrocerol®nucleating agents currently in the pipeline will enable the production of thinner, strong insulation panels for building construction. Use of Hydrocerol-based masterbatches in polystyrene panels will help to achieve maximum energy saving with minimal material input. Reinforcing Clariant's leadership position in innovation, the company is undertaking several production expansions to meet increasing demand for its innovations, including:
New capacity in Europe for global customers of Clariant's sustainability-promoting Licocene® Performance Polymers. The 50% increase at its facility in Frankfurt-Höchst will support the double-digit growth in demand since the unique metallocene polyolefins were launched in 2006. The new capacity will come on stream in Q1 2016.In response to increasing demand for its Glucamide-based products, the Business Unit Industrial & Consumer Specialties has initiated a production capacity expansion at Clariant's Glucamide unit in Gendorf, Germany, to come on stream in 2015.Clariant's new Ziegler-Natta (ZN) polypropylene catalyst production plant in Louisville, Kentucky, is on schedule to begin production in 2015. The plant is part of a long-term strategic partnership between Clariant's Business Unit Catalysts and CB&I's Lummus Novolen Technology. Based at Clariant's largest US production hub, the state-of-the-art facility will combine innovative catalysts - jointly developed by both companies with high capacity output to serve the fasting growing polypropylene industry. EC Member Christian Kohlpaintner, concluded: "Innovation is the catalyst for growth, with a deep understanding of translating customer needs into products and solutions. Through a well-structured process to support this approach, Clariant is able to prioritize R&D resources and to deliver on reduced time-to-market for sustainable innovations."