Clariant unveils ColorForward® 2016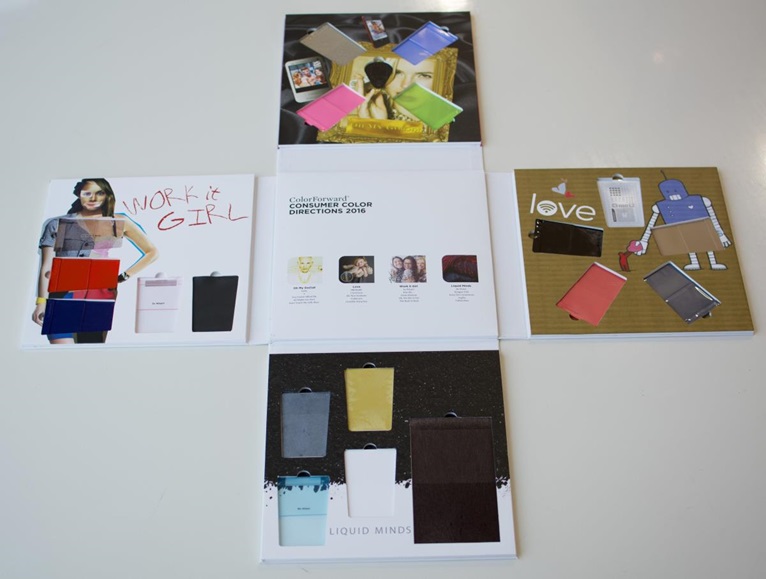 Marks 10th anniversary of Clariant's color forecasting guide for the plastics industry
Trend analysis and color-design tool continues to surprise and inspire
2016 guide focuses on looking for the unknown, instead of repeating what we know
Muttenz, January 15, 2015 - Clariant, a world leader in specialty chemicals, celebrates the 10th anniversary of its color forecasting guide for the plastics industry with the release of
ColorForward® 2016
.
ColorForward aims to help plastic product designers and marketing professionals make more informed color choices. Each edition presents four global societal trends that can be expected to influence consumers' behavior. The international team of Clariant specialists then selects different colors or color combinations that evoke an emotional response related to each trend. Annually surveying global trends and week-long creative workshops are important elements in the broader selection process which involves collaboration between plastics and color specialists, industry and consumer-science experts and designers and product marketers from all end markets, all around the world.
ColorForward 2016 features the following trend themes:
Liquid Minds

We have reached a breaking point where new thinking is needed.

Stop looking to the past for inspiration. Nostalgia is over. Bureaucratic over analysis does nothing but stifle fresh thinking. Now is the time to drain away your preconceived notions and limitations, and to train your intuition, is the time to unlearn and take risks, to walk away from linearity and start again from basic elements.

Oh, my go(l)d! Watch me now! This is an exhibitionist era, where, to some, fame matters as much as money. Super-rich millennials, jaded by possessions, are moving from owning to experiencing a luxury. While they may have a very avant-garde taste, they certainly create their own style. Outlandish gaudy baubles and outrageous behavior is in...all this for the unique pleasure of being admired.
Love Technology and human existence have become one. For many, technology and its ways of connecting to us are perceived as a vital organ we can't live without. Contemporary technology complements and amplifies our senses, enabling us to feel what cannot be spoken or observed. Immersed in the cloud, wireless connected sensors can track our personal health and the wellbeing of others: we can access medical information, monitor vital signs and carry out a wide range of tasks. Reliability on this type of technology has elevated it to the status of an invisible caring family member, whose comforting presence we're aware of even though we can't see them.
Work It Girl The term feminist continues its evolution. We see the rise of a new generation of women — one who doesn't prescribe to the known forms of feminism. She is more chillaxed, and is comfortable with her own natural self; hence has nothing to prove to the world. In short, the modern day version of feminism refuses labels.
Matthias Brommer, Global Head of Marketing, Clariant Business Unit Masterbatches, comments: "Through my involvement with ColorForward I have really come to appreciate how color moves people, informs their view of the world around them, and can even influence their purchasing decisions. The fact that ColorForward has been around for 10 years, and continues to attract more and more interest over time, reaffirms our belief that we have created something useful for the marketing and designer community. Therefore, we are very happy to be celebrating the 10th anniversary on March 11th in Frankfurt/Main."
For more information about ColorForward, visit http://www.clariant.com/colorworks.