Clariant Celebrates 10th Anniversary of ColorForward® with Customer Event at Frankfurt Innovation Center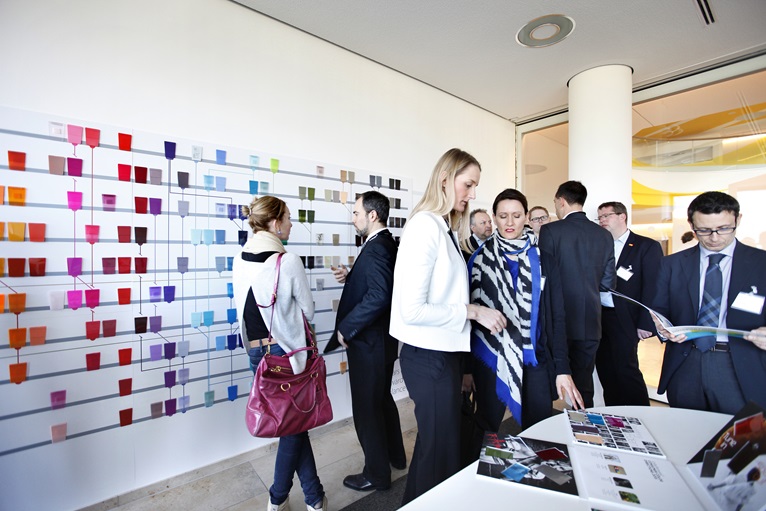 Event marks 10 years of tracking societal trends and colors for the plastics industry
Clariant Innovation Center in Frankfurt hosts key customers
Presentations examine trend watching, color and innovation
Muttenz, March 11, 2015 - Clariant, a world leader in specialty chemicals, today celebrates the 10th anniversary of its
ColorForward
® color forecasting guide with a day-long customer event at the Clariant Innovation Center in Frankfurt, Germany. More than 50 key customers from around the world are attending.
The ColorForward trend analysis and color design tool has been released annually since 2006 to help plastic product designers and marketing professionals make more informed color choices. Matthias Brommer, Global Head of Marketing for the Clariant Masterbatches business unit, in his welcome to the guests, recalls how ColorForward came into being. After many years of working with product marketers and brand owners to make their products and packaging more successful in the market, he states, "it was a simple step to extend the scope of our services ... and to begin helping them understand better what colors mean to consumers, what drives their buying decisions, and – in short – help them through the critical process of deciding what color or colors to use."
By seeking to engage designers and marketers in a creative and consultative way, he continues, the ColorForward concept is "very closely aligned with the overall Clariant corporate strategy that calls for, among other things, adding value for customers and fostering innovation."
It is fitting, then, that the ColorForward 10th anniversary is being celebrated at the Clariant Innovation Center (CIC). The CIC building in the Industriepark Höchst, near Clariant's largest manufacturing site in Frankfurt, was founded to empower R&D innovation. The 36,000 square meter center employs around 500 and houses competence centers in chemical research and process technology as well as application laboratories for several Business Units and state-of-the art analytical laboratories. The modern, open-plan building features a mix of open workspaces, offices and laboratories to foster the exchange of ideas among employees as well as with visiting partners from industry and academia.
A highlight of the anniversary event is a presentation on trend watching and innovation by Dr. Carl C. Rohde, a Dutch sociologist and head of Science of the Time, one of the first and most respected trend research and innovation agencies in the world.
Dr. Rohde is followed by Dr. Angelica Marson, Head of Global Innovation for the Masterbatches business unit and Maurizio Torchio, Global Head of ColorWorks, Clariant's network of design and technology centers, where the annual ColorForward guides have been created for the last 10 years. They are speaking about "The New Language in Innovation."
The afternoon sessions feature Judith van Vliet, Designer, ColorWorks Europe/IMEA, who is reviewing the 10-year ColorForward odyssey in a presentation called "Where Inspiration and Reliability Meet: An Exciting Visual Path of 10 Years of ColorForward."
"Today," van Vliet, observes, "everyone seems to be into color. A lot of people are trend hunting... color hunting. But we've been doing it now for 10 years and we've gotten quite good at it. Even in the early years, the colors Clariant found were really quite good. Over the years, we have seen those color predictions validated by the fact that they are used in the marketplace... and not just in plastics product and packaging design, but other disciplines like interior design, automotive and fashion. That's an important achievement and that's why we think it is important to celebrate the 10th anniversary of ColorForward."