Clariant gives formulating with sugar-based surfactants a shake-up with GlucoTain® at in-cosmetics 2015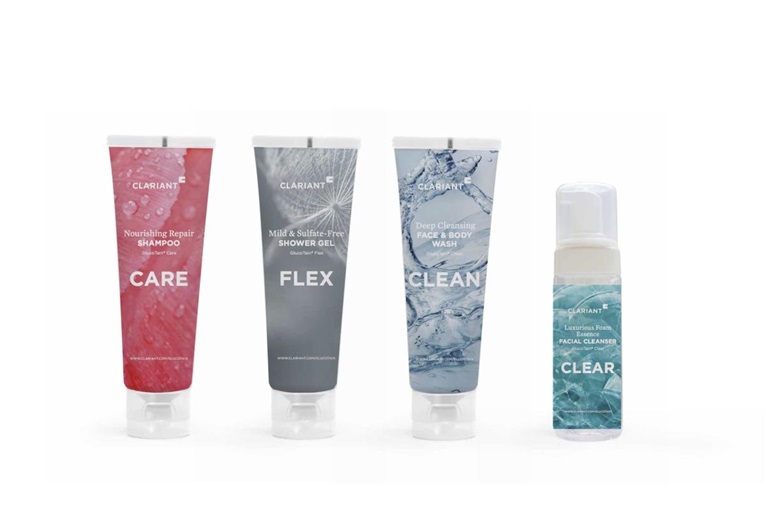 Four-in-one qualities: a natural surfactant range that is mild, sensory, performs and sustainable
Offering sensory benefits through individual foam structures
Clariant's Personal Care Team at in-cosmetics 2015 Hall 7 Booth 7C50, Barcelona, April 14-16, 2015
Muttenz, April 14, 2015 – Clariant, a world leader in specialty chemicals, is grabbing the attention of leading Personal Care brands with the four-in-one sensory, mild, performing and sustainable benefits of its GlucoTain® surfactants. The sugar-based and sulfate-free surfactant range – Clariant's centerpiece at in-cosmetics 2015 – presents innovative solutions for formulators to achieve mild and natural skin and hair care products that clean and indulge the senses.
GlucoTain's four-in-one qualities give formulators the chance to balance consumer needs for mildness and new sensory dimensions with real cleansing foaming power. They can now choose what they need from a variety of four products to remove the compromises usually faced between developing a harsh product that cleans, or one that is mild but not as good at performing on the cleaning front.
GlucoTain glucose and natural oil-based surfactants are kind to skin and hair proteins and lipid layer. At the same time they offer good thickening and high compatibility with a wide range of ingredients, fragrances, oils and other actives. All GlucoTain surfactants are readily biodegradable and free of Aquatox labeling.
GlucoTain stands out in the marketplace for combining these benefits with individual foam structures from fluffy to rich, as well as light to caring conditioning levels for skin and hair. At the in-cosmetics booth, visitors will be able to experience the bubble foam benefits of Clariant's four GlucoTain products – Clear, Clean, Flex and Care – for themselves. Examples of the possibilities include:
Big bubbles - GlucoTain Clear provides clean and fresh sensory for bubble bath and revitalizing shampoo.
Medium bubbles - GlucoTain Clean and GlucoTain Flex. Deep clean & mild sensory for facial cleanser and anti-aging shampoo.
Small bubbles - GlucoTain Care. Moisturizing and conditioning sensory for baby shampoo and pampering facial cleansers.
GlucoTain gives formulators a solution for overcoming the traditional trade-offs in developing innovative products and platforms based on sulfate-free and EO-free formulations. Its combination of the four characteristics opens up choice for formulators looking, for example, to design sulfate-free products while keeping costs under control, without hurting performance.
To match the surfactant products to the sensory needs of formulators and brand owners, Clariant scientists created a specially-trained Sensory Expert Panel to develop and evaluate the foam performance of skin care leave-on formulations. To define the sensory profile, the panel assessed formulations containing different raw materials, taking into consideration the parameters normally attributed to surfactants: squeakiness, conditioning and feeling of slipperiness.
"With two square meters of skin to take care of everyday, it is not surprising that today's consumers want to use natural and mild products to cleanse and nourish. Our sensory expert panel has explored in-depth the concept of how clean should feel, so that with our range our customers have a huge variety of choice when it comes to surfactants that are natural, have cleaning power and that really please the senses. Our unique GlucoTain is an exciting revolution for the industry," comments Nicolas Lasbistes, Global Technical Marketing Manager Personal Care at Clariant.
Additional information for editors attending in-cosmetics 2015:
Continuing its focus on sustainable and natural-derived products at in-cosmetics 2015, Clariant will also present its range of Plantasens® Abyssinian Oil and Plantasens Serums at its booth.
Both Plantasens and GlucoTain will feature in the series of in-cosmetics Innovation Lectures: "Plantasens Olive LD "The power of nature with a silicon touch!" on Tuesday April 14, 2015 at 17:20 in Theatre 2; "GlucoTain surfactants – a new mild & sustainable sensory dimension" on Wednesday April 15, 2015 at 14:20 in Theatre 1.
Visit Clariant at in-cosmetics 2015, Barcelona, Hall 7 Booth 7C50 from April 14-16, 2015.