Clariant launches new 24-canister dispenser machine CD2406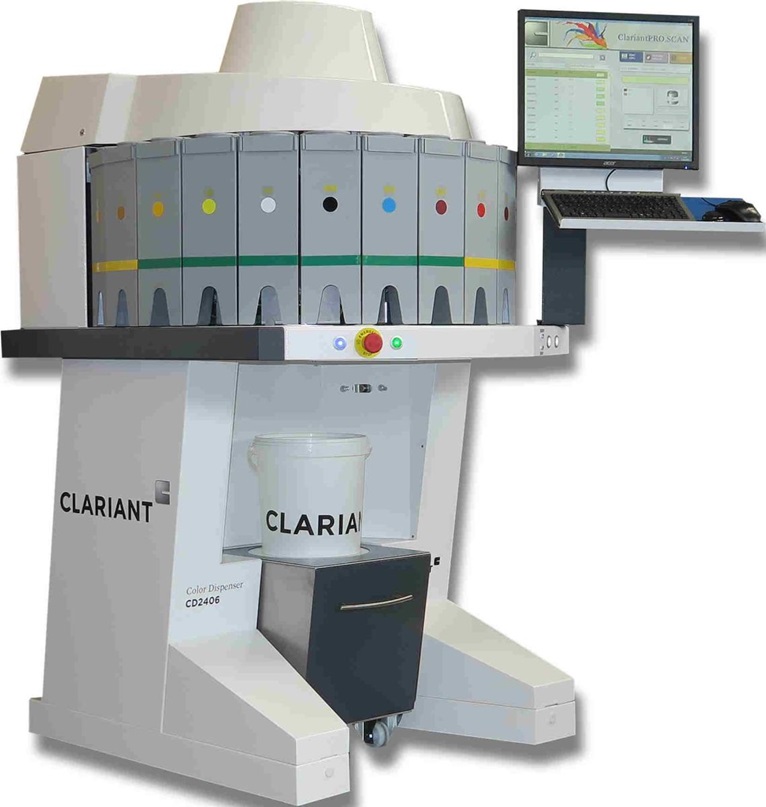 One of the smallest, fastest and most reliable dispenser machines on the market
Space-saving high precision machine at low-cost-of ownership ideal for busy POS retail environments
Debut at European Coatings Show, April 21-23, Hall 7 Booth 7-123 and opening day presentation at 12:10 Booth 5-353
Muttenz, April 20, 2015 – Clariant, a world leader in specialty chemicals, unveils a breakthrough in small dispensing machines for professional paint stores and typical Point-of-Sale (POS) retail environments at the European Coatings Show 2015 (Booth 7-123 Hall 7).
Clariant's new patented machine "CD2406" is a compact simultaneous colorant dispenser with 24 easy-to-mount canisters to match optimum refill cycles. It is designed for use in professional paint stores and typical POS retail environments. Its footprint of only 1 square meter allows shop space to be saved while high precision pumps secure fast and precise dispensing performance.
The Clariant technology driving the machine boosts productivity without compromising on accuracy. The simultaneous color dispenser relies on a unique Clariant stainless steel piston pump technology (with a capacity of up to 4 oz) to achieve a fast dispensing speed. The 24 canisters, available in standard 3 liter and 6 liter sizes, allow dispensing of up to 6 colorants at a time.
No tubing means maintenance time and costs are minimized. The low calibration-machine comes with a proven pump lifetime, based on 10 tints per day, and a long life single motor for dispensing.
"The CD2406 machine takes performance to a new level. Our new dispenser is amongst the smallest, fastest and most reliable on the market and this makes a big difference in busy professional and POS retail environments. It is a low maintenance machine that can be trusted to perform quickly and accurately, addressing the top priorities of our customers," comments Mino Fiorito, Head of Equipment Management for Tinting Systems, Clariant, who developed this new dispenser with his team.
CD2406 can be viewed at Clariant's ECS 2015 Booth #7-123 in Hall 7, Messezentrum Nuremberg from April 21-23, 2015. Mino Fiorito will present "Big output – small footprint. A new concept in high throughput colorant dispensers" on April 21 from 12.10-12.30 at Booth 5 – 353 in Hall 5.
Watch Clariant's latest Discover Value story on the importance of easy dispersible pigments at www.clariant.com/edpigments.