Clariant presents pioneering technologies for air pollution control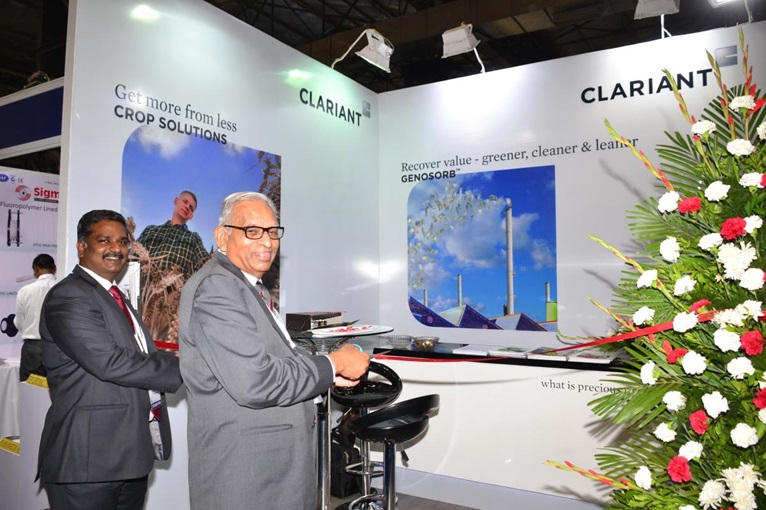 Genosorb™ technology aids solvent recovery in manufacturing plants
Technology customized for refineries, pharma and chemical industries
Mumbai, April 16, 2015 – Clariant, a world leader in specialty chemicals, showcased Genosorb™, its state-of-the-art technology for gas treatment at ChemProTech India, 2015. This technology adds value to customers by providing sustainable solvent recovery and effective counter air pollution.
Clariant has developed the Genosorb range of absorption liquids as tailor-made solutions for many specific waste gas problems in manufacturing units. This technology gathers centerstage as many domestic as well as international players in the chemical, petrochemical, pharmaceutical, and oil & gas industries are supporting the Make In India campaign, thereby announcing plans to ramp up production.
Dr. Deepak Parikh, Region President – India, Middle & Africa, Clariant, said, "We are happy to offer this value proposition to our customers with long term solutions for controlling air pollution. We are committed towards unified partnership with our customers to provide sustainable value-creation. Clariant in India is accelerating change and we will continue to deliver on our hyper growth strategy in 2015, fulfilling our commitments to all our stakeholders, as the Indian market stays at the core of Clariant's global focus."
R. Kumaresan, Head – Industrial and Consumer Specialties, Clariant in India said, "Clariant staying true to its core values is committed to innovation and sustainability. We have launched this pioneering technology to empower the Indian industry to tackle challenges pertaining to air pollution. We are also closely working with several State Pollution Control Boards to pilot this technology in various industrial clusters. We believe in enabling our customers to be future-ready."
Genosorb technology uses polyethylene glycol dialkyl ethers, which have proved successful for scrubbing waste air and waste gas streams containing a variety of organic substances and acid gases. Also, this is a continuous process based on absorption technology, in contrast to adsorption, which requires a number of adsorption beds and switching of valves. Genosorb technology is a resource recycling technology, where the VOC is recovered and can be recycled and reused. Thus compared to thermal oxidation, there is considerable return on capital.