Clariant and Technology Partners Add Holograms and Laser Marking to ColorForward® 2016 Palette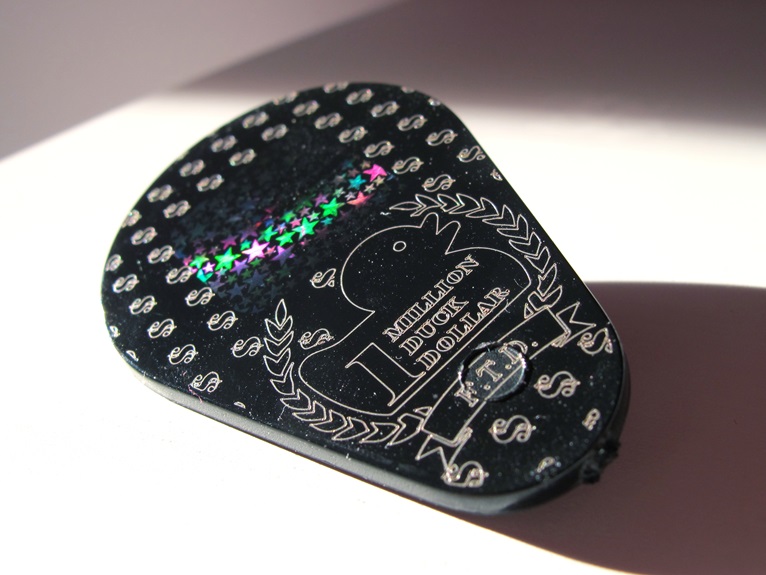 ColorForward® goes high-tech for 2016 with help from Morphotonix and TRUMPF
Demonstrates novel approaches to decorating plastics
Trend analysis and design tool looks beyond the surface of color
Muttenz, May 21, 2015 – Clariant, a world leader in specialty chemicals, recently teamed up with two other innovative companies to use the latest technology in laser marking and holography to capture important societal trends affecting consumer behavior. The high-tech graphics are rendered on molded plastic chips in
ColorForward® 2016
, the latest edition of Clariant's groundbreaking trend analysis and color-design tool.
"Even though these technologies are not directly connected to the use of color in plastics," explains Joanna Marguier, Color Scientist, Clariant ColorWorks® Europe/IMEA, "it is important for us to be on the lookout for any innovations that can stimulate creative thinking."
The ColorForward trend analysis and color design tool is released annually to help plastic product designers and marketing professionals make more informed color choices. Each edition of ColorForward presents four global societal trends that can be expected to influence consumers in the near future, and connects them to colors that evoke an emotional response related to each trend.
Past editions of ColorForward have used texture, smell, special effects and other aesthetic elements to render colors more imaginatively. For 2016, the Clariant specialists decided to use holograms and laser marking in two of the four trend themes.
CREATING A HOLOGRAM IN 'OH, MY GO(L)D!
Morphotonix is a company created by a group of post-graduate researchers at the École Polytechnique Fédérale de Lausanne (EPFL) in Switzerland that developed micro-technology to etch mold surfaces to create diffractive and nano-patterns that are then transferred to molded articles where they appear as holographic and invisible security features. Because it can be seamlessly integrated in the production of injection-molded plastic parts, the Clariant ColorWorks specialists decided it was perfect for one of the ColorForward color chips in the 2016 trend theme called Oh, my go(l)d!.
This theme, an unapologetic tribute to excess, celebrates the fact that, like it or not, outlandish, gaudy baubles and outrageous behavior are "in". The chip is made in a brilliant black color called "All nights are ours" and has a molded-in Morphotonix hologram that shows stars swirling in the shape of the Clariant 'C' logo. It also includes dozens of dollar signs that are laser etched in the surface of the chip along with a profile of a rubber duck (an element from ColorForward 2015 that has become the group's official mascot) and the notation "1 Million Duck Dollars."
Joanna Marguier explains that "the hologram gives a shiny, kitschy vibe to the color. It reminds me of a poker chip and this is all definitely in line with the bling-bling of OMG. Part of the purpose of ColorForward is to stimulate creativity in a fun way – here we do even more: we integrate an innovative look and anti-counterfeiting features that are obtained straight out of the injection line. Also, we are always interested in exploring, with our customers, the broader aspects of plastics technology so it can be used to make products and packaging more successful in the marketplace."
She says Morphotonix was very helpful in getting the prototypes tooling completed in a compressed time frame. "We are grateful that Morphotonix made such an effort to help us meet these objectives, and we are definitely talking about collaborating more in the future."
EXPLORING LASER MARKING POTENTIAL
TRUMPF Group, the global manufacturer of industrial lasers and metal-fabricating equipment, through its Asia Pacific subsidiary in Singapore, partnered with Clariant to demonstrate the potential of laser-marking on a chip representing one of the colors in the LOVE trend theme.
Lasers were used to create a complex circuit-board-like pattern on a white chip called My New Soulmate. The surface decoration also includes a small reproduction of the ColorWorks duck, along with the words "In- Between Technology." This image has several connotations: first, the LOVE theme (with the word "love" spelled graphically with a Wi-Fi symbol in place of the 'o') acknowledges the ways in which technology is creating new connections between people. The duck also symbolizes the in-between positioning of Clariant ColorWorks, which seeks to bring the aesthetic side of plastics design into harmony with the technical side of polymer coloration.
"Laser marking is a highly versatile process", says Norzihan Aziz, Head of ColorWorks and Color Communication Asia Pacific, who coordinated TRUMPF's efforts on ColorForward 2016. Electric toothbrushes, telephone keypads, switches, push buttons, silicon chips –almost any product, in fact –could be marked in fine detail using lasers. The surface of a plastics part can be made to change color when subjected to laser light or thin outer layers of multilayer parts can be removed to reveal the layer underneath or to allow light transmission. Lasers can be used to melt microscopic areas of plastic parts to create tiny gas bubbles that diffuse light so those areas appear distinctly different from unaffected areas. The ColorForward chip was molded with Clariant's CESA®-laser additive masterbatch, which enhances the markability of the polymer.
"The My New Soulmate chip gave Clariant and TRUMPF the opportunity to demonstrate both creativity and technology," says Aziz. "They were very professional and cooperative. As an equipment supplier, TRUMPF would not normally have the resources to mark the 900 chips we needed, but they dedicated a technical sales representative who did the work personally and completed the project on time."
To learn more about ColorForward, please visit www.colorworks.clariant.com. Clariant also offers seminars at its four ColorWorks locations as well as at selected conferences and at customer sites.