May 07, 2015
Clariant celebrates AmoMax®-10 catalyst's 50th reference in China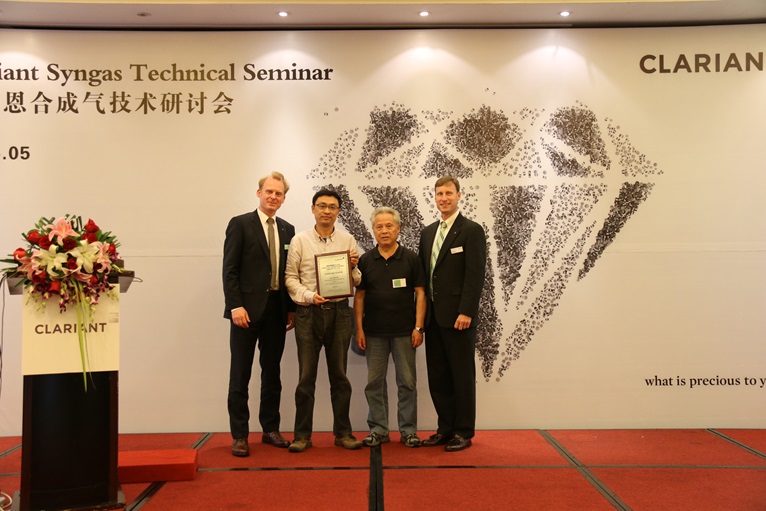 ChinaCoal Pingshuo becomes 50th customer of the highly active catalyst AmoMax®-10 in China
Clariant further consolidates its leading position in China ammonia catalyst industry
Shanghai, May 7, 2015 – Clariant, a world leader in specialty chemicals, announced today that
ChinaCoal Pingshuo
became the 50th customer of AmoMax®-10 in China. The milestone further enhances Clariant's excellent reputation as a supplier of catalysts for ammonia synthesis in China. The innovative AmoMax-10 is a highly active catalyst, capable of saving energy in the ammonia production process. An award ceremony was held today to celebrate the significant achievement.
In order to achieve high harvest yields and guarantee food supply, the need for fertilizers in China has grown by 27% to 58.4 million tons since the year 2000. The high energy requirements for ammonia synthesis in fertilizer production has put a great burden on energy consumption in populous countries like China. It is estimated that the annual global production of 138 million tons for fertilizer products in 2014 required more than 5 exajoule, equivalent to 1-2% of the world total energy consumption.
To conserve energy during the Haber-Bosch Process of ammonia synthesis, Clariant has introduced the highly active AmoMax-10 catalyst. Thanks to its special design, less energy is required, and ammonia yield is optimized. Consequently, ammonia producers benefit from excellent performance, energy savings, and efficiency.
"With almost 40% of global ammonia production capacity, China drives industry developments worldwide. By expanding AmoMax-10 to the market, Clariant not only supports producers, but also helps to alleviate the current environmental challenges in China," said Stefan Heuser, Senior Vice President & General Manager of Business Unit Catalysts at Clariant.
Clariant has succeeded in building close, mutually-beneficial partnerships with key customers such as ChinaCoal Pingshuo. By securing this major producer as its 50th reference, Clariant underscores its commitment to providing customers with even quicker solutions, and to developing next generation products that are tailored to the market's needs.
"As one of the leading coal producers in China, with annual output close to 100 million tons, it is our principle to maximize waste utilization while minimizing environmental pollution during production. Clariant's AmoMax-10 gives us a huge boost in achieving our objective," said Hu Wanlin from ChinaCoal Pingshuo, Vice General Manager, during the Certificate-award ceremony in Guilin, Guangxi province, China.
AmoMax-10 is supplied by the Syngas business segment of Clariant's Catalysts business unit, which is a leading supplier of catalysts used in synthesis gas generation and conversion processes, including those for the production of ammonia, methanol, hydrogen alternative fuels, synthetic natural gas and fuel cell.