Clariant's GlucoTain®: a new sensory dimension to the personal care industry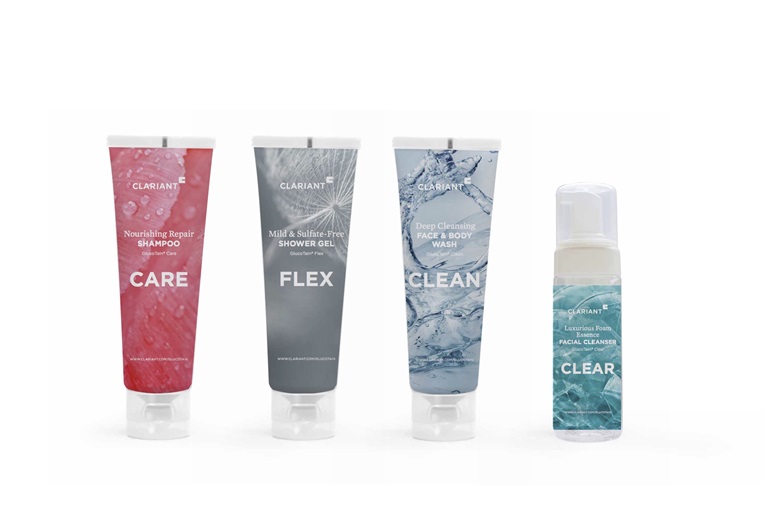 Mildest range of surfactants offering Clariant's best performance for skin and hair care products
Pleases senses naturally: individual foam structures for customized effects with light to caring conditioning levels
Meet Clariant's team at FCE Cosmetique 2015, Booth G84, May 12-14, Transaméria Expo Center, São Paulo
São Paulo, May 7, 2015 – Clariant, a world leader in specialty chemicals, will open up the new sensory dimension of its GlucoTain® sugar-based and sulfate-free surfactants range to the Personal Care industry at FCE Cosmetique 2015 (Booth G84).
Unique GlucoTain goes beyond the functional benefits of traditional mild surfactants. The glucose and natural oil-based products combine expert care with cleaning power that matches consumer needs for mildness and new sensory dimensions for skin and hair care. GlucoTain surfactants also show excellent compatibility with a wide range of ingredients, fragrances, oils and other actives.
Personal Care formulators can select from four GlucoTain products to achieve customized and appealing sensories and features for different end-applications and skin types. For example, caring facial cleansers and baby shampoos offer a moisturizing after feel with rich and creamy foam, revitalising shower products offer easy rinse-off light and fluffy foams. All GlucoTain surfactants are readily biodegradable and free of Aquatox labeling.
"The new GlucoTain product line is recommended for various skin and hair care products like shampoos, liquid bath products, facial cleaning products and shaving foams," highlights Cassio Pedulla, Manager BU ICS / Consumer Care Latin America. "It's an innovative technological platform developed by Clariant's team of researchers to meet the market's growing demand for mild and renewable surfactants that are free from sulfates and ethylene oxides," he adds.
During FCE Cosmetique 2015, Clariant will present the following lectures:
28th Brazilian Cosmetology CongressDiscover Value. Discover Glucamidas. A new sensorial dimension. Dr. Peter Klug, May 12 (Tuesday) at 10h10 am
Arena of KnowledgeExperience the radiance of a natural treasure Plantasens® Abyssinian Oil Dr. Tania Sá Dias, May 13 (Wednesday) at 6h30 pm
Visit Clariant at FCE Cosmetique in São Paulo, Transamérica ExpoCenter, Booth G84, May 12-14, 2015.