Clariant bags four prestigious DMAI Awards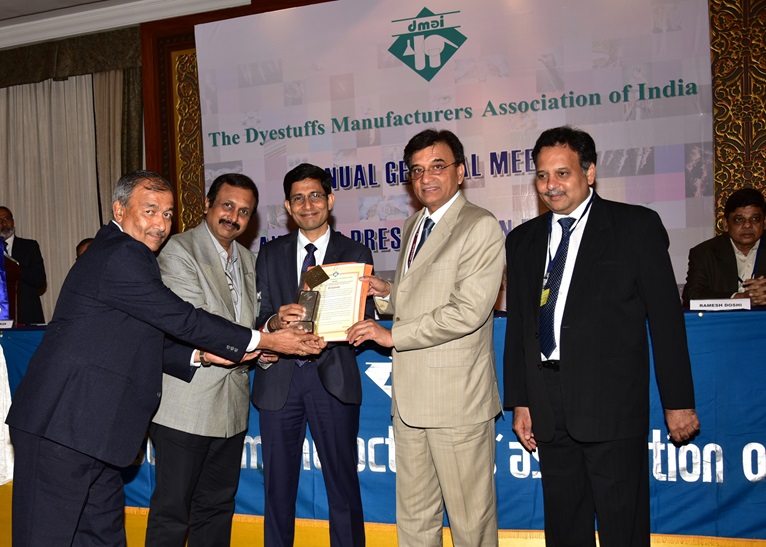 Recognized for Excellence in Exports, Domestic Market, Pollution Control and Safety & Hazards Control
Ascertains position as one of the leading players in the specialty chemicals market in India
Mumbai, July 9, 2015 – Clariant, a world leader in specialty chemicals was awarded in four categories at the annual presentation ceremony of Dyestuffs Manufacturers' Association of India (DMAI), held recently in Mumbai. Clariant in India was recognized for its performance in four categories including Exports, Domestic Market, Pollution Control and Safety & Hazards Control.
This award is a recognition of the company's continuous efforts to provide competitive and innovative solutions to meet the specific needs of its customers, without compromising on performance and efficiency. Dr. Deepak Parikh, Region President – India, Middle East & Africa said, "Clariant is honored and humbled by this recognition from DMAI. It strengthens our commitment to sustainability and innovation, which is a true differentiator for us to stay ahead in the competitive and dynamic global market scenario. We will continue our efforts to promote a culture of deeper partnership with our customers to help generate significant revenues for their operations, and also co-create solutions with them for unmet needs in the market."
Tej Dialani, Regional Marketing & Sales Director – Coatings, BU Pigments, India Region, Abhijit Naik, Head of Operations SEAP and IMEA, BU Pigments, P. A. Murali, Head – Regional Sustainability and Regulatory Affairs (India), Anil Mane, Head – Site Services, Roha Plant, Mukund Bhagwat, Manager – ESHA, BU Masterbatches, Chandrashekhar Patil, Head – Production, Roha Plant and Namdev Harihar, Executive – Wastewater Treatment, Roha Plant, represented Clariant at the ceremony and received the Awards.
Clariant is a truly 'glocal' company with strong pillars of manufacturing footprint in India. Clariant offers innovative products across economic, ecological and social levels of sustainability; which create long-term value and growth. The company's innovative products play a key role in its customers' manufacturing and treatment processes and add value to its end products. Clariant's success is based on the know-how of its people and their ability to identify new customer needs at an early stage and to work together with customers to develop innovative, efficient solutions.
Clariant is a Responsible Care® company, and is also committed to external sustainability initiatives such as Global Product Strategy and the United Nations Global Compact. Clariant is also one of the top European chemical companies being part of Dow Jones sustainability indices.