Clariant wins the 100th global reference for its AmoMax®-10 catalyst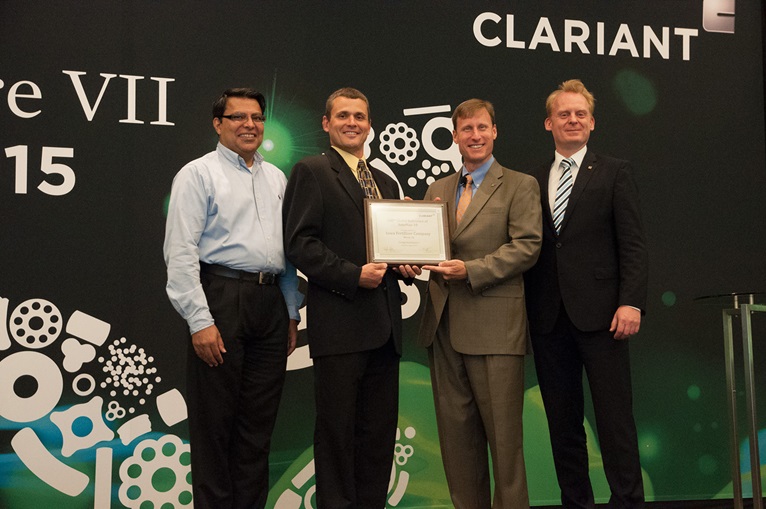 Iowa Fertilizer Company (IFCo) in Wever, IA, USA becomes the 100th customer of the highly active catalyst AmoMax®-10
Clariant further strengthens its leading position in the US ammonia catalyst industry
Munich, August 27, 2015 – Clariant, a world leader in specialty chemicals, announced today that
Iowa Fertilizer Company (IFCo)
became the 100th customer of AmoMax®-10. The innovative AmoMax-10 is a highly active catalyst, capable of substantial energy savings in the ammonia production process. With its proven market success both locally in the US as well as globally, Clariant has built a solid reputation as a leading supplier of catalysts for ammonia synthesis. An award ceremony was held on August 26th in San Francisco at Clariant's renowned "Defining the Future" conference.
Iowa Fertilizer Company (IFCo) is a nitrogen fertilizer production company owned by OCI, N.V. and located in Wever, Iowa, U.S. IFCo is located in the heart of the U.S. corn-producing region where most nitrogen fertilizers need to be imported to meet the crop nutrient demand. The ammonia plant is a KBR Purifier design using a natural gas feedstock. The ammonia converter is KBR's proprietary horizontal converter using Clariant's AmoMax-10 catalyst.
North America is currently going through a transformation, as a stable and preferentially priced natural gas supply combined with record corn plantings are increasing the need for fertilizers. Iowa Fertilizer Company is only one of several producers who have announced expansion projects. The region is set to increase its production capacity from 20 Mio tons/year in 2013 level to 27 Mio tons in 2020.
To conserve energy during the Haber-Bosch Process of ammonia synthesis, Clariant has introduced the highly active AmoMax-10 catalyst. Its special design results in less water make during reduction and less energy consumption during operation processes, while the ammonia yield is optimized. Consequently, ammonia producers benefit from excellent performance compared to using conventional magnetite catalysts.
"Catalyst improvements are paramount for the energy intensive ammonia industry and play a key role for the shale gas driven expansion in North America. With AmoMax-10, Clariant helps ammonia producers to attain their ambitious goals of maximizing their output while operating much more efficiently and making a positive impact on sustainability," said Stefan Heuser, Senior Vice President & General Manager of Business Unit Catalysts at Clariant.
"Iowa Fertilizer is honored to be recognized as Clariant's 100th AmoMax-10 reference. We are excited to combine Clariant's leading edge ammonia synthesis catalyst and KBR's leading edge ammonia converter design in our new state-of-the art, grassroots, world-scale ammonia facility. These technologies, as well as other KBR innovations and Clariant catalysts throughout the ammonia plant, will stand Iowa Fertilizer as the most efficient ammonia plant in North America when it comes on stream. Iowa Fertilizer Company is excited to have the partnership with Clariant - both their products and great technical services - to help make our plant commissioning a success and our ongoing operation at the top of our industry in terms of both technology and energy efficiency." said Darrell W. Allman, Site Director of Iowa Fertilizer Company.
Clariant has succeeded in building close partnerships with key customers around the globe and integrating them in its - highly efficient innovation - process. By securing Iowa Fertilizer Company as its 100th reference, Clariant once has again demonstrated its commitment to develop next generation solutions that are tailored to the market's needs.