Clariant's GlucoTain® receives EcoTain® sustainability excellence label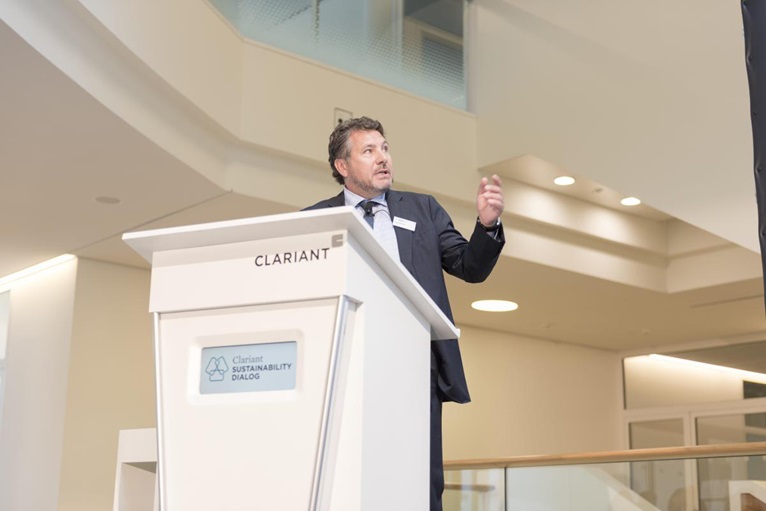 Surfactant range fulfils best-in-class sustainability and performance excellence standards of Clariant's EcoTain label
Supports Personal Care industry in incorporating natural and more ethically and sustainably sourced ingredients
GlucoTain® is latest EcoTain®-awarded range to emerge from BU ICS on-going sustainability screening commitment
Muttenz, September 4, 2015 – Clariant, a world leader in specialty chemicals, has granted its EcoTain® sustainability and performance excellence label to its GlucoTain® range of innovative sugar-based surfactants for Personal Care formulations. The announcement at Clariant's inaugural Sustainability Dialog in Frankfurt on September 2, 2015, follows a systematic, in-depth screening process using 36 criteria in all three sustainability dimensions: social, environmental and economic.
The GlucoTain surfactant range, presented at in-cosmetics in Barcelona, allows formulating of more ecological products: they are based on 95% natural, renewable resources of vegetable origin. The EO-free and sulfate-free ingredients are readily biodegradable with 94-95% RCI (Renewable Carbon Index) and a good eco-tox profile, enabling EU Ecolabel and Nordic Swan certification.
In addition, GlucoTain helps to reduce formulation complexity by enabling the use of fewer components such as thickeners and conditioning agents. The EcoTain screening process has shown GlucoTain surfactants to be best-in-class in improving directly material efficiency in the use phase. Better viscosity control and solubilizing properties are among further performance features also simplifying formulation development. Christian Vang, Head of Business Unit Industrial & Consumer Specialties at Clariant, said: "Following the EcoTain assessment of Clariant's glucamide products for homecare earlier this year, the BU Industrial & Consumer Specialties has now been able to assess the full range of GlucoTain surfactants for personal care formulations. We are committed to the pursuit of sustainability and EcoTain empowers our customers to differentiate at the market and contributes to achieving their sustainability targets."
The awarding of EcoTain status to the GlucoTain range means that all of Clariant's glucamides for the home care, crop solutions and personal care markets now carry the EcoTain label. Clariant's continuing assessment of its Personal Care portfolio is expected to be finalized by the end of 2015, giving customers in this market access to a complete line of sustainable EcoTain products. EcoTain is underpinned by the Portfolio Value Program (PVP), Clariant's instrument to screen the company's innovation pipeline as well as its existing product portfolio. The PVP was developed in cooperation with the Centre for Sustainable Consumption and Production (CSCP), a non-profit organization and internationally renowned "think and do tank".
Clariant's company-wide commitment to sustainability includes investment in practices and the development of products and solutions that support customers in achieving their sustainability goals. Clariant is listed among the world's top ten percent of chemical companies in the Dow Jones Sustainability Index (DJSI), one of the most renowned global sustainability indices.