Jan Kreibaum of Clariant awarded Shanghai Magnolia Award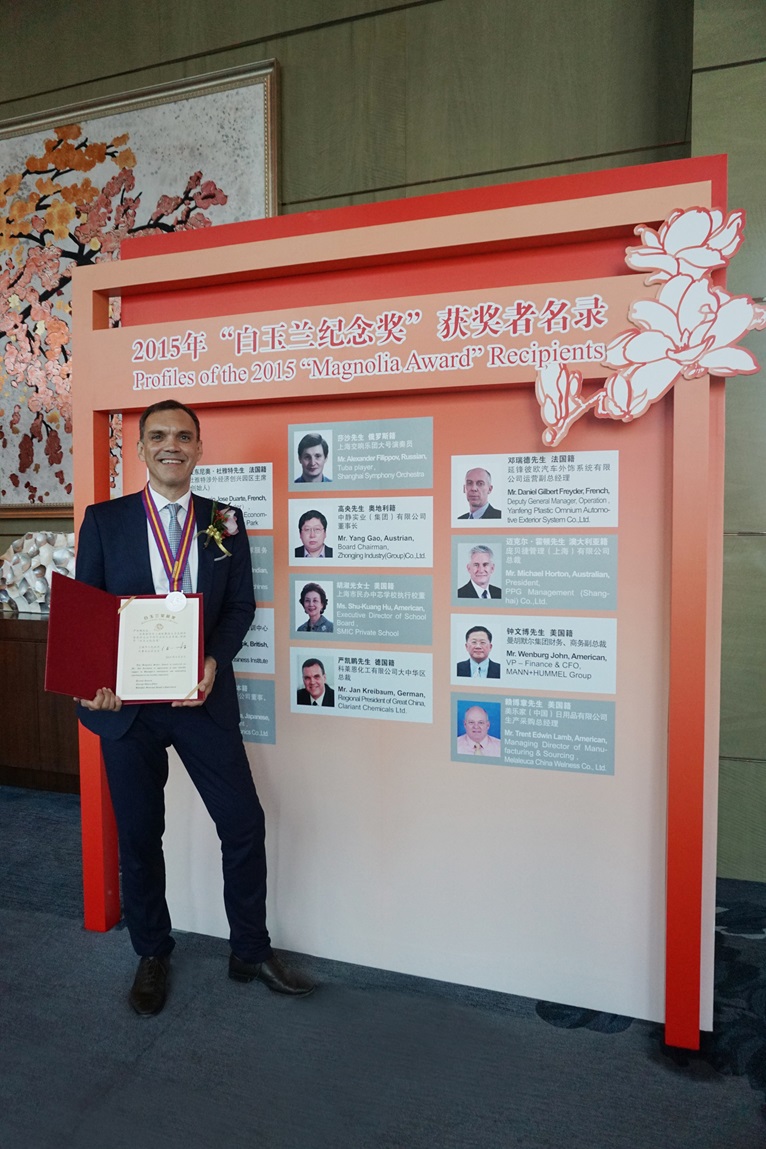 Clariant's Regional President of Greater China recognized for his outstanding achievements in promoting economic and sustainable growth in Shanghai
Leadership calibre showing business success going hand-in-hand with community development
Shanghai, September 11, 2015 – Clariant, a world leader in specialty chemicals, is reaching another milestone in its China operations when Regional President of Greater China Jan Kreibaum received the Shanghai Magnolia Award for contributions he has made to the city's economic and community development over the past years.
Named after the city flower of Shanghai, Shanghai Magnolia Award is an annual award established by the Shanghai City Government in 1989 to recognize outstanding achievements made by foreign individuals who contribute to the city's economic development, social advancement and international exchange.
A defined strategy to support China's transition: Becoming a China Insider With distinguished expertise and solid experience in managing the China-based operations of various multinational corporations over more than 10 years, Jan Kreibaum most recently successfully implemented the right strategies at Clariant Greater China. Under the backdrop of a changing business environment with the Chinese economy undergoing a transition to a "New Normal", Kreibaum rolled out the "China Insider" strategy at Clariant to advocate an outside-in perspective that focuses on enabling the development of the best possible solutions suited to the needs of local customers and local markets in China.
As cornerstones of the "China Insider" strategy, Kreibaum defined the "5L" principles dealing with the elements of local insight, local competitiveness, local empowerment, local innovation and local partnering, which align strongly with the national initiative "Made in China 2025" to foster innovation-driven manufacturing, green development, in addition to nurturing human talents. These strategic elements are fully supporting China's transition to grow "from big to strong" and to ensure a sustainable future.
Caring for local communities In addition to business success, Clariant also fully supports local communities' development. In 2014, Clariant initiated a corporate citizenship program in China called HOPES, which refers to the important qualities of being "Healthy, Open-minded, Positive, Explorative and Sustainable".
Under HOPES, Clariant provides support for the sustainable development of education in the local communities where the company is active in Greater China. The program initially started in Zhenjiang in November 2014, when Clariant signed a partnership agreement with Zhenjiang Xuefu Road Primary School to set up programs to enrich the school life of the students.
"Getting the Shanghai Magnolia Award is more than just a personal honour for myself. It is also a huge recognition for our whole team in Greater China that has been working together with so much passion to drive and realize our mission of sustainable growth. Going forward we will leverage our role even further to continue to make a positive impact on sustainable innovation and community development through our presence in China." said Jan Kreibaum.