Clariant reveals rocksolid winter support for global aviation industry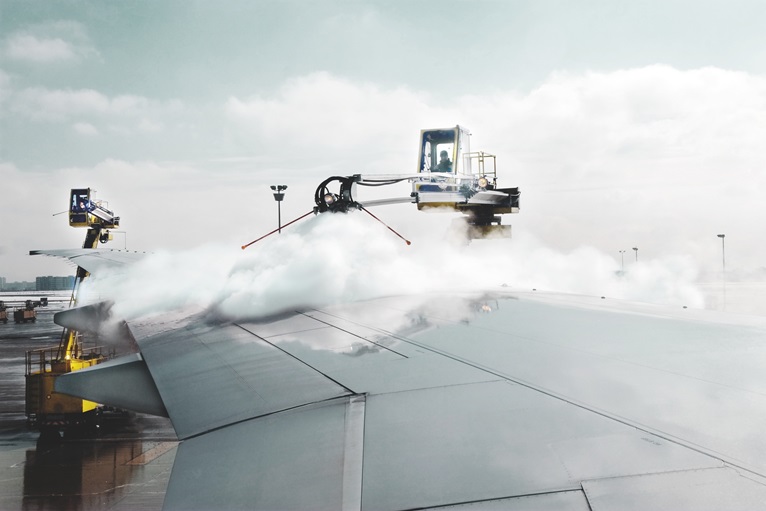 Global production footprint for more environmentally-friendly de-icers, offering a full line of propylene glycol and ethylene glycol-based fluids for extreme winter temperatures
Subsidiary Aerochem renamed Clariant Production Sweden AB
Meet Clariant's de-icing experts at InterAirport Europe, Hall B5 Booth 1214 , October 6-9, 2015, Munich, Germany
Muttenz, October 6, 2015 – Clariant, a world leader in specialty chemicals, demonstrates its reliable and sustainable support for safer plane operations during winter at InterAirport Europe 2015. The company offers visitors an insight into the solid production footprint and highest level of technical support and supply chain behind its global market-leading de/anti-icing products.
Clariant has more than 40 years' experience in supplying the aviation business with aircraft deicing and anti-icing, runway deicing and recycling solutions. It has a world-wide reputation for helping customers to improve their efficiency, reduce costs and enhance the environmental compatibility of products.
Clariant's popular brands SAFEWING®, SAFEWAY®, MAX Flight® and Octaflo® are produced at numerous sites in Europe, North America and Japan to ensure consistent and fast local supply. This includes the facilities of subsidiary Aerochem acquired in January and now renamed Clariant Production Sweden AB, which supplies the Nordic region with a total service concept from manufacturing to on-time deliveries. On-the-ground technical support and secure supply chains add to the high level of local support for customers.
Europe's most widely-used deicing fluid is Safewing MP I 1938 ECO (80), followed by the eco-tox more friendly deicing fluid Safewing MP I ECO PLUS (80) that is used in the Scandinavian region.
Dennis Mistreanu, Head of Aviation Business EMEA Clariant, comments: "Clariant is ready to once again provide the products, technical support and fast delivery to ensure our customers' de-icing operations remain sustainable when facing challenging winter conditions. Our comprehensive and viable solutions can increase efficiency, reduce costs and improve the environmental compatibility of products, whether in the air or on the runway."
Visit Clariant at InterAirport Europe at the Munich Trade Fair, Hall B5 Booth 1214 from October 6-9, 2015 and check out Clariants special deicing feature on http://www.clariant.com/en/Media/Feature-Stories/Sustainability-Stories/DeIcing.