Clariant launches LTS chloride guard catalyst ShiftGuard™ 200 at Nitrogen + Syngas 2016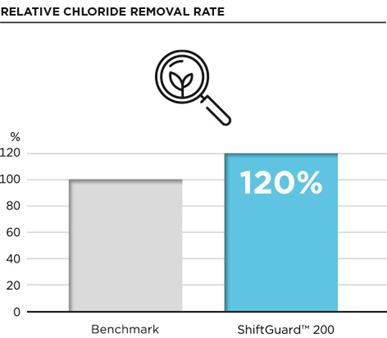 A highly effective chloride guard for the protection of the Low Temperature Shift
In combination with ShiftMax® 217 catalyst it enables plants to increase production efficiency
Sustainable solution completely chromium free
Munich, February 29, 2016 – Clariant, a world leader in specialty chemicals, today announced that it has launched the Low Temperature Shift (LTS) chloride guard ShiftGuard™ 200 at the Nitrogen + Syngas 2016 conference in Berlin, Germany. ShiftGuard 200 effectively adsorbs and retains chlorides so that the downstream main LTS catalyst, such as Clariant's ShiftMax® 217, is protected and can show its superior quality.
Chloride is a typical catalyst poison in an ammonia or hydrogen plant that leads to an increasing and irreversible reduction of catalyst activity and mechanical stability. This can result in a significant catalyst lifetime reduction if Clariant´s ShiftGuard 200 is not utilized.
In tests, ShiftGuard 200 demonstrated an outstanding chloride removal performance and a better mechanical and hydrothemal stability as well as a high added low temperature CO shift activity with low MeOH byproduct formation.
ShiftGuard 200 represents, if combined with a superior LTS catalyst like ShiftMax 217, an ideal technical solution for ammonia and hydrogen plants to increase their process reliabilty and production efficiency creating real value for Clariant's customers.
ShiftGuard 200 is completely chromium free and therefore fullfills the criteria of a sustainable product by avoidance of critical metals. This is another example where Clariant supports its customers in achieving sustainability targets and compliance with the REACH regulations of the European Union.
"The combination ShiftGuard 200 and ShiftMax 217 represents the perfect combination to increase the efficiency of both ammonia and hydrogen plants. The new product will lead to energy savings, higher production rates and overall costs savings for our customers." said Dr. Harald Dialer, Vice President Syngas, Business Unit Catalysts at Clariant.
In addition to supplying leading catalyst products, Clariant's Catalysts business unit offers its customers a complete service regarding the use of catalysts. Such service begins with supplying process information to the engineering contractor or the customer during the initial stages of design and construction of a plant; continues through start-up services when the plant is placed online; and subsequent follow-up service to assist the customer in maintaining optimum operating performance of the catalysts.