April 13, 2016
Clariant launches BeautyForward® to inspire Personal Care industry to discover tomorrow's beauty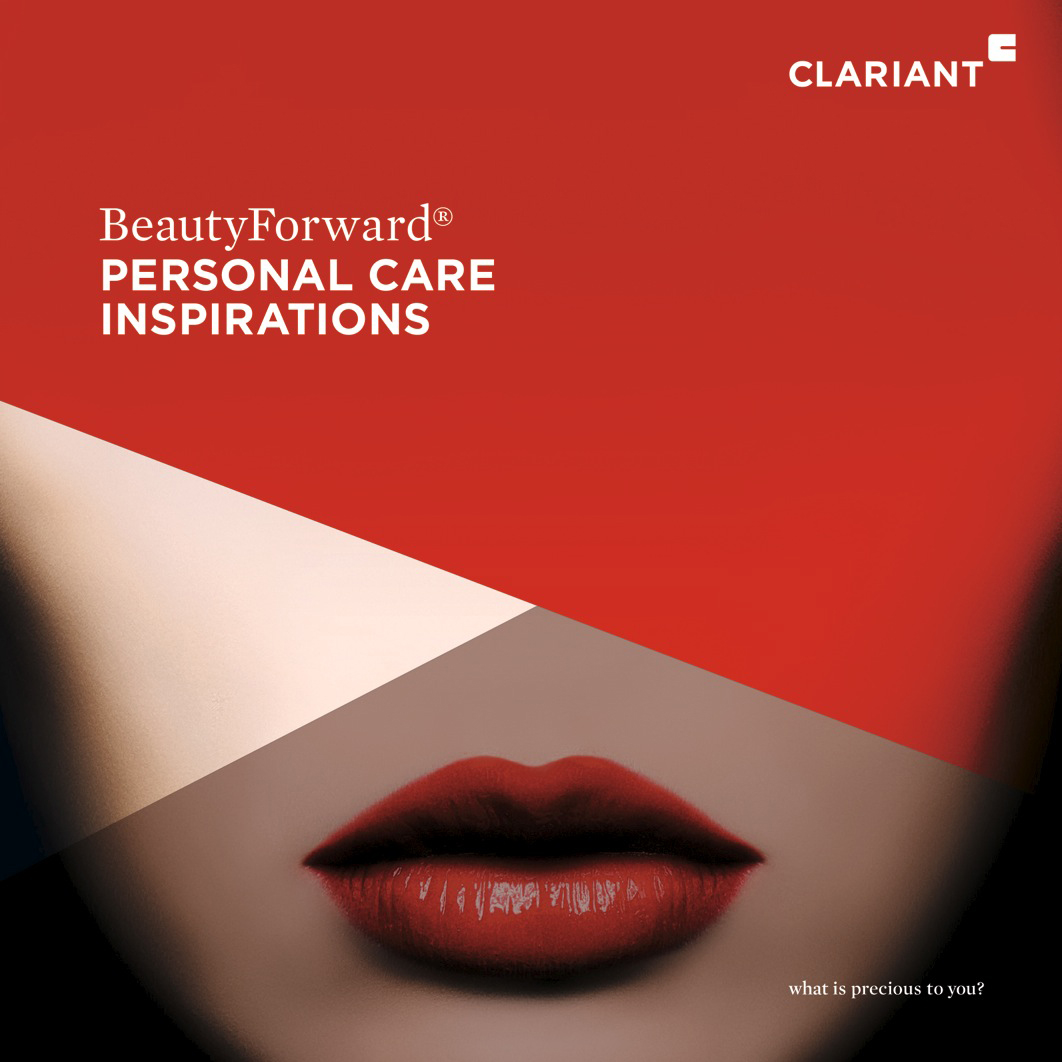 Insights and ideas to drive innovation in Personal Care
Identifies four consumer types – CARE, PURE, DARE, LOOK
Meet the team at in-cosmetics Paris, Hall 1 Booth G70, April 12-14
Muttenz, April 13, 2016 – Clariant, a world leader in specialty chemicals, has unveiled its new inspirational trend guide BeautyForward® to the Personal Care industry, giving brand owners, formulators and trade media a preview of the global trends it predicts will influence future beauty products.
Launched on the eve of in-cosmetics 2016, BeautyForward inspires and decodes new trends to help drive innovation in the Personal Care segment. The guide has evolved from Clariant's unique wealth of experience in uncovering trends for the plastics industry through its color-forecasting program. Now in its 11th year, ColorForward® is highly-acclaimed among its audience of plastics processors, designers and manufacturers in a wide range of consumer industries.
To develop BeautyForward, Clariant's personal care inspiration global network used a unique discovery process to decode social and cultural trends into Personal Care trends and link them to Clariant's Personal Care products.
Nicolas Lasbistes, Global Technical Marketing Manager Personal Care, Clariant, comments: "BeautyForward is not intended to impose a direction, but to inspire us to rethink our future. The future of new individuals, new every-days, new behaviors and rituals, and finally, new formulations and textures for the Personal Care sector. We used a unique discovery process to decode social and cultural trends into four Personal Care inspirational trends that will impact all regions over the coming years. Now it's up to our customers to embrace this knowledge, open their minds and enjoy exploring ways with us to create exciting new products for tomorrow's beauty."
Clariant has identified four consumer types for each of the global inspiration trends: CARE, PURE, DARE and LOOK. For each one, the guide aims to inspire companies and help them anticipate trends with a better understanding of consumer profiles and purchasing decisions.
CARE - Human and technology BECOME ONE.
And they also relate to an industry that couldn't be less digital. When it comes to the optimal care, relaxation and physical fitness experience, even the Personal Care sector follows the goals of higher, faster and further. As grooming becomes more and more connected, technical assistants with sensitive sensors aim to support our body, our health and the well-being of our loved ones. Expand your senses— because you never know how good you could feel.
The modern technologist feels calm and serene, always on the lookout for naturally mild and nourishing products that help counter the stress of an accelerating world. Clariant makes this link in two example formulations: a serum for sensitive skin that is gentle on skin but tough on dryness based on a caring Plantasens serum; and a mild, sulfate-free shampoo developed with sugar-based biodegradable GlucoTain Care, known for a creamy rich foam and an indulging care after-feel.
PURE – Let's learn to unlearn.
Over-stimulated, over-complicated, walking the same beaten path over and over again—it's time to start over! Calm and collected, from scratch, taking only the best values forward. Intuitively, we listen to our gut, reconnect the dots and follow our sense of clarity and composition. We stay subtle, yet prevail with a quiet confidence. We think outside the jar, stay flexible like water and achieve a new kind of purity: clean, essential and fresh as every great, new idea.
While hunting for perfection, the new purist appreciates the finer things in life: elegance, sophistication, as well as a refined skin care texture. Here, Clariant proposes a hair conditioner formulation developed with the natural-origin Plantasens® Abyssinian Oil. Alternatively, a skin cream gel with a fine texture made possible by Clariant's Aristoflex™ HMB.
DARE – I am not your AVERAGE girl.
I am ambitious, sexy, daring, independent and simply myself. Always on the lookout for the next challenge, this girl is a rebel—and thinks pink at the same time. Whether extreme sports or knitting: The new feminist stands out from the crowd while staying true to herself as a woman.
Where there's attraction, there's also protection: Our new girl favors products for stronger, livelier hair as well as healthy, vital skin. Clariant captures these desires in an ultra-rich body cream developed with Plantasens natural emulsifier; and in an intensive hair repair conditioner formulated with the surfactant Genamin KDMP.
LOOK – Watch me NOW.
The new generation of the young and wild loves the extreme and loves to show it: online and in social media. »Bling« is back—and fame, glitter and gold count as much as money. Daily luxury, admiration and attention are musts, no matter the cost. And while the newly glamorous may have very avant-garde taste, they certainly create their own style.
Looking for luxurious products and premium textures, it's the result that counts: Our glam fans prefer features that repair and add shine to hair, and features that make skin radiant. Clariant suggests an after-sun skin care premium gelée developed with rheomodifier Aristoflex AVC for a light sensory and Perlogen SF 3000 with its intensive silky shine. Also, a beauty balm with the velvet-soft premium texture of Aristoflex Velvet for radiant skin.
Visit Clariant's Personal Care team at in-cosmetics 2016 in Hall 1 Booth G70 from April 12-14, Paris Expo Porte de Versailles and find out more about specific trend formulations and textures at Clariant.com/beautyforward.