Clariant continues to reach out to communities in China through HOPES Corporate Citizenship Activity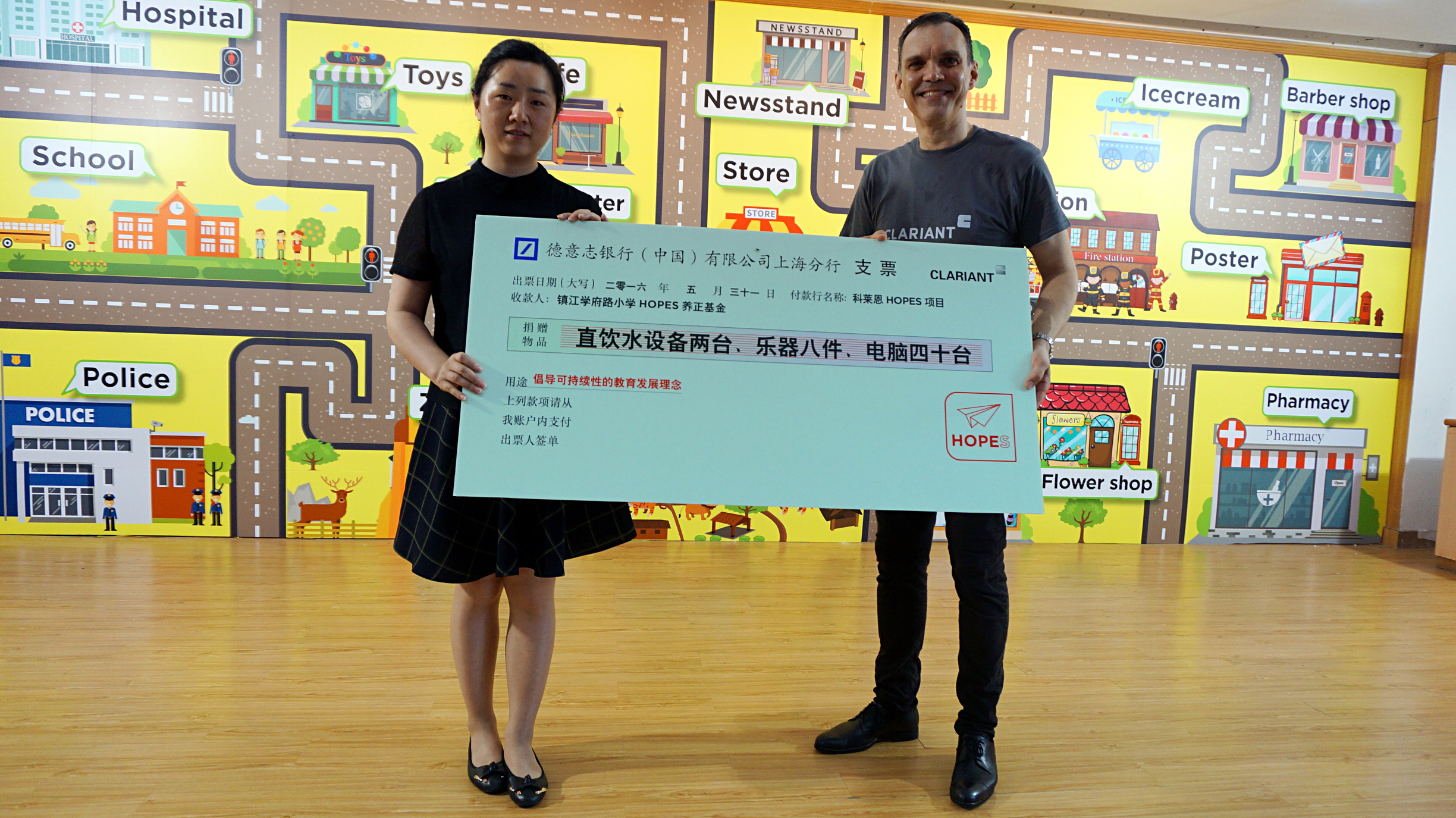 Donation ceremony held to officiate another round of community development efforts by Clariant in China
English courses conducted by senior executives of Clariant Greater China to benefit school children
Shanghai, June 1, 2016 – Clariant, a world-leader in specialty chemicals, has continued to implement its corporate citizenship activity in China by donating computers and equipment, and conducting English courses in Zhenjiang Xuefu Road Primary School. Under the HOPES program, which encourages the spirit of being "healthy, open-minded, positive, explorative and sustainable" among the younger generation, Clariant has been supporting the education development in the communities where Clariant are active in since 2014.
A donation ceremony was held on 31 May at Zhenjiang Xuefu Road Primary School to kick off the first major event under the HOPES program this year. A total of 40 computers, 8 musical instruments and 2 water dispensers were donated to the school. In addition, English courses were conducted by Clariant's Regional Head of Greater China Jan Kreibaum to the students from various levels.
"I'm grateful to Zhenjiang Xuefu Road Primary School for teaming up with Clariant again on our HOPES corporate citizenship program. By conducting the courses myself today at the School, I felt first-hand how rewarding it is to be engaged with a group of enthusiastic students in a classroom environment. I hope our HOPES program can continue to benefit more and more students in need in China," commented Jan Kreibaum.
Since its inception in China in 2014, the HOPES corporate citizenship activity from Clariant has reached out to thousands of students in China through school visits, science festival, open day and charity bazaar conducted by HOPES volunteers. From previous donations from Clariant, school children have been benefited by donated books, scholarship, newly-painted classrooms, in addition to engaging in extra-curricular activities.
As a specialty chemicals company that has made sustainability an integral part of its corporate strategy, Clariant has been listed in the Dow Jones Sustainability Index (DJSI) for the third consecutive time in 2015. The most renowned sustainability index listed Clariant in both the DJSI Europe and the DJSI World.
In the Greater China region, Clariant has won the Responsible Care® Chairman Award twice in 2013 and 2015. The Award is organized by the Association of International Chemical Manufacturers (AICM) to recognize outstanding achievement on sustainable development by chemical companies in China.