Clariant's solutions aim to create innovative formulations in personal care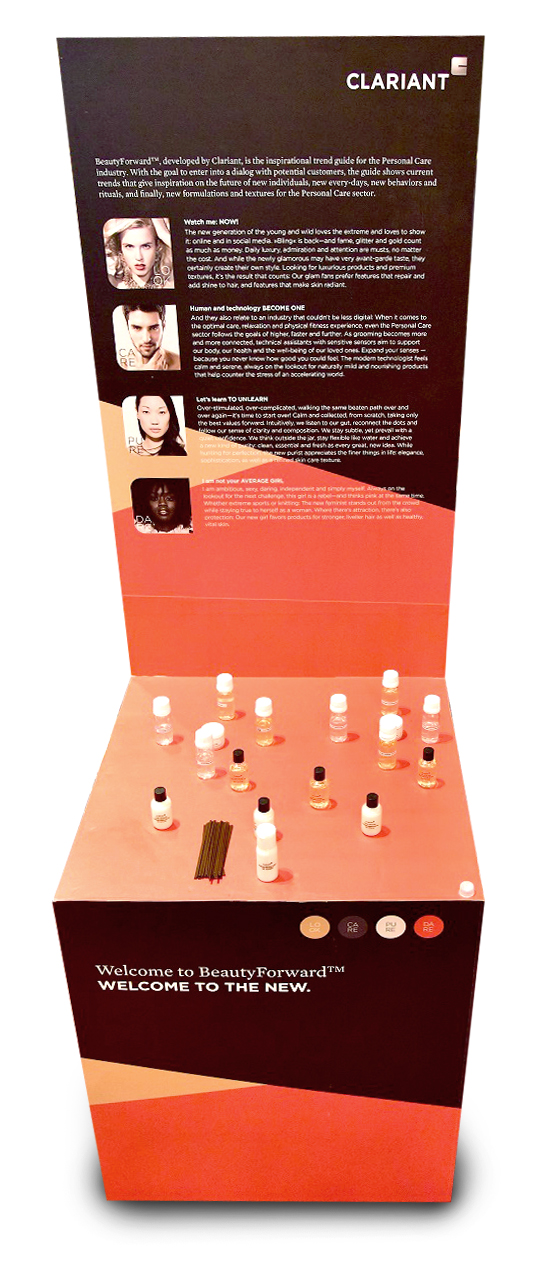 Launches 2-in-1 formulation textures that transform during application
Stronger product portfolio now includes active ingredients for skin and hair care
Releases BeautyForward™ Trend guide to drive innovations in Personal Care
Mumbai, October 13, 2016 – Clariant, a world leader in specialty chemicals, recently launched new concepts in India, that aim to create revolutionary, yet mild formulations. These solutions from Clariant, coupled with its new inspirational trend guide BeautyForward™, will aid brand owners and formulators develop futuristic personal care products.
Called 'Metamorphosis by Plantasens™, this solution highlights the synergistic effect between nature and technology, through 2-in-1 texture transformations within the same product. For example, a balm that turns into a powder once applied on the skin. This body care formulation combines the highly nourishing power of a balm with the velvety effect of a powder. The other newly-launched transforming textures include: an oil to a lotion (body care), a lotion to a thick emulsion (face care) and a gel to a clear veil (hair care).
"Consumer demand in India for sustainable and innovative products in personal care has increased significantly, and thus brand owners are extensively looking at solutions that can offer a competitive differentiating advantage," said R. Kumaresan, Head – Industrial and Consumer Specialties, Clariant in India. Clariant is actively supporting companies in the consumer care space achieve claim substantiation with such innovative solutions.
Additionally, Clariant also launched BeautyForward, giving brand owners, formulators and the trade media a preview of the global trends that will influence beauty products of the future. Nicolas Lasbistes, Global Technical Marketing Manager Personal Care, Clariant, commented: "To develop BeautyForward, we used a unique discovery process to decode social and cultural trends into four Personal Care inspirational trends that will impact all regions over the coming years. Now it's up to our customers to embrace this knowledge, open their minds and enjoy exploring ways with us to create exciting new products for tomorrow's beauty."
Clariant introduced these new concepts, along with a showcase of its new personal care actives portfolio and other sustainable solutions like GlucoTain™ sugar-based surfactants, Nipaguard™ Zero paraben-alternatives, to its customers at a symposium in Mumbai.
NOTES TO EDITORS: For more information package on Personal Care 2016 highlights from Clariant, visit the new Multimedia Personal Care page to view videos, e-releases and images (available as downloads).