Clariant presents formulation inspirations to enhance consumer experience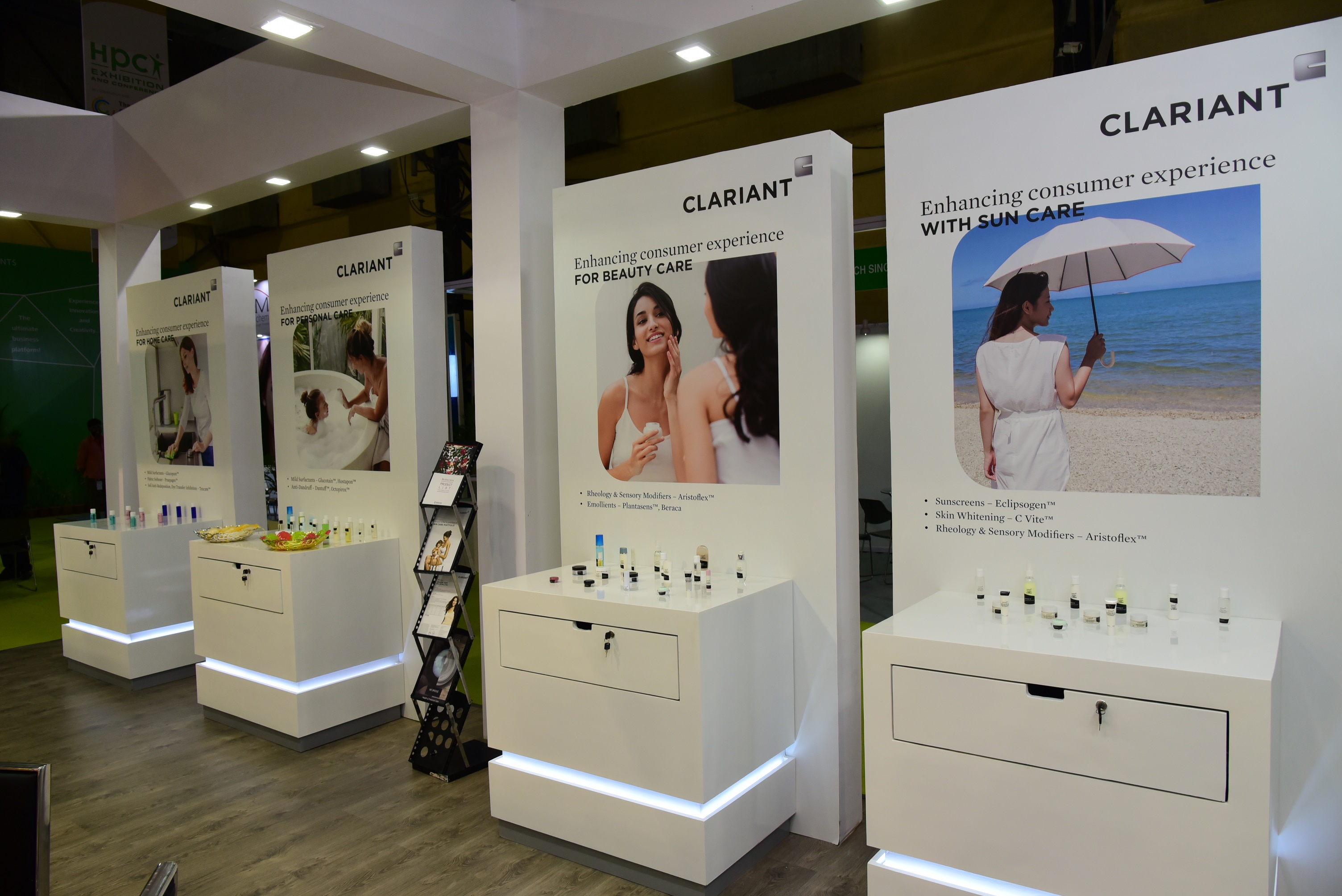 Clariant showcases formulations via an experiential zone at HPCI
Strengthens presence in Indian home & personal care sector
Also in focus: Natural ingredients from Beraca and BioSpectrum
Mumbai, March 2, 2017 – Clariant, a world leader in specialty chemicals, showcased innovative ingredients for home & personal care brands at HPCI 2017, with solutions for unmet needs in this market. Clariant's focused on its newly-acquired actives range, natural ingredients and its inspirational trend guide BeautyForward™ at the event. It also presented the portfolio of naturally-sourced products from BioSpectrum and Beraca, which have formed strategic alliances with Clariant. With this, Clariant further strengthens its position in home & personal care applications in India.
Visitors to Clariant's booth were offered an experiential zone to get introduced to its array of solutions, which touch consumers' lives in everyday products.
"Clariant thrives on the ability to identify new customer needs at an early stage and develop innovative solutions. This robust portfolio of formulation inspirations, across several market segments of the home & personal care industry is our commitment towards enhancing overall consumer experience," said R. Kumaresan, Head – Industrial & Consumer Specialties (India), Clariant. With its wide range of ingredients, Clariant aims to support formulators, especially homegrown brands in India, to develop futuristic home & personal care products.
A key element of Clariant's product showcase at HPCI is the focus on natural ingredients, offered by Beraca and BioSpectrum as well. A general trend towards greater natural and sustainable ingredients is increasingly influencing purchase decisions in the cosmetics sector globally; this is translating into India as well. Analogous to the trend in foodstuffs, the market for organic and natural cosmetics has transformed from a niche segment to a boom segment in recent years. "Clariant's sustainable and innovative beauty ingredients and trend insights will create a positive impact on people's lives through influencing the beauty products of tomorrow," said Nicolas Lasbistes, Global Technical Marketing Manager – Personal Care, ICS, Clariant.
NOTES TO EDITORS:
For more information package on Personal Care 2016 highlights from Clariant, visit the new Multimedia Personal Care page to view videos, e-releases and images (available as downloads).
Beraca, a Brazilian company, is known for its leading natural and organic certified cosmetic ingredients, sustainably drawn from Brazil's biodiversity and the Amazon Rainforest. Clariant completed its acquisition of a 30% share in Beraca Ingredientes Naturais S.A. ("Beraca") in 2015.
BioSpectrum, a South Korean company, develops specialty active cosmetics ingredients derived from Asia's diverse flora Clariant completed its acquisition of a 17% share in BioSpectrum Inc in 2016.