Clariant provides solutions for the plastic industry to expand color horizons and boost product performance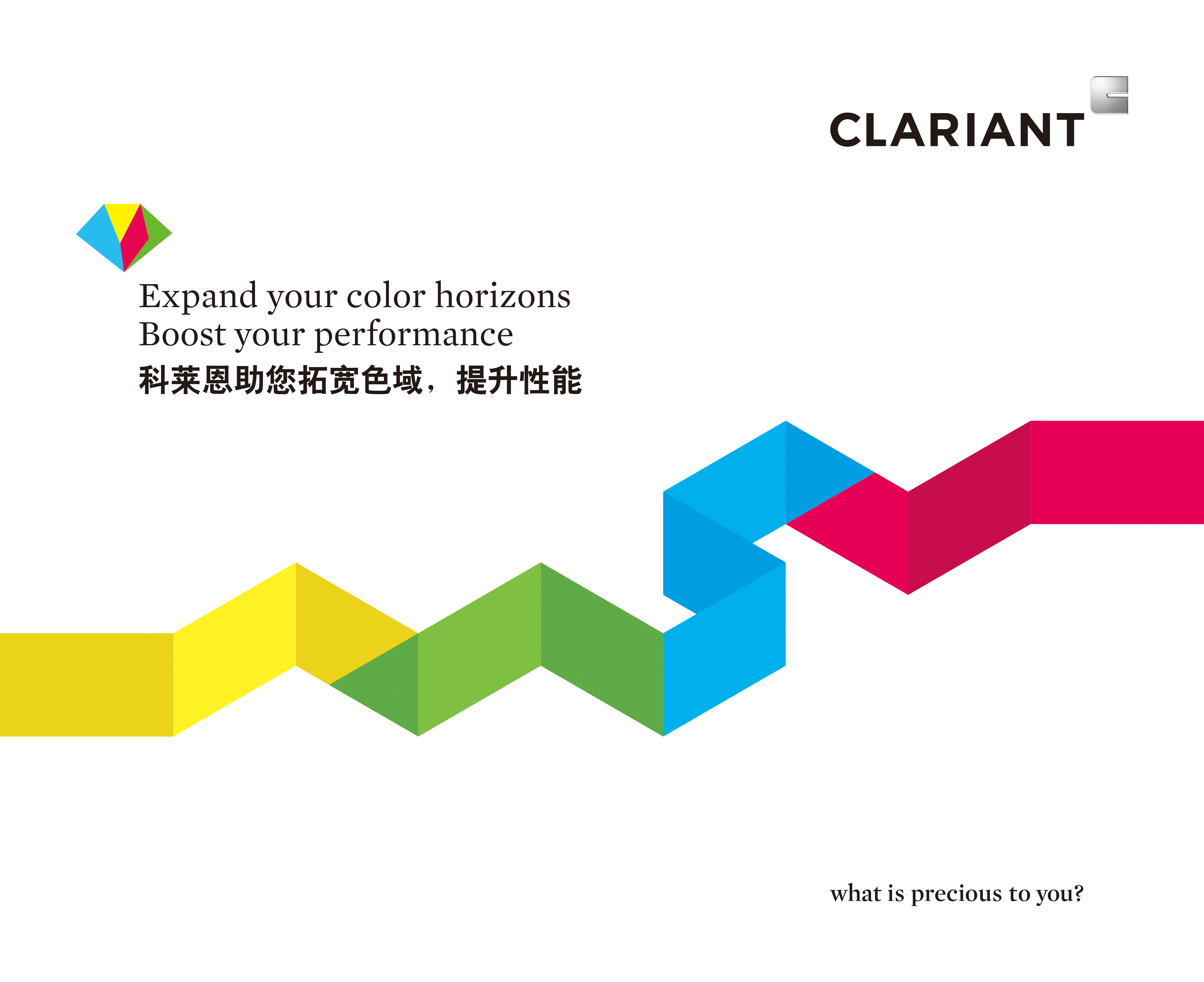 ChinaPlas 2017 focus on innovative and sustainable additives, masterbatches and pigments for the electrical & electronics, agriculture, consumer goods, and automotive industries
Masterbatches promote higher quality and improved performance for the sustained development of the consumer goods industry
Shanghai, May 3, 2017 – Clariant, a world leader in specialty chemicals, will feature at the Chinaplas 2017 exhibition a series of novel technologies and products dedicated to helping the electrical & electronics, agriculture, consumer goods and automotive industries achieve greater performance and sustainability through new colors and capabilities. The exhibition will be held on May 16-19, 2017 at the China Import & Export Complex at Pazhou in Guangzhou, China.
The importance of reform was emphasized as one of the enablers to drive local economic growth in a number of key industries. In agriculture, for instance, the supply of quality, environmentally more compatible agricultural products was highlighted, along with a stronger focus given on achieving top quality and performance in consumer goods in order to drive stronger domestic demand and, in turn, sustained economic growth. The importance of sustained green development was also attached to the electrical & electronics and automotive industries, where sources of pollution and impact on the environment must be reduced continuously. Under shift towards a greener economy in China, more businesses in China are looking to enhance the performance and sustainability of their products. Clariant has made sustainability a key element of its business approach, from product design to end disposal, without compromising on performance.
At Chinaplas 2017, Clariant will showcase how its specialty chemical products and solutions provide appealing functionality, in addition to sustaining product safety and environmental compatibility for customers in the electrical & electronics, agriculture, consumer goods, and automotive industries in China.
Product highlights at Chinaplas 2017 include: Electrical & Electronics industry
Exolit OP® 1400 non-halogenated flame retardant, offering enhanced thermal stability for polyamides, enabling complex injection molded parts to be manufactured at high processing temperatures. It is suitable for hot and humid environments and has been awarded the Clariant EcoTain® label for outstanding sustainability and best-in-class performance. EcoTain® labeled products have undergone a systematic, in-depth screening process using 36 criteria in all three sustainability dimensions: social, environmental and economic.
Licomont® NaV 101 and Licomont CaV 102 are excellent processing aids for polyester and polyamide compounds, making production more efficient due to their excellent combination of nucleation and lubrication properties and thus reducing cycle time in injection molding applications significantly. In addition, they provide excellent mold release and help ensuring products' smooth surfaces.
Three structurally halogen-free new dyes Solvaperm® Yellow 6G, Solvaperm Orange R and Solvaperm Blue GN that comply with key international regulations, were added to its pigment portfolio specifically for engineering plastics coloration.
Small-lot compounds for engineering plastics (EP) and high-temperature resins (HTR) produced locally at Clariant's China facilities, help save time in production pipeline, thereby significantly reducing logistics and importation costs.
"The wide range of engineering resins and high-temperature materials in small-lot compounds, together with our locally-produced masterbatches in China, will save a considerable amount of time for our customers in their production pipeline, while reducing significantly costs involved in logistics and transportation from importation overseas," said Peter Dufour, Senior Business Development Director, EP-HTR, Clariant Masterbatches Business Unit.
Agriculture industry
AddWorks® AGC 182, specially developed for greenhouse film producers and based on Hostavin NOW® technology, increase service lifetime of films by offering superior chemical resistance against sulfur-based products and halogenated agrochemicals.
Consumer goods industry
A paint-replacement solution via ColorWorks®, helps plastic parts stand out in a wide range of applications, while lowering costs and scrap rates. Clariant's ColorWorks centers help bring color into the early stages of a design project, when major decisions about appearance and cost can be confronted without risking a speedy product launch.
The high Chroma pigments of Graphtol® Carmine HF3C, PV Fast® Red E5B, PV Fast Pink E and PV Fast Violet RL readily differentiate such stylish fashionable goods as sports shoes in the consumer goods market.
AddWorks PKG 902 supports an increase of recycled content without the loss of film quality or production efficiency, leading to raw material savings and an optimized flexible film unit cost structure.
Hostastat® FA 68 combined with liquid feeding technology and AddWorks LXR 408, support the flexible packaging industry achieve the highest possible cost savings and production quality, with low fumes and long-lasting antistatic performance.
"The flexible film industry in Greater China and the Asia Pacific region places a lot of emphasis on achieving performance improvement, film manufacturing cost savings and film differentiation in the marketplace, whether producing for domestic or export markets. We have tailored the Hostastat FA 68 and AddWorks LXR 408 solutions to address these needs by offering better performance, functionality and sustainability, as well as a service package that helps to give the best possible performance for our customer," comments Jochen Ahrens, Head of Sales for Clariant's Additives Business Unit, Asia Pacific.
Automotive industry
Exolit OP 550 and Exolit OP 560 reactive flame retardants, non-halogenated phosphorus polyols, are suited for production of flame-retarded polyurethane foams. The products are chemically reacted into the polymeric matrix, preventing unwanted migration or evaporation from the foam. Therefore, very low fogging values can be achieved to meet stringent emission standards for PU flexible foams in the automotive industry.
AddWorks ATR 146, a new low dosage sulfur-free stabilizer for filled polypropylene compounds, with reduced VOC emissions, goes beyond current OEM standards in heat stability and offers superb light stability to protect plastic parts from discoloration and surface cracking.
A well-known lightweight solution – HYDROCEROL® chemical foaming and nucleating agents (CFA) promote weight reduction, raw material savings, improved thermal and acoustic insulation, increased wall stiffness and enhanced surface textures, all whilst minimizing warpage and sink marks.
Visit Clariant at ChinaPlas 2017 in Hall 10.2 (Zone B) Booth #J01.
® TRADEMARK OF CLARIANT REGISTERED IN MANY COUNTRIES.